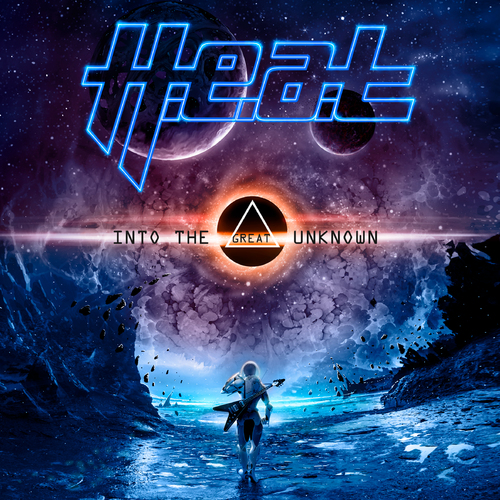 Klicka på bilden, för att se hela bilden
After one and a half years of intense songwriting, with Dave back in the mix, the band went on a questionable trip to record an album in Thailand, once again with swedish grammy awarded Producer Tobias Lindell. With 13 top songs in the bagage, they entered the heavenly Karma Sound studios in the outskirts of Bangkok to record what would become the 5th studio album of H.E.A.T.
"During the making of this album, I think we all felt a little bit like astronauts going off to space for the first time. We went into the studio after a one and a half year break , without any real sense of direction for the overall feel and sound of the album. We set out on a journey not knowing what we would come back with, or if we'd even make it back. But somewhere along the way, the pieces began to fall into place. I guess the songs turned out, for a H.E.A.T album, more experimental and a slight step in a different direction from previous albums. There's just no point in doing the same album over and over again just because it works. When it all comes down to it, you want to make the songs shine to their full potential, if that includes bending the rules of the genre or crossing paths into unknown territory, so be it". – Dave Dalone
"The name "Into the great unknown" suits the album for many reasons. The plan, to focus entirely on the songwriting and to not do a live show until the new album is out, was a new thing for us. We had never done anything like it, how do you 'not' play live for two years? We had been doing live shows since we were kids. Another leap into the great unknown is the music itself, with no limits and elements never before seen in H.E.A.T. Eric Rivers disappeared into the great unknown and former guitarist Dave Dalone came back from it. The album cover is once again created by russian artist Vitaly S. Alexius and is inspired by the mystical space, -the greatest unknown known to man."
-Crash
On september 22nd, H.E.A.T is releasing what will become their 5th studio album
TOUR DATES
25/10/17 SWEDEN Gothenburg – Tradgarn
26/10/17 SWEDEN Malmo – KB
27/10/17 SWEDEN Stockholm – Annext
28/10/17 NORWAY Oslo – Hard Rock Café
Many more shows are being booked in this very moment.
© Gain Music Entertainment