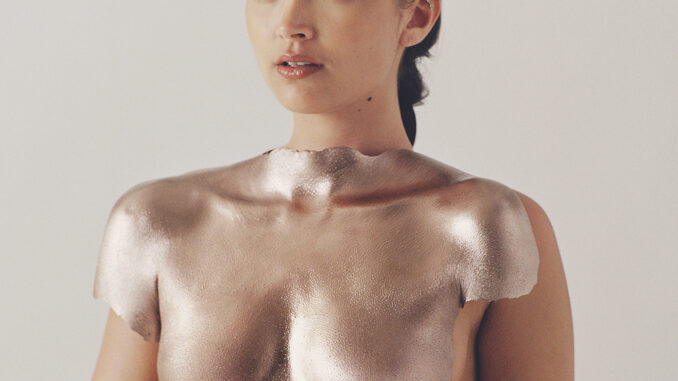 Klicka på bilden, för att se hela bilden
Fredagen den 15 oktober släpper 22-åriga Joy Crookes från södra London sitt debutalbum "Skin". På albumet tar Joy med oss på sin resa mot vuxenlivet, från 15 åriga Joy till den hon är idag. Joy Crookes musik handlar bland annat om mental hälsa, relationer och politik – allt inlindat och inramat med hennes poetiska och känslosamma uttryck.
"Skin is my debut album and the proudest work I have made to date. It is an auto biographical body of work covering subjects from casual sex to generational trauma, abuse of power and mental health. The word skin massively resonates with me as biologically it is one of the strongest parts of our bodies, however socially and externally it is often used against us. This juxtaposition is grappled with throughout the album; lyrically my album is effectively a collection of stories. The record consists of songs I wrote at the mere age of 15 up until 21. This is an album about my identity."
"I was fortunate enough to make this first album with the exceptionally talented producer Blue May. I sat across the whole production process and I'm proud to say I've been credited with Blue as a co executive producer. The majority of the album was made at the incredible Konk Studios; we also had the pleasure of recording an 18 piece string section at Abbey Road Studios in the famous Studio 2, and we recorded pick up vocals all over the place, from a random hotel room in East London, through to a home studio in Clapton. London is in the DNA of this album.
Joy Crookes har tidigare gett oss singeln och musikvideon "Feet Don't Fail Me Now" och hyllade titelspåret "Skin" – och nu släpps nya singeln "When You Were Mine" som vid premiären utsågs till "Hottest Record" på UK:s BBC Radio 1. Nya singeln "When You Where Mine" är skriven av Joy Crookes, Eg White och Jonny Lattimer och den leder oss fram till 15 oktober då hela debutalbumet "Skin" släpps.
Joy om nya singeln:
"'When You Were Mine' is a song I wrote about an ex-partner that ended up being with a man after we broke up. It's a song about accepting their love, but wishing the same for myself. I wrote it with the backdrop of Brixton because that is where their love unfolded and where I spent a lot of my childhood. We recorded a brass section (it was my first time recording brass and excited was an understatement); we wanted it to sound messy so Japanese whiskey was involved and listening to lots of Ebo Taylor."
"Skin" – låtlista
1. I Don't Mind
2. 19th Floor
3. Poison
4. Trouble
5. When You Were Mine
6. To Lose Someone
7. Unlearn You
8. Kingdom
9. Feet Don't Fail Me Now
10. Wild Jasmine
11. Skin
12. Power
13. Theek Ache
Mer om Joy Crookes:
A proud South Londoner of Bangladesh and Irish heritage, Joy Crookes is a singer-songwriter, a masterful instrumentalist, a Brit nominated rising star, and an artist who sees herself as part of a beautiful eco system of storytellers, mavericks, and salt of the earth Londoners. Her unique approach to storytelling within her songs, partnered with her infectious charisma has seen her become a treasured and trusted new voice both musically and across her social media. Joy uses her creativity as a tool to understand her own identity, her place in the world and her relationships within it.
At just 22, she has acquired the most fiercely of loyal fanbases, notching streams into the hundreds of millions and has cemented herself as an important, influential part of new British music. After being nominated for the Brits Rising Star award as well as placing fourth on the BBC Sound Poll, Joy went on to become the most widely tipped artist of 2020 and sold out her debut UK tour in a matter of hours. She was due to support Harry Styles at The O2 in London pre-pandemic, and has played Glastonbury, BBC Radio 1's Big Weekend, Later… With Jools Holland, and her own sold out shows across the UK and Europe.
© Sony Music Entertainment Sweden