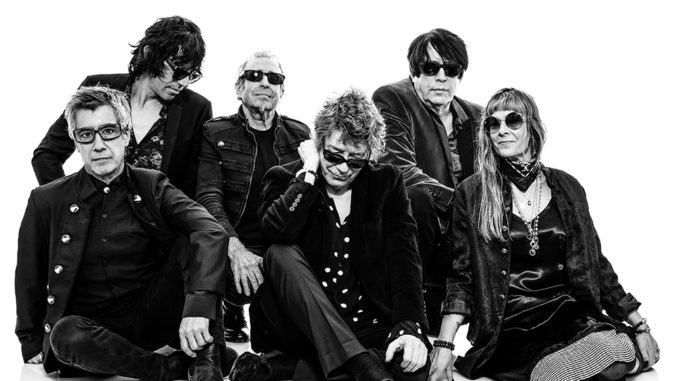 Klicka på bilden, för att se hela bilden
Nya ljud ifrån aktuella stjärnor från Cooking Vinyl!
The Psychedelic Furs – No-one
The upcoming album 'Made Of Rain' is postponed, new released date July 31! With 'Don't Believe' and 'You'll Be Mine', and new single No-one there are three singles of the new album released!
On July 31, the Post Punk stars THE PSYCHEDELIC FURS release their first new album since almost 30 years. 'Don't Believe' and 'You'll Be Mine' are already available as stream everywhere. Already the first beats of 'Made Of Rain' sound like only THE PSYCHEDELIC FURS are able to do that sound, but fresher than ever before. The new album was produced by Richard Fortus. The mixing was done by Tim Palmer, who already worked at records for DAVID BOWIE, U2 and ROBERT PLANT.
Over the last years, the band toured non-stop, did a North America tour in 2019, and played several shows at the Hollywood Bowl, at the All Points East in Hyde Park, and at the Benicàssim. A handful of UK shows, including a headliner show at the Royal Festival Hall Meltdown that took place upon request of Robert Smith of THE CURE. Last October, the band played a sold-out tour in Great Britain and Europe; highlight was a triumphant show at the Roundhouse in London. In recent years, the legendary band has grown enormously, what in the end is a result of the worldwide streaming of the songs more than 150 million times. Their influence, since they entered the Post Punk scene forty years ago, left foot prints at THE KILLERS, REM, the FOO FIGHTERS, BOB DYLAN, and many more. "I'm aware of the fact that people cite us an influence", says Richard, "though I don't often recognise it in their music. It's gratifying of course, as it is that there's still an interested and enthusiastic audience for us. That's an honour."
'Pretty In Pink' in the same-named John Hughes film, 'Love My Way' in the Oscar awarded film 'Call Me By Your Name', or 'The Ghost In You' in 'Stranger Things' – THE PSYCHEDELIC FURS are embedded in the Pop culture stronger than ever before. Everyone, who has seen the band recently, knows that Richard Butler still is one of the best band leaders.
Tracklist
01. The Boy That Invented Rock & Roll
02. Don't Believe
03. You'll Be Mine
04. Wrong Train
05. This'll Never Be Like Love
06. Ash Wednesday
07. Come All Ye Faithful
08. No-One
09. Tiny Hands
10. Hide The Medicine
11. Turn Your Back on Me
12. Stars
Line-up
Richard Butler – Vocals
Tim Butler – Bass
Mars Williams – Saxophone
Paul Garisto – Drums
Amanda Kramer – Keyboards
Rich Good – Guitar
Car Seat Headrest – There Must Be More Than Blood
Car Seat Headrest has released 'There Must Be More Blood", the last single taken from his hotly anticipated album Making A Door Less Open, released May 1st on Matador Records.
"There Must Be More Blood" follows singles "Hollywood", 'Can't Cool Me Down' and 'Martin', which all enjoyed critical acclaim, and the latter added to the BBC 6 Music playlist. Car Seat Headrest have cancelled their summer tour dates due to COVID-19, with plans to reschedule. Created over the course of four years, Making a Door Less Openis Car Seat Headrest's first set of brand new songs since 2016'sTeens Of Denial. The album, the result of a fruitful "collaboration" between Car Seat Headrest and 1 Trait Danger, a CSH electronic side project consisting of drummer Andrew Katz and Toledo's alternate persona, 'Trait', sees Toledo placing emphasis on the individual songs, each with its own"special energy", resulting in his most dynamic and open-ended work to date.
Comprised of Will Toledo, Andrew Katz (drums), Ethan Ives (guitar) and Seth Dalby (bass), Car Seat Headrest has either released 11 or three albums to date, depending on the way you look at it.
A prolific songwriter, Toledo took his moniker from making early recordings in the private environment of his family's car, releasing a dozen self-recorded and produced albums on Bandcamp and building a tight-knit following. Toledo has since gone from an empty five-seater to selling out tours and filling festival main stages. 2015'sTeens of Stylewas a collection of songs from his early years. The band's proper Matador debut,Teens of Denial, followed in 2016 and catapulted them to overnight commercial success and widespread critical acclaim, as well as highlighting Toledo as a prodigious lyricist. 2018's Twin Fantasy, an epic re-imagination of an album originally released in 2011, demonstrated newfound scale, depth and ambition.
Jazz Ingram – 2 AM
Christopher Lare pka 'owwwls' (music)
Jazz Ingram (lyrics)
Born to a poet in New York and raised in Atlanta, Jazz Ingram is a unique rising voice in Hip-Hop and a fixture of 4AD imprint b4.
His recent singles for b4 "Blue Gatorade" and "U Turn" drew praise from Wonderland, Lyrical Lemonade, and Clash. His latest single "2AM" is a smooth and introspective R&B rumination on Jazz's waining relationship with nightlife.
Produced by owwwwls (Princess Nokia, Azealia Banks), "2AM" is another diverse offering from an exciting young artist.
BIO:
Musing on his potential retirementfrom the party scene, 21-year-old Ingram considers the next best alternative to being out at 2am: being home at 2am. "People party like it's their profession, you know," he remarks. "When I wrote this song I was really at the beginning of my 'I could not go out' phase. This song is kind of a record of my intentions changing from being out all the time to where I'm at now."
'2AM' is produced by NYC-based hip hop producer and Princess Nokia collaborator Owwwls and is the latest addition to Ingram's now dependable output of punchy rap gems -or "diary entries", as he calls them. His growing catalogue of tracks covers everything from his undying love of hip hop ('Blue Gatorade') to cathartic midnight freestyles ('U Turn'), all released through his label partner, the buzzing NYC-based imprint b4.Born the son of a poet in Rochester, NY, Jazz Ingram's proficiency with words developed at a young age. Moving with his immediate family to Atlanta, one Jazz's earliest exposures to rap was via his cousin Audra the Rapper who encouraged him to rap over preset beats. Uploading his first single at the age of 15 -entitled 'Make Em Bounce' -helped build Jazz a small but devoted online following.
Now, with 2 EP's worth of weird and wonderful tracks under his belt, Jazz's latest cut further cements his cult status as one of Atlanta's most exciting new voices.
Richard Walters – Big Joy
Written by: Richard Walters, Patrick James Pearson
The last track before the album, Golden Veins, comes out is called 'Big Joy' and as the title suggests, it is a melodic delight. "The song 'Big Joy' is a A song about the art of social media interaction; everyone else's joy is bigger and better than your own, so how do we cope? It feels like you've always got to go one step further, every minute and every second must be ecstatic. Musically it's inspired by the fuzzy shoegaze I grew up with."
© Playground Music