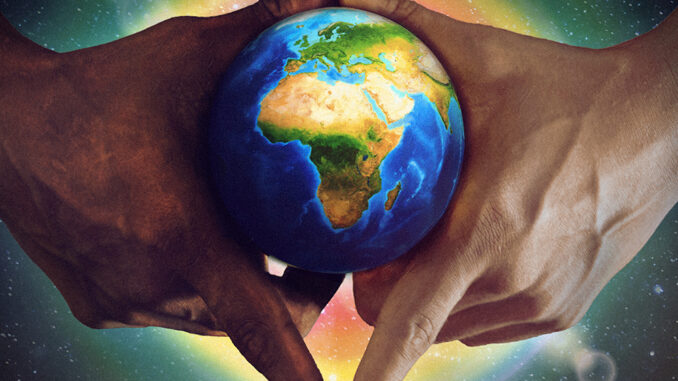 Klicka på bilden, för att se hela bilden
Det är 25 år sedan det ikoniska och minst sagt legendariska bandet The Wailers släppte ett album. Idag släpper de "One World" innehållande 14 låtar inklusive singlarna "One World, One Prayer" och "Philosophy of Life". På albumet gästas The Wailers av Shaggy, Farruko, Natiruts, Emily Estefan, Kush Gad, Frederic Yonnet, Jesse Royal, Grammynominerade Julian Marley och legendariske Carlinhos Brown.
På "One World" binder The Wailers ihop generationer av reggaemusik och mixar jamaicansk reggae med latin-influenser i en modern tappning. Singeln "One World, One Prayer" är producerad av den nittonfaldigt Grammy Award-vinnande Emilio Estefan och skriven av honom tillsammans med Aston Barret Jr och Josh David Barrett.
Aston Barrett Jr. om det nya albumet; "The band is excited and can't wait for the release. It's a great album. We give thanks to everyone who has paved the way for our future. My father Aston (Familyman) Barrett has been a great inspiration and teacher, who guided me to this point where we were able to meet Emilio Estefan. Now we have a first class album which we are all proud of."
Låtlista "One World":
1. One World, One Prayer (Featuring Skip Marley, Farruko, Shaggy & Cedella Marley)Philosophy of Life
2. When Love Is Right (Featuring Julian Marley)
3. Walk and Talk (Never Go Astray)
4. What A Shame
5. Destiny
6. Only In Jamaica
7. Love Will Find You
8. It's Alright, It's Alright
9. Can't Handle The Truth
10. Good Time
11. Can't Get I Out (Rastaman)
12. Stand Firm Inna Babylon
13. When Love Is Right (with Natiruts and featuring Julian Marley)
About The Wailers
Bob Marley and the Wailers recorded, toured and made history together between 1972 and 1981. It was Bob Marley himself that requested the Wailers stayed together. Today, carrying on the mission are legitimate members, children-of-legends and a host of immensely talented musicians. The afore mentioned Aston Barrett Jr delivers startling echoes of his uncle's (Carlton 'Carly' Barrett) one drop drumming sound. Guitarist Donald Kinsey is joined by Wendel 'Junior Jazz' Ferraro, shaping that classic sonic identity. Josh David Barrett achieves the seemingly impossible by confidently stepping into Bob Marley's shoes to provide truly excellent lead vocals. Owen 'Dreadie' Reid (Julian Marley's Uprising Band and a former student of 'Familyman') and Andres Lopez (Albrosie, Lutan Fyah) add yet more quality to an incredible line up that also includes the youngest of the earliest formation of the Wailers, Tyrone Downie, saxophone player Glen Dacosta and Dennis Thompson, the engineer who was there from the very beginnings of the band. Shema McGregor, daughter of I Three singer Judy Mowatt and Reggae pioneer Freddie McGregor, are joined by Anne-Marie Thompson (a gospel singer of stunning ability) and Tamara Barnes who has been in the music industry for over 20 years, providing backing vocals in studio and on stage for I-Threes, Jimmy Cliff, Ky-Mani Marley, Beres Hammond and Freddie McGregor among many others. Together they bring the smoothest backing vocals, contributing to this unique melting pot, both classic and excitingly fresh at the same time
About Aston Barret Jr.
In 2017, Aston Barrett Jr. received a Grammy certificate as co-producer with Damian Marley for the track The Struggle Discontinues, featured in the Album "Stony Hill" which won the Grammy Award for Best Reggae Album.
Aston Barrett Jr. is a co-owner of BAD Lions Productions, LLC. who operates a studio in Pompano Beach, Florida. He can be heard playing guitar, drums, bass, and organ for Stephen Marley, Junior Reed, Julian Marley, Kwame Bediaco, Aka Beka, Jessee Royale, Reggae Force, and many more. His sponsors include Rupert Neve (whose pro audio gear is heard on every album he has played on and every live Wailers show), as well as Fender, Mannabasso, Black Lion Audio, and Pigtronics.
About Emilio Estefan
A multiple Grammy Award winner, Emilio Estefan is a musician, songwriter, record and television producer, best-selling author, filmmaker, and cultural ambassador. He has shaped and directed the careers of many musical talents, including Shakira, Ricky Martin, Marc Anthony, Jon Secada, Jennifer López, and many others. He is one of the founding leaders of the Latin Grammy Awards. Estefan was honored with the Presidential Medal of Freedom, a star on the Hollywood Walk of Fame and the Songwriters Hall of Fame presented him with a lifetime achievement award. He was selected as the second vice chair to the Commission for the National Museum of the American Latino by President Barack Obama, and President George W. Bush appointed him as a member of the President's Committee of the Arts and Humanities. He is an entrepreneur owning and operating seven (7) restaurants, two (2) hotels, and an internationally recognized publishing company. In 2019, along with his wife Gloria, received the coveted Gershwin Prize by the Library of Congress for excellence in songwriting.
© Sony Music Entertainment Sweden