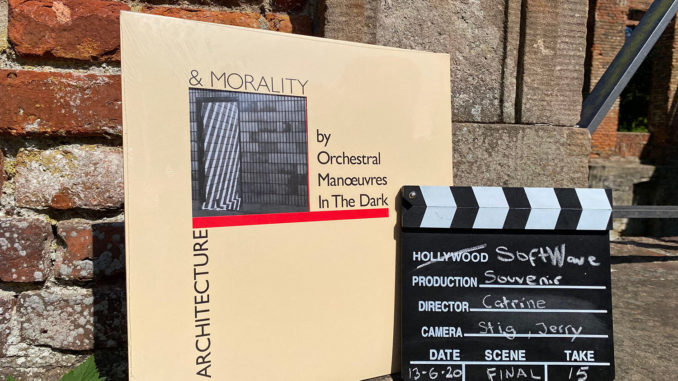 Klicka på bilden, för att se hela bilden
Danish synthpop 'SoftWave Souvenir–OMD cover'
Releases on YouTube August 14, 2020 and digitally September 11, 2020
After a successful tour with OMD during their Souvenir–Greatest hits tour in February 2020 (Rockefeller, Berns, KB, Vega) SoftWave now releases their first OMD cover song and music video SoftWave Souvenir on YouTube. SoftWave's Souvenir of a great memory and best highlight of 2020. OMD also added SoftWave's single Something is Missing to their Spotify playlist and so did Danish National Radio (DR P4).
CREDITS
SoftWave Souvenir cover produced by SoftWave
Vocals: Catrine Christensen (SoftWave)
Master: Jerry Olsen (SoftWave)
Original 'Souvenir' produced by OMD
SoftWave Youtube channel
Biografi
Established in 2014, Danish synthpop duo SoftWave issued their debut EP Together Alone in 2016. But things have been gathering momentum since their first full-length album Game On was released to critical acclaim, when million selling electronic pioneers OMD invited them to open on their four Scandinavian dates as part of their 2020 Souvenir Greatest Hits tour.
Having already gained the support of notable musicians such as Chris Payne, Ian Burden and Jo Callis who between them have played with Gary Numan, Dead Or Alive and The Human League, the future of SoftWave is promising.
Game On was charted by German Electronic Web Chart (GEWC) as no.9 best album, rated 10/10 by Nightride FM and received great reviews by The Electricity Club (UK), Cold War Night Life (SE) and Side-Line Magazine (BE). The most popular single 'Something is Missing' is licensed to ZYX MUSIC (DE) and has been charted as no.11 best track (GEWC) and no.1 most played song (Club 80s New Generation Chart, Dec 2019).
Next project is a remix release (CD, Oct 2020) by Sonic Seducer Magazine (DE) followed by Game On 1Up (CD, Nov 2020) incl. Live at Rockefeller audio rec. released by *Electro-Shock-Records*.
© SoftWave Music