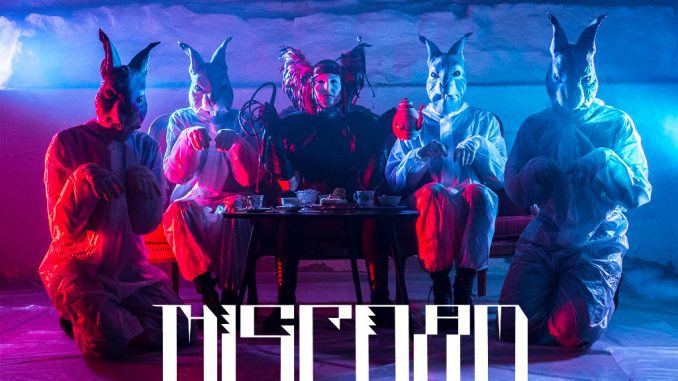 Klicka på bilden, för att se hela bilden
THE GREAT DISCORD have teamed up with US based horror website DREAD CENTRAL to premiere the debut music video for "The Red Rabbit" off their upcoming release The Rabbit Hole.
From the band: "Now, friends, we give you 'The Red Rabbit' in all its twisted glory. A song that showcases the most sinister part of Ire, the altogether dark side of Fia's persona. A song about manipulation, violence and control, an experiment concerning what you allow yourself to be exposed to. Oftentimes even willingly. Pain can be seductive and addictive, be it physical or psychological, and one should be wary of its consequences. If you tumble too deep down the rabbit hole, you may never again find the way out, and the rabbits are not what they seem."
Check out the video here:
The Rabbit Hole follows up the band's 2015 releases, Echoes EP and full-length Duende, and was recorded at Pazuzu Recordings with drummer and founding member Aksel Holmgren behind the helm, handling recording, mixing and mastering. For the album's artwork, the band returned to artist Mattias Frisk who once more captured the essence of band's music in his creation.
Check out the first single off The Rabbit Hole, entitled 'Darkest Day' here:
The Rabbit Hole will be released worldwide on the 8th of September 2017 via The Sign Records and is available for pre-order starting today HERE. Fans can also purchase "The Red Rabbit" single and "Darkest Day" single at iTunes.
In other news, THE GREAT DISCORD wrapped up 4 dates opening for Ghost and Kvelertak on the Popestar Tour in late April performing to packed rooms in Denmark, Norway (SOLD OUT), Sweden (SOLD OUT), and Finland (SOLD OUT). Vocalist Fia Kempe lent her pipes to her Swedish brethren in Ghost for the tracks Missionary Man and Bible on the Popestar EP (Sept. 16, 2016) that recently won a Swedish Grammis (Grammy). The band wasn't home for long before heading out to UK and Ireland to perform alongside Katatonia and Ghost Bath. Here's what the press had to say about the band's live performance:
"Had the headliners not been the mighty act they are, The Great Discord could potentially have stolen the show, as Kempe's command and presence, along with a phenomenally tight band, owned the room. Despite the restrictions of the venue, Kempe made it all feel grander than it was. If they hadn't been before, The Great Discord proved they are certainly ones to be placed high on the ones to watch list." MetalWani.com
"The front figure, depicted by Fia Sofia Kempe is an embodiment of these demons. Her painted and hairless white face is garnished by feathers and her black eyes are preying like a raptor. The costume is crowned by a headdress reminiscent of Peter Gabriel's extravagance. The manifestation of each demon is reflected in her movements, sometimes seductive, sometimes crippled, and plenty of dynamic outbursts. Her powerful vocals are a result of the intense projection of these demons." Overdrive.ie
"Appearing like some ancient, atavistic avian goddess, the singer looks, quite frankly, terrifying, but not without a certain allure. This is largely in contrast to her beautiful voice. Full of power and strength when needed, but fragility and softness at other times, her voice reaches deep into your soul…and attempts to break it. Her voice, taken together with her appearance, means that she utterly dominates the stage. With a heavy, full sound and an imposing stage presence, The Great Discord belie their status as openers and put on a performance worthy of a headliner. Loved every last minute of it." WonderboxMetal.com
"Vocalist Fia Kempe, armed in a head dress of feathers and warrior face paint is commanding the stage. Her soaring, powerful vocals are enough to send shivers down my spine; captured by the push and pull of the band's heavy riffs, their dreamy interludes sending me on a journey throughout their entire set. An unforgettable performance which sets the bar very high for the night. Definitely a tough act to follow." Manchester.Rocks
"Definitely a band I'd see again as they were breath of fresh air as an opening act" MusicpediaOfMetal
"Opening up tonight's proceedings we have Swedish proggers The Great Discord…they craft a brilliant mix of Swedish gloomy metal and other worldly, theatrical vocals. As if headlining the show themselves, they power through a brilliant set with confidence and own the tiny stage. Vocalist Fia Kempe, complete with pure black eyes and an Indian-esque headdress of red feathers, looks at home and confident on stage, interacting with the already-packed crowd. Amidst a cluster of sound issues including the blowing of a front of house speaker, The Great Discord power on, refusing to give in where other bands would have called it a day. The set ends with all PA off and powerless yet the band remain. The crowd roar and applaud the professionalism of these guys, not even quitting when left with just their voices and the drums powering from the stage." SoundsphereMag.com
THE GREAT DISCORD is:
Fia Kempe – Vocals, Keys
Aksel Holmgren – Drums
André Axell – Guitars
Gustav Almberg – Guitars
Rasmus Carlson – Bass
DISCOGRAPHY:
Duende – LP – Metal Blade Records – June 2, 2015)
Echoes – digital EP – Metal Blade Records – September 18, 2015)
The Rabbit Hole – LP/CD – The Sign Records – September 8, 2017
ABOUT DREAD CENTRAL: Dread Central is the premier website for breaking news, original content and active community in the world of horror, covering movies, DVDs, games, collectibles, live events and music. If it's got something to do with the dark and horrific, you'll find it on Dread Central.
Listen, share and stream THE GREAT DISCORD here:
Spotify
Deezer
iTunes
YouTube
Follow THE GREAT DISORD:
http://thegreatdiscord.com/
https://www.facebook.com/thegreatdiscord/
https://twitter.com/thegreatdiscord
https://www.instagram.com/thegreatdiscord/
© The Sign Records