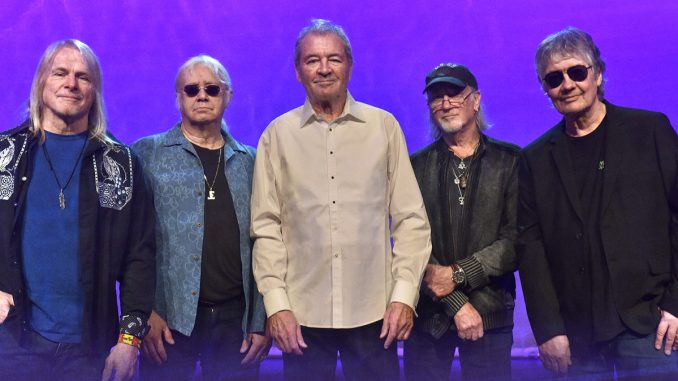 Få rockband har lyckats cementera sin plats bland rockmusikens elit som Deep Purple har gjort. Sedan starten 1968 har rockbandet sålt över 100 miljoner album världen över och anses som en institution på den brittiska rockscenen. Nästa höst kommer Deep Purple till Sverige igen och spelar på Hovet i Stockholm lördag den 26 september och dagen därpå Partille Arena i Göteborg den 27 september!
Brittiska storheterna Deep Purple kommer tillbaka till svensk mark. Bandet betraktas som pionjärer inom hårdrock och heavy metal tillsammans med Led Zeppelin och Black Sabbath och BBC förklarade att de "made up the 'unholy trinity' of British hard rock and heavy metal during the genre's 1970s golden age.".
2016 invaldes Deep Purple i prestigefyllda Rock and Roll Hall of Fame med uppsättningen Ritchie Blackmore, Jon Lord, Ian Paice, Ian Gillan, Roger Glover, Rod Evans och Glenn Hughes. Bandet har under sin tid influerat ett flertal rockband som Metallica, Iron Maiden, Judas Priest och Queen för att nämna några.
Efter sex decennier och flera framgångsrika album i bagaget kommer Deep Purple tillbaka till Stockholm och Göteborg! Lördag den 26 september välkomnar vi bandet till Hovet i Stockholm och söndag den 27 september spelar de på Partille Arena i Göteborg!
Datum 2020
26/9 – Hovet, Stockholm
27/9 – Partille Arena, Göteborg
© Live Nation