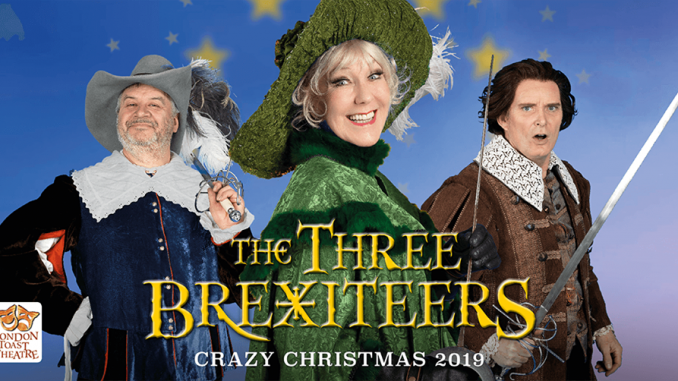 Manus & regi: Vivienne McKee
I rollerna: Vivienne McKee, David Bateson, Andrew Jeffers, Bennet Thorpe, Jeff Bond, Katrine Falkenberg ,Kevin Kiernan-Molloy
Spelas: 12 november - 11 januari
Årets uppsättning av London Toast Theaters Crazy Christmas Cabaret är den 37:de i ordningen. Liksom föregångarna sker allt under ledning av Vivienne McKee. Årets uppsättning med The Three Brexiteers är som synes uppenbart löst baserat på Alexander Dumas klassiska roman Te Tre Musketörerna.
Förra året deltog inte Vivienne McKee på scen, men i år är hon tillbaka och leder ensemblen genom den snåriga brexitdjungeln. Som Vivienne själv skriver i programbladet att när hon kom på titeln vid årets början trodde hon aldrig att Brexitsoppan skulle pågå fortfarande.
För de som inte känner till Crazy Christmas Cabaret, så påminner det lite om våra egna nyårsrevyer där samtidshändelser bakas in i storyn på ett lite udda sett.
Årets rollfigurer består bland annat av D'Artagnan, Musketörerna: Atosser, Amorous och Porkpie, Milady de Whichway, Cardinal Rich-Perv…
Och kom ihåg – Crazy Christmas Cabaret är även en interaktiv upplevelse…
All for fun and fun for all.
Mer info hittar du här.
Skriven 2019-11-16