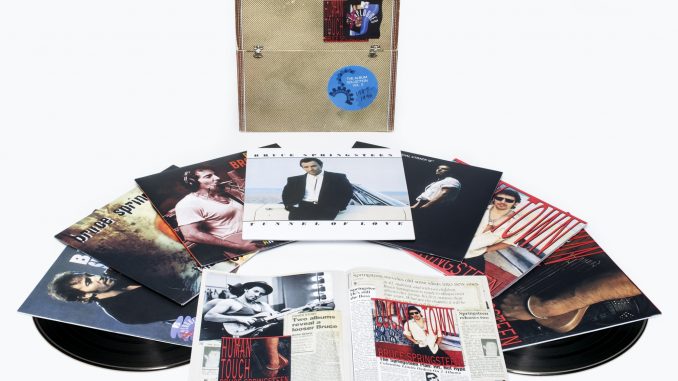 Den limiterade samlingsboxen släpps den 18 maj 2018 och innefattar fem studioalbum släppta via Colombia Records mellan åren 1987 och 1996. Boxen innehåller även en 60-sidig bok med unika bilder, memorabilia och pressutklipp från perioden, samt två exklusiva EPs – Blood Brothers och Chimes of Freedom, som släpps på vinyl för första gången någonsin.
Samlingsboxen kan förbeställas redan nu via denna länk.
Ljudet på The Album Collection Vol. 2 är överfört från högst möjliga kvalitativa transfer av mastrar från originalalbumen. Vid processen använde sig ljudteknikerna Bob Ludwig och Toby Scott av Plangent Process, omnämnd för dess förmåga att korrigera stilfel och biaser i magnetbandet, vilket garanterar bästa möjliga audio. Därutöver har två av albumen tryckts på dubbelvinyl för första gången för att ytterligare maximera ljudbilden.
Samlingsboxen innehåller:
o 60-sidig bok
o Tunnel Of Love (1987, 2LP*)
o Human Touch (1992, 2LP*)
o Lucky Town (1992, 1LP)
o MTV Plugged (1993, 2LP)
o The Ghost Of Tom Joad (1995, 1LP)
o Chimes of Freedom (1988, EP)
o Blood Brothers (1996, EP**)
© Sony Music Entertainment Sweden