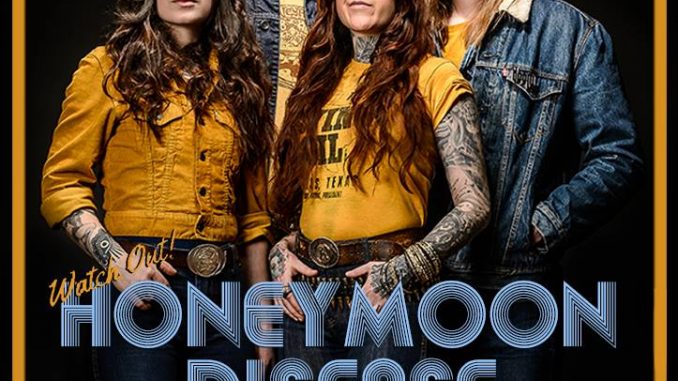 Klicka på bilden, för att se hela bilden
"Doin' It Again" is the new single from "Honeymoon Disease". The track is taken from the upcoming album "Part Human, Mostly Beast" set to be released the 27th of September by The Sign Records. The band is well acclaimed for their intense and high energetic stage performances and have been one of the raising stars on the European rock stages, something the band have brought into the studio and recording the new album live.
Live Dates in September:
1/9 (DE) Oldenburg – Stadtfest Oldenburg
2/9 (DE) Siegen – Vortex Surfer Musikclub
5/9 (DE) Hamburg – MS Stubnitz
6/9 (DE) Düsseldorf – Pitcher – Rock'n'Roll Headquarter Düsseldorf
7/9 (DE) Munich – Backstage München
8/9 (A) Faaker See – EUROPEAN BIKE WEEK
9/9 (DE) Lichtenfels
Honeymoon Disease have worked with producer Ola Ersfjord (Imperial State Electric, Primordial, Tribulation, Dead Lord) since the recording of their last album "The Transcendence" (Napalm Records), something that led up to a recording session with better crafted songs, a more luxuries production and a lot of focus on the vocal arrangements.
Honeymoon Disease released their debut album "The Transcendence" on Napalm Records in 2015. The band have since then been touring frequently with bands as Avatarium, The Vintage Caravan, Dead Lord, RavenEye and Horisont and sharing stages with bands as Imperial State Electric, Graveyard, Bombus, Year of the Goat and The Order of Israfel. On the new album the band have continued to work with producer Ola Ersfjord. Honeymoon Disease have been working with Branca Studios with the artwork. The new album "Part Human, Mostly Beast" is released the 27th of October by The Sign Records.
© The Sign Records