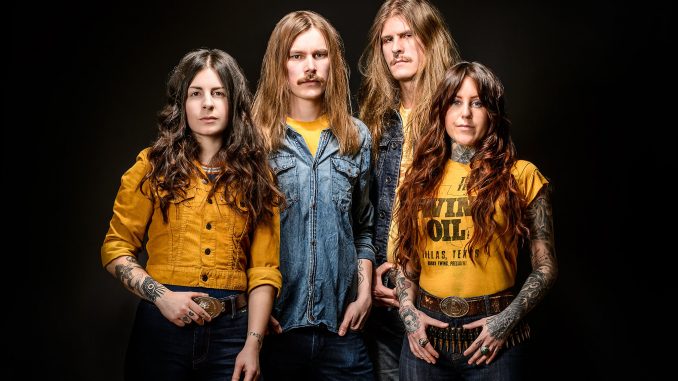 Honeymoon Disease är tillbaka med sin nya singel och sjutums vinyl 'Electric Eel'. Det svenska boogie woogie rock bandets nya singel har alla hooks och melodier som behövs för att nagla sig fast i skallen. Electric Eel är den första nya originalmusik som bandet släppet ifrån sig sedan deras debutalbum 2015. Sen dess har bandet turnerat för fullt och sakta gjort sig ett namn som en av de hårdast arbetande rock n roll maskinerna från vårt Sverige. Singeln släpps med tillhörande video regisserad av Max Ljungberg. På torsdag startar bandets Spanien turné i Barcelona.
"Electric Eel is about when your heart is overloading and pushes you to the limit. So settle for the shock and get ready for the take off!" – Jenna
Electric Eel är en första försmak av vad som komma skall från Honeymoon Disease. Bandet går i sommar in i studion tillsammans med Ola Ersfjord (Tribulation, Dead Lord, Night) för att spela in bandets andra album som beräknas släppas under hösten 2017 på The Sign Records. Bandets debutalbum 'The Transcendence' gavs ut 2016 av Napalm Records och var samproducerad med Nicke Andersson (the Hellacopters & Imperial State Electric). Honeymoon Disease turnérad i februari och mars Sverige tillsammans med Horisont.
Electric Eel 7″ vinyl är limiterad till 700 exemplar och säljs via Freight Train tillsammans med patchar och t-shirts. Ni hittar dem här: http://freighttrain.se/
Live datum:
04/05 – BARCELONA (ES) – Rocksound
05/05 – ZARAGOZA (ES) – La Ley Seca
06/05 – VITORIA (ES) – Hell Dorado
07/05 – SAN SEBASTIÁN (ES) – Convent Garden
08/05 – GIJÓN (ES) – Sala Acapulco (Casino de Asturias)
09/05 – A CORUÑA (ES) – Sala Mardi Gras
10/05 – OURENSE (ES) – Sala Berlín Ourense
11/05 – MADRID (ES) – Fun House Music Bar (ES)
12/05 – PORTUGALETE (ES) – ADIMUSIK
25/05 – UDDEVALLA (SE) – Imagine Sweden Street Festival
3/06 – ASSENEDE (BE) – Flanders Chopper Bash
Honeymoon Disease på Facebook
Honeymoon Disease Homepage
The Sign Records på Facebook
The Sign Records homepage
© 2017 Sign Records