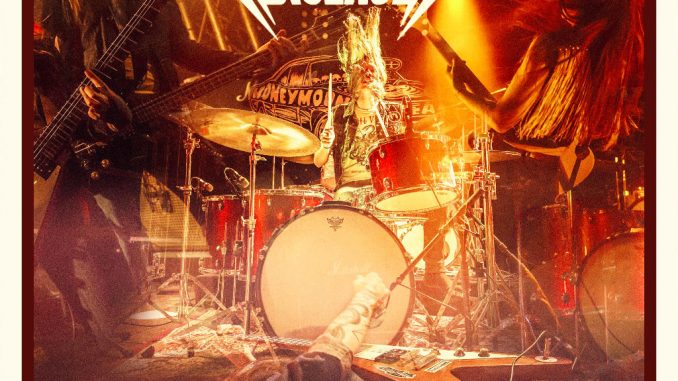 Klicka på bilden, för att se hela bilden
Honeymoon Disease unleashes their new album "Part Human, Mostly Beast" the 27th of October on The Sign Records. The Swedish rock quartet's second album is filled with high voltage pulse, colorful sounds and lots of groovy soul. Well acclaimed for their intense and high energetic stage performances the band have been one of the raising stars on the European rock stages, something the band have brought into the studio and recording the album live. Honeymoon Disease have worked with producer Ola Ersfjord (Imperial State Electric, Primordial, Tribulation, Dead Lord) since the recording of their last album "The Transcendence" (Napalm Records), something that led up to a recording session with better crafted songs, a more luxuries production and a lot of focus on the vocal arrangements.
Jenna Disease:
"Its rougher and more heavy but still with a melancholic feeling. It's part human but mostly beast"
The band released the first single "Electric Eel" from the album during the spring 2017. The backside of the seven inch hold a cover of soul-legend Eddie Floyd's classic song "Big Bird". During the pre-production the band and producer Ola Ersfjord find a mutual interest in old soul records. This interest paved the way for a recording session with more focus on strong vocal arrangements with more chorus and soul. At the same time the band is a modern high-energy rock act with focus on taking it all the way to eleven.
Jimi Disease:
"We wanted this album to have a more rough and lively feeling, as we are on stage. You should really hear the sweat from the jeans vest dripping out from the speakers"
Honeymoon Disease released their debut album "The Transcendence" on Napalm Records in 2015. The band have since then been touring frequently with bands as Avatarium, The Vintage Caravan, Dead Lord, RavenEye and Horisont and sharing stages with bands as Imperial State Electric, Graveyard, Bombus, Year of the Goat and The Order of Israfel. On the new album the band have continued to work with producer Ola Ersfjord. Honeymoon Disease have been working with Branca Studios with the artwork. The new album "Part Human, Mostly Beast" is released the 27th of October by The Sign Records.
The album is released on CD & Vinyl and as a bundle together with wunderbaum, bumpersticker and metal pin.
Track list:
1 – Doin' it Again
2 – Only Thing Alive
3 – Tail Twister
4 – Rymdvals
5 – Needle In Your Eye
6 – Fly Bird, Fly High
7 – Calling You
8 – Four Stroke Woman
9 – Night By Night
10 – It's Alright
11 – Coal Burnin'
12 – Electric Eel
© The Sign Records