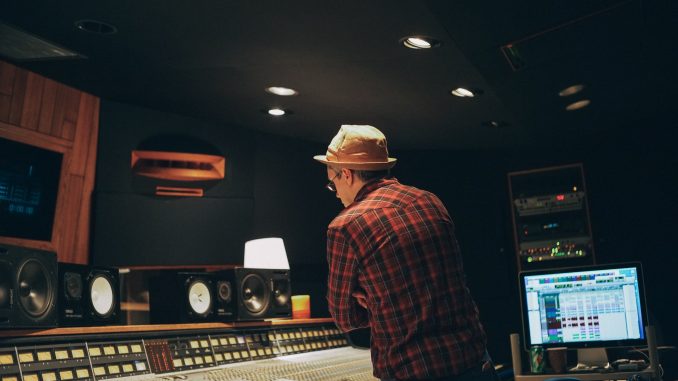 Klicka på bilden, för att se hela bilden
Although Twin Peaks: The Return has hosted an array of Roadhouse performers and spotlighted music throughout its new season, a large part of the show's sonic identity has been defined by the space between sound effects and music. Sound and music supervisor Dean Hurley's first installment of the library-style Anthology Resource series showcases his original sound design and music compositions featured in the show's very distinctive-sounding third season.
From ethereal tones to sputtering electricity to densely brooding musical cues, this release operates as an unofficial ambient score to Twin Peaks, offering a more abstract counterpoint to the show's official soundtrack and score. (You might also remember Hurley as the drummer from the fictitious band Trouble, alongside Alex Zhang Hungtai of Dirty Beaches, and David Lynch's son Riley, who performed at the Roadhouse in 'Part 5' of The Return.)
Sound and music supervisor Dean Hurley has operated David Lynch's Asymmetrical Studio for the past 12 years, collaborating extensively with Lynch on a myriad of his film, commercial, and music-based projects. In addition to his sound and music supervision for both Inland Empire and Twin Peaks: The Return, Hurley co-wrote and produced four full-length LPs with Lynch: The Air is on Fire (2007), This Train (2011), Crazy Clown Time (2011), and The Big Dream (2013). Hurley's music production has also extended to artists like Lykke Li, Dirty Beaches, Zola Jesus, and The Veils.
Anthology Resource Vol. 1: △△ is out now on digital platforms, with a limited vinyl edition to follow in the future. Find album details and listen to "Eastern European Symphonic Mood No. I" (which was featured on last nights episode) & the full album below!
1. Intro Cymbal Wind
2. Night Electricity Theme
3. Electricity I
4. Weighted Room / Choral Swarm
5. Tube Wind Dream
6. Tone / Slow Speed Prison / Low Mood
7. Slow One Chord Blues (Interior)
8. Interior Home by the Sea
9. Low Sustained Mystery
10. Angel Choir Reveal
11. Seven Heaven
12. Eastern European Symphonic Mood No. 1
13. Black Box
14. Girl Appears / Black Smoke
15. Shanghai Mysterioso
16. Forest / Interior
17. Electricity II
18. Future / Past
© Sacred Bones Records