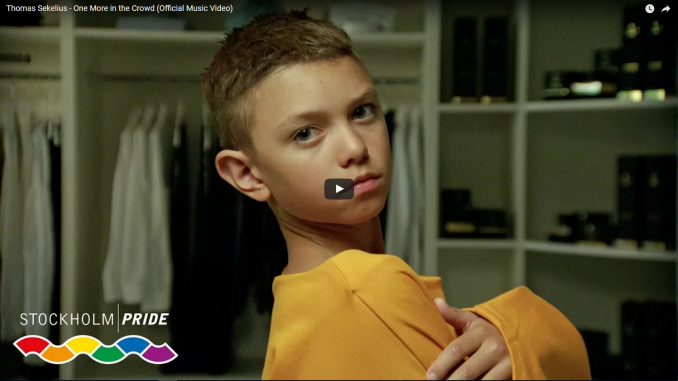 Thomas Sekelius släppte nyss "One More in the Crowd", med redan nära 400 000 lyssningar på Spotify släpps nu den officiella musikvideon. Det är en stark video om att bryta normer och våga vara sig själv, vad omgivningen än säger.
I videon speglas Thomas egna ungdomsår som kantades av extrem ångest, självskadebeteende och en rädsla av att inte passa in. Utifrån detta perspektiv får vi uppleva hur omvärldens dömande blickar kan få en att inte kunna vara sig själv, men också hur mäktigt det är när en äntligen slår sig loss och tar sig denna grundläggande rättighet. Den varma kärlek som är Pride-rörelsens kärna sprids samtidigt som videon lyfter viktiga frågor om HBTQ-personers vardag.
– Jag ville göra en låt som fångar euforin i allas ögon, som har sex-appeal, är kaxig och som går att dansa till. Texten belyser blickar HBTQIA+ personer får på stan, hur diverse fobiska kommentarer får en att må men att man alltid ska fortsätta kämpa, att man alltid ska vara sig själv. Den tystar HBTQIA-fober på ett icke-aggressivt sätt och får en att må fantastiskt bra, säger Thomas själv om singeln.
Thomas Sekelius är en av Sveriges populäraste influencers på sociala medier med en ständigt växande följarskara, dessutom blev han vald till årets YouTuber på QX-galan i år och vann nyligen pris för årets stylevideo på Guldtuben. I februari började han sin resa som artist med singeln "Awakening", en låt som symboliserar både hans egen och hela HBTQ-rörelsens utveckling.
"One More in the Crowd" är den officiella låten för Stockholm Pride 2017 och lagom till att Pride-festivalen drar igång släpps nu alltså den officiella musikvideon. Thomas själv kommer att höras och ses många gånger under Pride-veckan och musikvideon kommer att visas under hela festivalen. Vad Thomas nästa steg blir kan ännu inte avslöjas, men förvänta er något storslaget.
© Mars Music