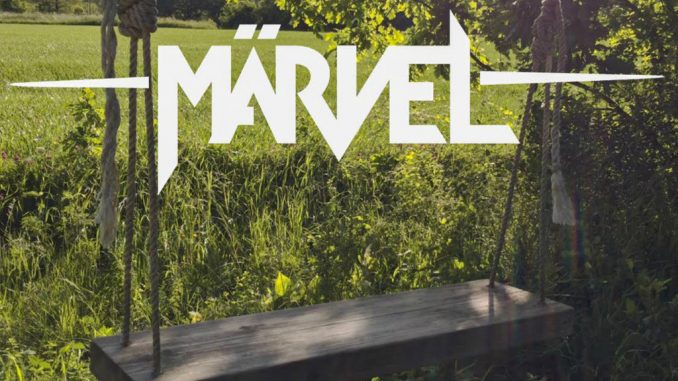 Klicka på bilden, för att se hela bilden
Goodluck Sandy is green sunlight sifting through slender birch branches while you're enjoying a glass of ice cold sparkling wine in the company of long lost friends. A far stretched field of rye is moving to the late evening breeze and the sky is endlessly high.
Märvel's first single from their upcoming 7th album "At the Sunshine Factory" is an instantly likeable song that showcase the band's broad musical influences while still being well recognized as a trademark Märvel song. On the surface, the soulful and catchy song comes out sunny side up while the lyrics questions the idea of taking the easy way out of complicated relations.
The stomping drums, the playful bass lines and the roomy guitar melodies transports the listener to the 60's but as always Märvel has a way of making their unique blend of music sound fresh and interesting.
"Goodluck Sandy" will grab you by the hand, lead you to a deserted beach and sit by your side as the sun sets where the ocean meets the sky.
The album "At the Sunshine Factory" is set for release the 6th of October on The Sign Records. The band have worked hard to create a "larger than life" sound, building a studio of their own to get enough time to develop their songs to perfection. A cheerful production disguises a darker lyrical theme affected by today's world situation. Märvel, known for their contagious hooks, pop melodies and rock 'n' roll soul, have tightened the bow and made braver decisions to make this the stand out album of their career. The album's spine is still very much vintage Märvel, yet each of the twelve songs have got more of a character of its own. The Swedish rock veterans are set for new challenges and conquests. Märvel have never been this well equipped and ready to make a first and lasting impression on a new audience and deliver something fresh and virgin to their old fans. The band shines like never before.
"At the Sunshine Factory" is a self-produced album recorded by the band at studio Solskensfabriken. Mixed by Stefan Brändström at Dustward Studios and mastered by Magnus Lindberg. Märvel have been an active band since 2002.
Track list:
1 – A Killing View
2 – The Secret Grand Prix
3 – Goodluck Sandy
4 – Heart & Balls
5 – Smile Mr. Steen
6 – Monsters Grow In The Dark
7 – Child
8 – Step Closer
9 – All Over The News
10 – Live & Learn
11 – Vinegar
12 – Angela
© The Sign Records