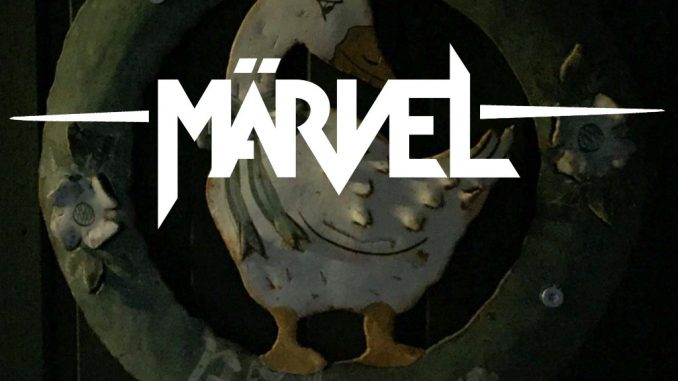 Klicka på bilden, för att se hela bilden
"All Over the News" is the second single from Märvels upcoming seventh album "At the Sunshine Factory". The song has a familiar sound that very well rounds up what the band is all about. Or as they self describs as: "a rock'n'roll banger pop song, and a track from our upcoming album that will make you feel right at home."
The Sludgelord wrote:
"Märvel's music has been described as sweaty group sex with The Hellacopters, Turbonegro and Electric Six at a KISS-themed children's party. Throw some 60s soul and the good kind of 80s metal into the mix and you've got it."
Watch Märvels new video at The Sludgelord:
Vicar of Märvel says:
"All Over The News reflects a bit on the world we live in today, where everything is pushed beyond reason, in a spiral that feels more and more narrow for each day. It's also maybe a reflection inwards.
Most of all though, it's a rock'n'roll banger pop song, and a track from our upcoming album that will make you feel right at home. Hope you like it!"
The album "At the Sunshine Factory" is set for release the 6th of October on The Sign Records. The band have worked hard to create a "larger than life" sound, building a studio of their own to get enough time to develop their songs to perfection. A cheerful production disguises a darker lyrical theme affected by today's world situation. Märvel, known for their contagious hooks, pop melodies and rock 'n' roll soul, have tightened the bow and made braver decisions to make this the stand out album of their career. The album's spine is still very much vintage Märvel, yet each of the twelve songs have got more of a character of its own. The Swedish rock veterans are set for new challenges and conquests. Märvel have never been this well equipped and ready to make a first and lasting impression on a new audience and deliver something fresh and virgin to their old fans. The band shines like never before.
"At the Sunshine Factory" is a self-produced album recorded by the band at studio Solskensfabriken. Mixed by Stefan Brändström at Dustward Studios and mastered by Magnus Lindberg. Märvel have been an active band since 2002.
Märvel
King (vocals and guitars)
Burgher (bass)
Vicar (drums)
Märvel Homepage
Märvel Facebook
Märvel Instagram
DISCOGRAPHY
2017 – At the Sunshine Factory (LP, CD) (The Sign Records)
2017 – Warhawks of War (LP) (The Sign Records)
2017 – The Hills Have Eyes (CD, minialbum) (The Sign Records)
2015 – The Hills Have Eyes (LP, mini­album) (Killer Cobra Records)
2015 – Everything Belongs to You / Motherfucker (7″ The Chuck Norris Experiment / Märvel) (Ghost Highway)
2014 – Hadal Zone Express (LP, CD) (Killer Cobra Records)
2012 – Metalhead / Ambassador of Fantastic (7″ vinyl) (Killer Cobra Records)
2011 – Warhawks Of War (CD) (Killer Cobra Records)
2009 – A Pyrrhic Victory (7″ vinyl) (Killer Cobra Records)
2007 – Thunderblood Heart (LP, CD, digipak) (Killer Cobra Records)
2006 – Unleashed (CD, mini­album) (Black JuJu)
2005 – Five Smell City (CD) (Black JuJu)
2004 – Bedlam At The Embassy (7″ vinyl) (Black JuJu)
2003 – Heroine Tracks (7″ vinyl) (Black JuJu)
2002 – Marvellous (7″ vinyl) (Marvellous)
© The Sign Records