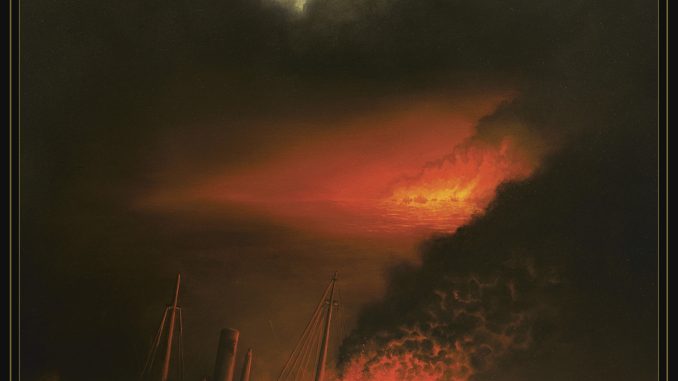 Klicka för att se hela bilden
September 1st marks the release date of Night's third full length album "Raft of the World" which will be released through The Sign Records. The album consists of 9 ravishing rock hymns forged together by the band during the fall of '16, and signifies a musical progression of the band towards a more rock-based sound – without leaving their trademarked sharp edged NWOBHM attitude. With a modern take on classic rock 'n' roll combined with more sinister lyrical themes, this album invites the listener on an increasingly organic and diverse journey compared to its predecessors. "Raft of the World" was recorded, produced and mixed by Ola Ersfjord (Tribulation, Dead Lord, Lizzies, Honeymoon Disease) with additional recordings (drums & bass) by Linus Lundgren at Studio Ganymeden in their hometown Linköping. Ola Ersfjord contributed to a broader production and soundscape including instruments such as organs, acoustic guitars and percussion to name a few, which they consider has brought the album a unique sound that stands out in comparison to other contemporary rock bands. Mastering was done by Chris Common (The Mars Volta, Chelsea Wolfe, Mastodon) and the artwork is made by the talented artist Mattias Frisk (Ghost, Vanhelgd, Vampire, Trap Them).
Night is a quartet hailing from the plains of Östergötland, Sweden. They started out back in 2011 and have released two full length albums and two 7″ singles followed by several tours and festival gigs (Muskelrock, Hell over Hammaburg, Headbangers open air, Metal frenzy) all over Europe. Known for their fierce and intense live performances, Night have built up a reputation as an entity to count on. Today the band consists of Oskar (vocals, electric guitar), Sammy (electric guitar), Joesph (electric bass guitar) and Dennis (battery).
"This album is a progression of the whole concept that is Night – both personally and musically. I felt a dire need to express myself on a more personal level, which hasn't really been a priority for me before we started to work on the new songs. Living in a world gone mad, constantly surrounded by people who's lifestyle is basically rooted in greed unfortunately brings out the worst in otherwise "good" people. It makes you think about what is actually important in life which also triggers the creative and philosophical flow that I really think has been manifested in the new songs." – Oskar, Night
© The Sign Records