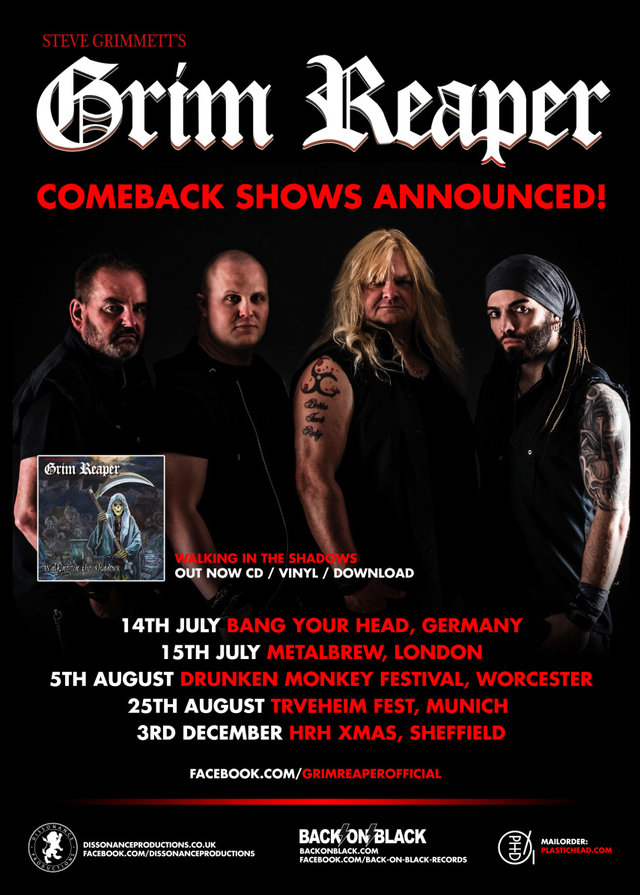 Klicka på bilden, för att se hela bilden
Steve Grimmett's GRIM REAPER have announced five new festival dates starting at Bang Your Head in Germany on July 14, 2017. Normally that wouldn't be much to write home about but after the past six months Steve Grimmett has had it's a minor miracle.
As widely reported Steve had to have part of his leg amputated in Ecuador while on the bands South American tour in January after an operation to stem an aggressive infection failed. Since then Steve has been fighting to get back out there starting with these dates:
Steve Grimmett:
"I'm excited as hell to be returning to the stage, it's what I love to do, but it has to be done in a careful manner. I have to find out what I can and can't do for the time being so there won't be many gigs this year as I still have 18 months recovery to go through with more hospital and rehabilitation appointments and it's still all hard work in front of me but I feel I can say "I'm back"
July 2017
14th BALINGEN, Germany, Messegelande – Bang Your Head 2017
15th BARNET, UK, Rugby Club – Metal Brew 2017
August 2017
5th WORCESTER, UK, Upton – Drunken Monkey 2017
25th MUNICH, Germany, Hallbergmoos – Trveheim 2017
December 2017
3rd SHEFFIELD, UK, O2 Academy – HRH Xmas Rocka 2017
Dissonance Productions last year released the long awaited album from Steve Grimmett's GRIM REAPER entitled 'Walking In The Shadows' it was the band's first new recording since 1987's Rock You To Hell.
GRIM REAPER's story begins in 1979 after successfully fighting off hundreds of bands in a local Battle Of The Bands competition. This win, combined with an already sizeable following, aroused the interest of Ebony Records. Signing with the small UK label, GRIM REAPER released three albums in rapid succession to international acclaim. Due to legal turmoil with Ebony, GRIM REAPER would disband in 1988. Grimmett would go on to record with Onslaught, Lionsheart, and more recently The Sanity Days debut Evil Beyond Belief. His renowned vocal range remains one of metal's most identifiable with loyal fans turning out in numbers to hear him perform.
Since reforming in 2006, Steve Grimmett's GRIM REAPER has made several European festival appearances including Germany's Keep It True, England's British Steel, Belgium's Heavy Sound, and Sweden's Muskelrock as well as touring North and South America.
Official Band Links:
website
facebook
© Dissonance Production