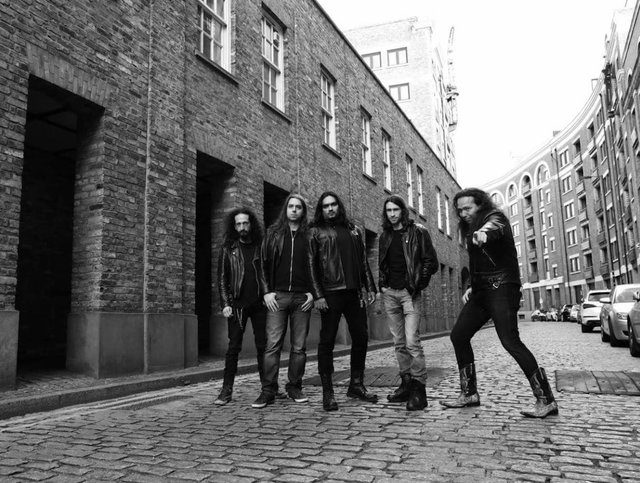 Klicka på bilden, för att se hela bilden
British heavy metal band Neuronspoiler have announced their upcoming sophomore album will be released on Dissonance Productions, a label created by Plastic Head Distribution's Steve Beatty and former Motörhead manager Tom Doherty.
The album entitled "Second Sight" will see Londoners Neuronspoiler release brand new material since the critically acclaimed "Emergence" in 2013.
On signing with Dissonance Productions JR Vox noted: "We really look forward to working together with Steve, Tom and their team and being on their label Dissonance. Being an underground band has some credibility in terms of independence, but for the band to reach the next level we need the industry knowledge and expertise of the Dissonance Productions team."
Lead singer JR Vox continued, "On Dissonance we are label mates with our NWOBHM heroes Steve Grimmett's Grim Reaper and Diamond Head. This is an incredible honour for us to be a part of such a respected roster made of bands that helped defi ne heavy metal music."
On the upcoming album guitarist David del Cid added, "It has been a long wait but we have good survival instincts in this band, we refuse to go quietly. We have built a loyal following based on the strength of our music and the song writing is incredibly strong on "Second Sight". With the second full length album we wanted to make a bold statement that British heavy metal is alive, well and loud as hell!"
Pre-order "Second Sight" on CD and vinyl
NEURONSPOILER have just announced they will join Tim Ripper Owens on a lengthy UK jaunt starting in Cardiff on May 26, 2017. Catch them here:
Tim Ripper Owens + NEURONSPOILER
May 2017
26th CARDIFF – Fuel Rock Bar
27th EVESHAM – Iron Road
28th BRISTOL – Bierkeller
29th BILSTON – Robin 2
30th WESTCLIFF – The Venue
31st EDINBURGH – Bannermanns
June 2017
1st NEWCASTLE – Think Tank
2nd PENTRE – McLeans
3rd GRIMSBY – Yardbirds
4th LONDON – Underworld
MORE NEURONSPOILER INFO
British heavy metal band NEURONSPOILER has been rocking the stage for almost a decade and with their upcoming full length album SECOND SIGHT released on DISSONANCE PRODUCTIONS, the British five piece look set to conquer the world of heavy metal.
Founding members JR Vox (lead vocals), Erick Tekilla (bass) and David del Cid (guitars) have forged their unique brand of steel fully decked out in leather and chains, the way heavy metal was meant to be played. The band's sound combines the sonic prowess of a classic twin guitar attack, pounding bass and drums with searing vocals. Their honest sound reminds listeners of the greatest bands of the 80s like JUDAS PRIEST, IRON MAIDEN and HELLOWEEN but make no mistake, NEURONSPOILER is no copycat band, but a force to be reckoned with in their own right.
NEURONSPOILER released their five track E.P. in 2009 with Misha Nicolic (MARTYN TURNER'S WISHBONE ASH, MIKE TERRANA) handling production duties. The E.P. received glowing reviews from CLASSIC ROCK who concluded, "they can really play…there are some truly rich passages of guitar interplay. This alone gives the band a cachet." In addition, TERRORIZER magazine described the music as, "fast, furious and fabulous."
After a change of guitarist in 2013, the band set about writing and recording their first full length album entitled "Emergence." Producer Will Maya (ADRIAN SMITH, THE ANSWER) captured the band's diverse sound and the ten-track album achieved universal acclaim for its musicianship, song writing and overall dynamism. Respected journalist Scott Adams posed the question, "The birth of a new genre Titan?… Emergence destroys the opposition over the course of an hour of anthemic, no holds barred musical brilliance." PLANET MOSH declared, "It's an album that, so far, is a classic and shining example of what heavy metal would be to the uninitiated"
After sorting out the band's new line-up with the addition of shredder Pierre Afoumado on guitar, NEURONSPOILER set about recording the full length follow up to Emergence in 2016. To achieve the perfect drum sound, the band enlisted the services of the ultra-talented JOHAN NUNEZ (GUS G, MARTY FRIEDMAN and FIREWIND). The permanent line-up is now complete and features drummer Matthew Monroe taking over the kit.
NEURONSPOILER has toured extensively throughout the UK and Europe. A recent show was in London (September 2016) supporting NWOBHM legends GRIM REAPER. Neuronspoiler toured the UK with JEFF SCOTT SOTO, celebrated their 5th Anniversary with a sold-out London show and Steve Harris (IRON MAIDEN) was in attendance. NEURONSPOILER has also supported GLORYHAMMER, KOBRA & THE LOTUS, DENNIS STRATTON as well as NWOBHM pioneers WEAPON.
In a time when many fans are wondering when the next big heavy metal act will emerge to stand alongside the greats, NEURONSPOILER is a welcome reminder that there is genuine talent to be found in the UK, the birthplace of heavy metal.
NEURONSPOILER
JR Vox – lead vocals
Erick Tekilla – bass
David del Cid – guitars
Pierre Afoumado – guitars
Matthew Monroe – drums
CONTACT NEURONSPOILER
Facebook
Hemsida
© Dissonance Productions