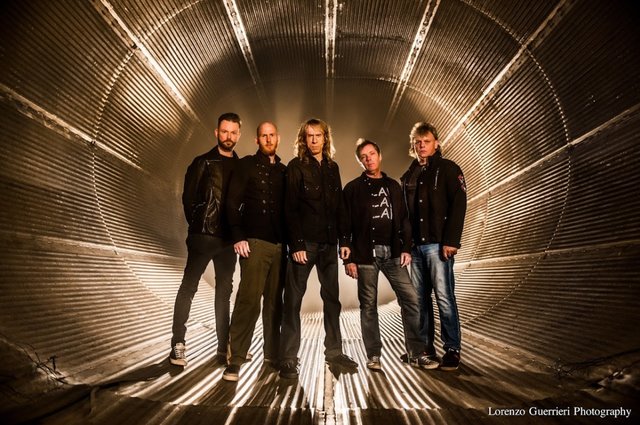 Klicka på bilden, för att se hela bilden
DIAMOND HEAD continue to promote their acclaimed 2016 self-titled album with live dates and a brand new video. Guitar World is exclusively hosting the video for "Diamonds" here.
"Diamonds is a song that pays homage to the legacy of the band," says vocalist Rasmus Andersen." It features vintage and modern performance footage from Diamond Head's career. It reflects on the band's 40 years and gives lyrical nods that point to some of Diamond Head's best songs."
The video, created by Emmy Award nominee Roman at Snakejam Studios, precedes the band's upcoming return to the United States for the first of two short runs that include performances at Rocklahoma Festival on May 27th and Psycho Circus in Las Vegas on August 19.
"We are really looking forward to Rocklahoma which will be our largest US festival to date," notes Andersen. "We hope to see and meet loads of fans on our shows between the 17th and 27th of May. We will be playing songs from our new album and classic catalogue along with one or two surprises for the hard core fans.
Released via Dissonance Productions last June, Diamond Head is the first album to feature Andersen on vocals. Its release ended an eight-year silence for the New Wave of British Heavy Metal icon. Decibel Magazine called Diamond Head "vital and interesting. All the songs, thanks to (Brian) Tatler's masterclass riffing, are all rock solid from top to bottom. These guys deserve their legendary status." Metal Injection adds, "Tatler has come to the table with some of his all-time best:" Noisey claims simply, "Diamond Head stand the test of time on their new album."
Formed in 1976, DIAMOND HEAD influenced a slew of early 80s thrash metal bands, in particular Metallica who recorded the bands Am I Evil as a b-side to their 1984 Creeping Death single and again included on the bands multi-platinum 1998 covers album Garage Inc. Metallica would record three additional DIAMOND HEAD songs Helpless (Garage Days, 1987), The Prince (One Single b-side, 1989), Its Electric (Garage Inc., 1998).
Dissonance Productions additionally issued for the band's 2005 album All Will Be Revealed and 2007 album What's In Your Head.
Upcoming DIAMOND HEAD tour dates are:
5/17 – Ace of Cups, Columbus OH
5/18 – HQ, Indianapolis IN
5/19 – Ribco, Rock Island IL
5/20 – Legions of Metal Festival (Reggies Live), Chicago IL
5/27 – Rocklahoma Festival, Pryor OK
8/19 – Psycho Circus Festival, Las Vegas NV
8/21 – Mystic Theater, Petaluma CA
8/22 – Goldfield Trading Post, Sacramento CA
8/23 – Bossanova Ballroom, Portland OR
Diamond Head's European dates are as follows
June 2017
23rd Tons of Metal Festival, Oslo, Norway.
July 2017
14th Dynamo, Eindhoven, Holland.
15th Bang Your Head Festival, Germany.
16th Baroeg, Rotterdam, Holland
23rd Amplified Festival U.K.
August 2017
5th Cumbria Rock Festival Haven & Hell, UK
12th Leyendas del Rock, Spain
November 2017
23rd Fibber Magees, Dublin, Ireland
24th Voodoo Lounge, Belfast, UK
25th Dolson's Warehouse. Limerick, Ireland
December 2017
1st La Belle Angèle, Edinburgh, UK
2nd HRH Festival Sheffield, UK
7th The Robin Bilston, UK
9th Blast from the Past Festival, Belgium
Additional European dates are confirmed for November and December. Check the band's official Facebook page for specific information and tickets.
DIAMOND HEAD is co-founder/guitarist Brian Tatler, vocalist Rasmus Andersen, drummer Karl Wilcox, bassist Dean Ashton, and guitarist Abbz.
© Palmer Turner Overdrive