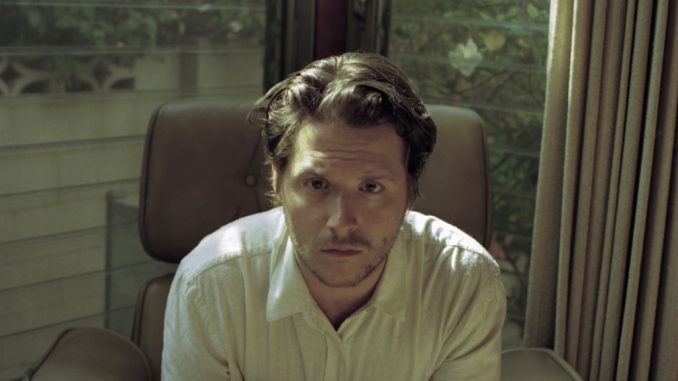 Klicka på bilden, för att se hela bilden
Today the acclaimed Danish pianist and composer August Rosenbaum releases the first track from his forthcoming full length album Vista, due for release on Tambourhinoceros on Nov 24, 2017. Entitled "Nebula" the song is released alongside a stunning video by Swedish artist Andreas Emenius (Trentemøller etc.).
Shot in a studio in Copenhagen the video captures the persistence and endurance of the protagonist as he struggles to maintain balance at the intersection between the archaic world and the modern. An apocalyptic anthem set in an uncanny sports hall we see him perform ritualistic movements as he prepares for a baptism of sorts in a desperate attempt to start all over. In 2017 August Rosenbaum and Andreas Emenius are collaborating on various cross-disciplinary projects including music videos, stage design and art exhibitions creating a total audio visual experience.
"Nebula is a theme for the future. To me it's a dream of floating in infinite darkness – somewhere between a space odyssey and a fever dream, both heavy and weightless. When I close my eyes I see images from Stanley Kubrick's A Space Odyssey and Tarkovsky's Solaris. Both of which are among my all-time favourite soundtracks" says August.
"Nebula" opens with a string-section playing a short but overwhelmingly beautiful intro that suddenly warps into a minimalist groove governed by the heartbeats of the bass drum and a calm and steady guitar. While the melody is instrumental it still has a talking feel to it, sounding almost like a computer telling a sad memory. As the theme builds, more and more layers are added to the arrangement before the song morphs into the final part where haunting harmonies and rising dynamics sustain and increase the tension even further. And then it's suddenly all over and we, the listeners, float into outer space.
"I played the melody five times on top of each other to give it that hesitant feeling. Dorit Chrysler played the theremin, adding some extra stardust on the end part. I remember the singer Kimbra walked into the studio at one point while we were recording and just stood there for 10 minutes listening as if she had landed on another planet."
While the name August Rosenbaum may not seem familiar, the Danish piano prodigy has been involved in some of the most influential Danish music in recent years. He has been touring the world as the keyboard player for Quadron, making string arrangements for MØ and recorded the piano on Rhye's iconic album Woman. 2017 is the year when August will put himself in front and center and release his new solo project signed to Tambourhinoceros (Efterklang, IRAH, Frisk Frugt etc.).
With Vista August Rosenbaum has created a fascinating album of evocative and soulful music that brings together his rich musical background in both jazz, classical music, film scoring and pop. Vista is written and produced in collaboration with Grammy-nominated producer Robin Hannibal who've worked with an impressive range of artists including Little Dragon and Kendrick Lamar.
The video was made in collaboration with Prxjects, a culture laboratory initiated by Mercedes-Benz. See more at www.prxjects.com
© Tambourhinoceros