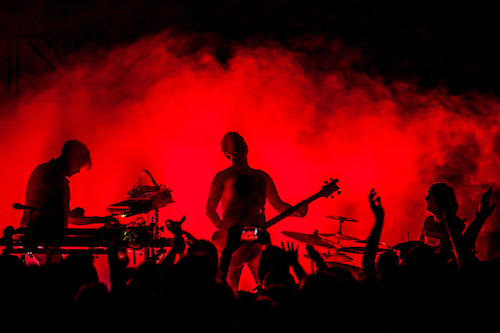 Klicka på bilden, för att se hela bilden
After the 'Fixion'-video trilogy (River In Me, Redefine, Complicated), by Andreas Emenius and Aså Riton, there were no intentions for an additional music video, but when directors Bruno Noaro and Julie Reindl showed their video which they created as students at Emenius' masterclass at the The Royal Danish Academy of Fine Arts, Trentemøller decided to make it the official music video for 'Sinus'.
In contrast to Riton/Emenius' encrypted visual language Julie Reindl and Bruno Noaro follow a rather realistic approach and chose a futuristic scenario to criticize today's world in their video.
We'd be grateful if you would be able to cover it on your website or blog.
More about 'Fixion'
Trentemøller links: Facebook, Instagram, YouTube, Soundcloud, Twitter
Trentemøller's North America tour
After his almost completely sold out Europe tour, Trentemøller and band are taking the 'Fixion' tour to the US and Canada. From 10th March they'll be playing 11 shows in the US and 3 in Canada.
TOM And His Computer has just been confirmed as the support act. Check out his new release 'Playing In The Night EP'
10.03.17 Canada, Vancouver, BC, Venue
11.03.17 USA, Seattle, WA, The Showbox
12.03.17 USA, Portland, OR, Wonder Ballroom
13.03.17 USA, San Francisco, CA, The Regency Ballroom
14.03.17 USA, Los Angeles, CA, Belasco Theater
16.03.17 USA, Denver, CO, Bluebird, Theater
18.03.17 USA, Minneapolis, MN, Fine Line Music Cafe
19.03.17 USA, Chicago, IL, Concord Music Hall
21.03.17 Canada, Toronto, ON, Danforth Music Hall
22.03.17 Canada, Montreal, QC, Corona Theatre
23.03.17 USA, Boston, MA, Paradise Rock Club
24.03.17 USA, Philadelphia, PA, TLA (Theater Of Living Arts)
25.03.17 USA, New York, NY, Irving Plaza
26.03.17 USA, Washington, DC, 9:30 Club
Browse through pictures of his past shows on his website.
Check all his upcoming tour dates on his website.
@ In My Room