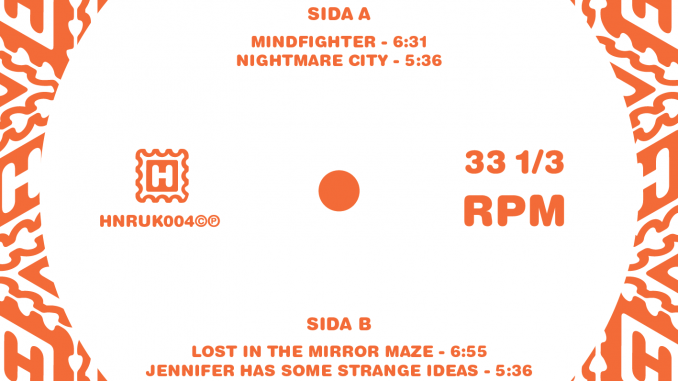 Timothy J. Fairplay is revisiting Höga Nord Rekords to release the 12" EP Mindfighter: photosensitive electronic music from one of the pillars of the modern meaningful dance music scene. Together with Scott Frasier, T.J.F. is running the record label "Crimes Of The Future" and he is also known as one half of The Asphodells together with Andrew Weatherall. This is his second release on Höga Nord Rekords and his first EP on the label.
The feeling of full control characterizes every second of Mindfighter. As usual, T.J.F picks up influences from everywhere; House, techno, electro, kraut rock and psychedelia forms the sound of this release and creates a unique sound. Drips of discrete and contrasting nuances colours the monotonous and hypnotic groove and creates the effect of double exposition, like in the track Jennifer Has Some Strange Ideas that develops in to a love affair between Hi fi and Lo fi. The build-ups are exquisitely balanced and compassionate and in Nightmare City the melodies resounds from some horror movie soundtrack by John Carpenter or Fabio Frizzi.
The title of this EP comes from a cult computer game from the eighties. The game is about a boy with supernatural psychic abilities who wakes up in a post nuclear war Southampton, in an England run by right wing extremists. A theme not impossible to put in present time.
Mindfighter shows once again that Timothy J. Fairplay is on to something different. The craftsmanship is undoubted on this trip into a dystopic Europe, in a not so distant future.
© Höga Nord Rekords