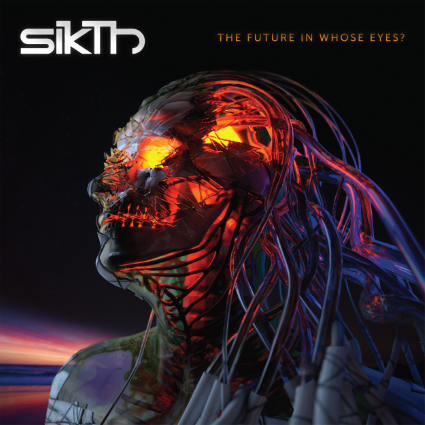 Klicka på bilden, för att se hela bilden
The kings have returned!
Sikth are back! The Watford mathcore sextet that stumbled upon a sound unexplored, who devised their own Morse code of metal – one that mushroomed into labyrinthine detours and tangents, that ultimately lead to the birth of the djent metal, the band's whoselegacy gave the inspiration for bands like Protest The Hero, TesseracT, Animals As Leaders and Periphery after their hiatus in 2007, are back,with what will be, one of the finest albums of 2017 – The Future In Whose Eyes?
Due to be released on 2nd June on Millennium Night, the newly created label imprint from Snapper Music, home of Peaceville Records & Kscope. SikTh, one of the Great British pioneers that have shaped heavy music over the years, have revealed their first full length studio album since 2006's classic Death Of A Dead Day. Dan Weller, SikTh's guitarist and producerproudly states"Ever since SikTh was formed way back at the turn of the century we've tried to self improve as musicians and as song writers. We take our music very seriously. This record feels like the one we've always wanted to make. We spent over a year writing it and pushed ourselves extremely hard – sometimes too hard. Opacities was the rebirth of SikTh but 'The Future…' is our statement – I want this album to define us. I don't care how over ambitious it sounds – we want this record to be heard by every metal fan on the planet."
SikTh vocalist & lyricist Mikee W Goodman adds"Personally I feel this is our best album yet. From my point I have written all vocals and lyrics. I have taken myself to some very dark places, commentated on this world as I see it. Also swimming into fictional worlds and dreamscapes. There are some beautiful moments. The band have made incredible music, brutal, technically warped mixed with some psychedelic moments. I think we've done something special here."
The vocals were recorded at Mikee's own studio and at Adrian Smith's (Iron Maiden) R&R Studios (www.rnrstudios.co.uk) and this is the first release featuring new co-vocalist and former member of Aliases Joe Rosser "Joe has done a great job singing on this album . He has a lot of scope to his voice, he's very versatile indeed, we were really pleased how he sang the lines in" high praise indeed from vocalist Mikee.The guitars and drums at the renowned Monkey Puzzle House studios (www.monkeypuzzlehouse.com). Dan Weller has been producing, alongside Adam "Nolly" Getgood (Periphery) on mixing duties.
The Future In Whose Eyes? Features the first ever guest vocalist on a SikTh album – Spencer Sotelo, singer in Periphery joins Mikee on the track "Cracks Of Light". In late summer 2016 SikTh made their first foray into the US live arena after being invited to join Periphery on tour "They're really nice people, everyone on that US tour felt it was the best one they'd been on," smiles Mikee, it was over those weeks that a plan was hatched "We actually got him down to R&R Studios in Uxbridge where we made the album. I really like Periphery and especially love Spencer's voice, he's not your usual djent singer, and he's very much a spiritual man. He knows his and mind well and so we nailed the song really quicky".
The spectacular artwork for The Future In Whose Eyes? has been created by 3D animator and artist Meats Meier (www.3dartspace.com) – "Meats has been a friend for years and he came out to see the show in LA and loved it. We wanted something really special and we got it, he is an absolute genius, a visionary and a pioneer. We are all so proud to have him design our sleeve". Meats Meier adds "This image represents the construction of the future and its ultimate demise. A perfected human race brought down by its own need to innovate and improve. A simple error breaks the machine and brings us back to the beginning."
Ahead of the release, the band have premiered a new song "Vivid". Mikee explains more about this, the second track they have revealed from their hugely anticipated new album"Lyrically it is inspired by traumatic dreaming. The verses talk from perspective of being in the actual dream, where the chorus' are in despair from an awoken perspective. The song itself has a lot of elements of both tradition and new SikTh."
The Future In Whose Eyes will be released on the following formats and will be available to pre-order here.
Deluxe 12" hardbookfeaturing:
44 page artwork book, with additional, exclusive artwork from Meats Meier, handwritten lyrics from Mikee Goodman
CDThe Future In Whose Eyes? 12 original album tracks
CD The Future In Whose Eyes? 5 re-imagined albums tracks by Dan Weller – "Ride The Illusion", "Golden Cufflinks", "Cracks Of Light", "Century Of The Narcissist" & "Vivid"
CDThe Future In Whose Eyes? 12 instrumental version of the album tracks
10 copies of the deluxe edition, randomly picked, will contain a song lyric sheet handwritten & signed by Mikee W Goodman
CD featuring:
The Future In Whose Eyes? 12 original album tracks
Gatefold 180g heavy weight LPfeaturing:
The Future In Whose Eyes? 12 original album tracks on black vinyl (with MP3 download code)
Also available as Limited Edition Purple Splatter vinyl and Orange Splatter vinyl (with MP3 download code)
Digital download featuring:
The Future In Whose Eyes? 12 original album tracks with the tracks "Vivid" and "No Wishbones" available as instant downloads with pre-orders
SikTh are:
Mikee W Goodman – vocals
Dan Weller – guitar
Dan Foord – drums
James Leach – bass
Pin – guitar
Joe Rosser – Vocals
SikTh Live
SikTh have just been confirmed to return to the main stage at this years Download Festival on Saturday 10th June.
07/06/17 – UK, Bournemouth, Sound Circus
10/06/17 – UK, Donington, Download festival (Main Stage) (https://downloadfestival.co.uk )
9-12/08/17 – CZ – Brutal Assault Festival (https://brutalassault.cz/en )
17-19/08/17 – UK – Bristol, Arctangent Festival (http://www.arctangent.co.uk )
www.sikth.band
https://www.facebook.com/sikthofficial
https://twitter.com/sikthofficial
© Border