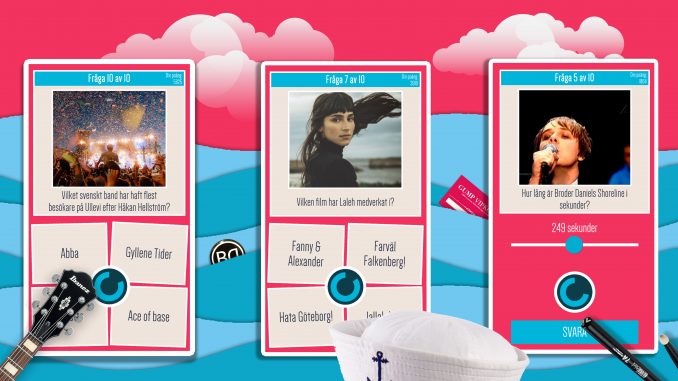 Jazzhuset i Göteborg har spelat sin sista melodi och Håkan Hellström ska ta en välbehövd paus efter sommarens turné, men än är inte Göteborgspopen död!
I den nya appen "Spela Shoreline!" får nu den strålande musikscenen i Göteborg sin egen digitala minnessten. En perfekt uppladdning inför Håkan och Henrik Berggrens sommarturnéer.
I appen tävlar du i över 600 quizfrågor om Göteborgsband såsom Håkan Hellström, Broder Daniel, The Knife, Alice B, Joel Alme, Miriam Bryant, Silverbullit, Björn Olsson, Franke, Kristian Anttila, Hästpojken, Honey is cool, Jens Lekman, The Plan, Bad Cash Quartet, Makthaverskan, Timo Räisänen, José Gonzáles, Almedal, Soundtrack of our lives, Tough Alliance och många många fler.
Ladda hem appen och se hur du står dig mot andra popnördar. I skrivande stund ligger Håkan Hellströms basist Oscar Wallblom och Hästpojkens Adam Bolméus på topp 10 i spelets topplista, kan du slå dom? Svarar du fort på frågorna i appen kan du också få hemliga Shoreline-stenar.
Som grädde på moset har artisten/producenten Björn Olsson lånat ut en musikslinga som bakgrundsmusik i appen.
"Vi har jobbat med den här appen sedan vi var åtta eller nio och brukade stå nere vid strandkanten och titta på vågorna. Spela Shoreline! är en hyllning till göteborgspop med över 600 frågor om stadens musikstoltheter"
– Bröderna Niklas och Tobias om quizappen
Skaparna kallar sig själva för Quiz i Brallan och och består av bröderna Niklas Brandin och Tobias Söderman. Niklas jobbar som apputvecklare och Tobias är känd som Quizmaster i nöjesgruppen Quizadillas. Quiz i Brallan ligger förutom Spela Shoreline! även bakom två quizappar om Skam och Twin Peaks.
Länkar till apparna
iPhone/iPad
Android
© Quiz i Brallan