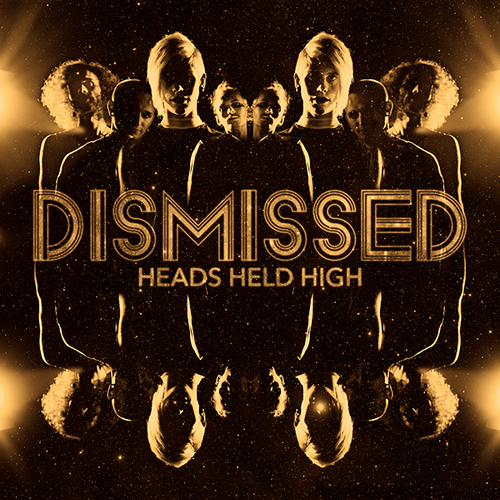 Klicka på bilden, för att se hela bilden
Physical release of the debut album "Heads Held High" with one more added song!
"This is not a silent protest, the screams of the glitterarmy is louder than the bangs of your bombs. This is the sound of a thousand angry voices compressed into ten songs. Every split lip or broken heart is put into our music. Thank you, all assholes and haters out there. Without you, no Dismissed This is Heads Held High" – Dismissed
Dismissed has during several years done hundreds of amazing live performances, where they whip each other, smash instruments and setting the stage on fire, just to make a point.
But it was in the Swedish take-outs for eurovision in Malmö where Dismissed presented themselves big to the swedish people. With their contributing song "Hearts Align", written by Ola Salo (The Ark) they become a million streaming artist.
31st of March was the release of their debut album "Heads Held High", produced by Martin Sandvik (Hardcore Superstar) and mixed by Dino Medanhodzic. On the 15th of September the album will be released physically with one more song added!
The story…
The lead singer Tor grew up in music oriented family with a father working as music teacher. Music was always a first choice for him and together with Johan who became drummer in the band they started to rehearse and play together in the music room after school hours.
Later in school years they choose music direction as main course and there they met Freddie, guitar, and the foundation of Dismissed was born.
Together they went to music high school with Jazz as special direction and experimented with all type of music styles as well as explored their profession as songwriters. Their interests in human rights and the right to be who ever you want to be we´re growing stronger in that period, and the purpose of Dismissed was set.
Gothenburg underground scene became their next base. After a few years the record labels got their eyes on the band and the first EP was released in 2015.
© Gain Music Entertainment