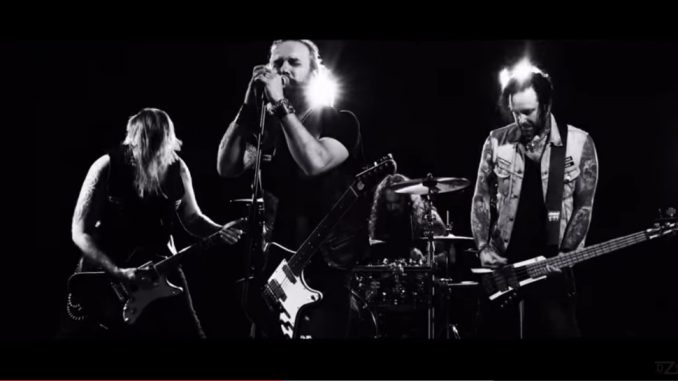 Klicka på bilden, för att se hela bilden
Swedish hard rock band Corroded; a band that has topped the music charts in Sweden and whose songs are worshipped by fans around the world – is finally back and this time the stakes are raised! After previously creating music for the Swedish TV show 'Survivor' (Expedition Robinson in Sweden) and the globally popular video game Battlefield, Corroded now enters 'Defcon Zero'.
Defcon Zero isn't just Corroded's first new album in five years – it's also their first release on Despotz Records. The first single from the album, "Fall Of A Nation" was released world wide February 17th and is now followed up by the music video release march 24th.
"We wanted the video to show how the song feels and we think it´s spot on! Dark, ugly and ferocious! Just like us! Hard rock fans will love it. So if your eyes bleed after this one, you´re probably not that into heavy music. It might also be our appearances, but non the less, it´s time to bang heads and make some trouble! This is – FALL OF A NATION!"
The sound of "Fall of the Nation" and all the songs on Defcon Zero is harder without losing any of the melodic focus. Five years might have flown by but Defcon Zero picks up when the acclaimed 'State of Disgrace' left off; whilst sounding completely new at the same time! Above all – it sounds Corroded.
About Corroded
Everything happened quickly after the release of Corroded's debut album 'Eleven Shades of Black' back in 2009. The track 'Time and Again' was used in the Swedish version of Survivor (Expedition Robinson) and in 2010 the band won 'Breakthrough of The Year' at Bandit Rock Awards. When the next album, 'Exit to Transfer', hit the stores it went straight in at number six on the Swedish album chart. Corroded then wrote 'Age of Rage' for EA Games, a song that would be featured as the theme song for 'Battlefield Play4Free'. 'Age of Rage' subsequently achieved Gold status, generating several million streams.
Five years may have passed since their last album but, during this period Corroded has kept on touring and their popularity has been constantly rising. Corroded pushed every limit and established themselves as one of the most prominent Swedish hard rock acts. Several of the new songs have become live favourites before they've even had a chance to be released, such is the dedication of the Corroded fan base!
With the release of the new Corroded album, it's time to reset the parameters and enter 'Defcon Zero'!
Corroded are:
Jens Westin: Song, guitar
Tomas Andersson: Guitar
Bjarne Elvsgård: Bass
Per Soläng: Trummor
More from Corroded
Spotify
Facebook
Instagram
Twitter
Hemsida
© Despotz Records