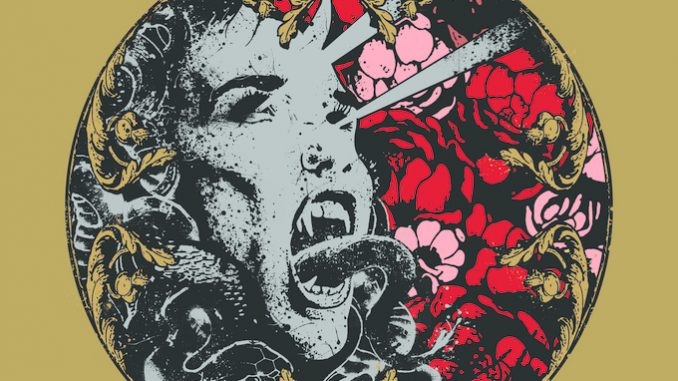 Klicka på bilden, för att se hela bilden
Beauty and darkness, heavy guitars and fragile ballads, vintage blues rock and modern doom – the sound of Stockholm's AVATARIUM is so unique, that the band already succeeded in drawing the world into their mystical spell with their very first album. The Swedes take you by the hand and lead you down into their mesmerizing and gloomy world full of absurd poetry and bittersweet melancholy with a raw sixties flair.
Although the band was only founded in 2012 by SOEN guitarist Marcus Jidell and CANDLEMASS chef Leif Edling, they were already able to top the soundchecks of the most prestigious European magazines and draw all eyes upon them with their two albums and EP's. Now »Hurricanes And Halos« is the outstanding successor to the critically-acclaimed »The Girl With The Raven Mask«. Edling still continues his influence as mentor and creative force, and has written six of the eight new tracks. However, this time Jennie-Ann and Marcus were also strongly involved in the songwriting process, and with the new bass master Mats Rydström, the band is now ready to cross the frontiers of Europe. In February, AVATARIUM performed their first show overseas at this year's 70,000 Tons Of Metal… but they are only getting started.
Where BLACK SABBATH meets soul and THE DEVIL'S BLOOD meet Old School Rock, AVATARIUM found their home. Rough and heavy guitars embrace the bluesy voice of Jennie-Ann Smith and with pain and grace the band knits a unique sound leading you right into another world.
Asked about the album title »Hurricanes And Halos«, Jidell contemplates:
"In times like these we are constantly reminded how power enables people to do evil in the name of a good cause. Whether there are religious, political or cultural overtones, their goal is always to manipulate and create fear in our hearts".
Although the key tone of this third full-length release is amazingly catchy with earworms such as the 'The Starless Sleep' or 'The Sky At The Bottom Of The Sea', the band still relies on a crushing doom atmosphere with a ghostly vibe. Eternal longing and bizarre little snapshot moments like in 'A Kiss From The End Of The World' define the lyrics, but it's the ballad 'When Breath Turns Into Air' that has a particularly deep meaning to Marcus and is dedicated to his deceased father:
"My father was the one that no matter what circumstances, never lost hope or faith in me. Growing up in a family where things were quite turbulent at times, he enabled a safe attachment. He was a very gentle and warm-hearted man and I will always miss him. The song is about loss but also about how someone's spirit can stay with you even though their physical remains are gone."
The new album was produced by Marcus Jidell himself, while David Castillo (KATATONIA, BLOODBATH, OPETH) recorded and mixed it in the famous Ghost Ward Studios and the mastering was done by Jens Bogren (SOILWORK, SEPULTURA). Together they created an organic and warm sound that sets »Hurricanes And Halos« apart from the overbred, electronically optimized mass:
"A big and fat sound is what we like and we do whatever it takes to get there! AVATARIUM is about pushing boundaries and exploring new grounds", states string wizard Marcus Jidell and continuous: "Our focus is not on technical aspects but on landscapes and colours. Diverse emotions, anxieties, defenses and human conditions all find their place in our music. We are aiming to find the human touch, to keep it simple, allow mistakes but also to make it glorious, shining and greater than our own selves."
© Nuclear Blast