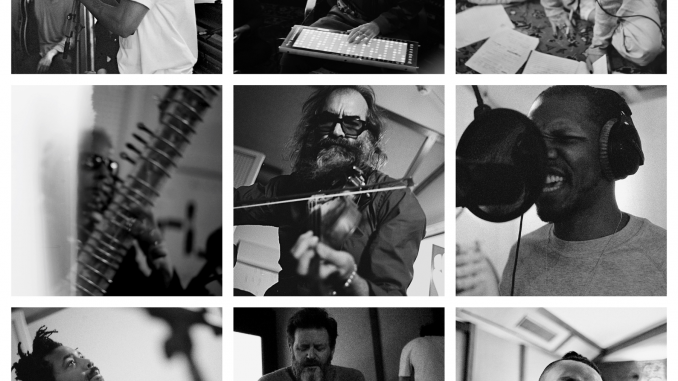 Klicka på bilden, för att se hela bilden
Everything Is Recorded is the new collaborative artist project from record producer and XL Recordings head Richard Russell. With Russell at the helm, his west London studio 'The Copper House' has become a creative second home for a revolving cast of vocalists and musicians who pass through to write, record and share ideas, mixing traditional recording sessions with extended, uninhibited live jams.
The 'Close But Not Quite' EP is Everything Is Recorded's debut recorded statement and is a captivating snapshot of the kind of collaboration and experimentation that has taken place at The Copper House. Across five tracks, the EP is a soundsystem influenced mix of brand new talent and established names, featuring an eclectic host of artists including Sampha, Giggs, Obongjayar, Tic, Warren Ellis, Infinite, Mela Murder, Green Gartside and Baluji Shrivastav.
EP opener 'Close But Not Quite' marries Sampha and Curtis Mayfield, the former's distinctive vocal wrapped around a sample of Mayfield's 1970 'The Makings Of You'. 'Early This Morning' links Peckham and Harlem, with Giggs delivering trademark hard bars over a recontextualisation of Gil Scott-Heron's 2010 'Me and the Devil' (also produced by Russell). 'Washed Up On The Shore' introduces Nigerian-born, UK-based newcomer Obongjayar alongside drones from the legendary Warren Ellis, while 'D'elusion' invites Staten Island to west London with Infinite Coles and Mela Murder on lead and Green Gartside on backing vocals. All – including EP-closing instrumental 'The Rhythm Of Life And Death' – are brought together under Russell's inclusive, idiosyncratic production vision.
'Close But Not Quite' is the first of several Everything Is Recorded releases planned for this year.
'Close But Not Quite' EP track list:
1. Close But Not Quite feat. Sampha
2. Early This Morning feat. Giggs
3. Washed Up The Shore feat. Obongjayar and Warren Ellis
4. D'elusion feat. Infinite, Mela Murder and Green Gartside
5. The Rhythm Of Life And Death
More on Everything Is Recorded
© Playground Music