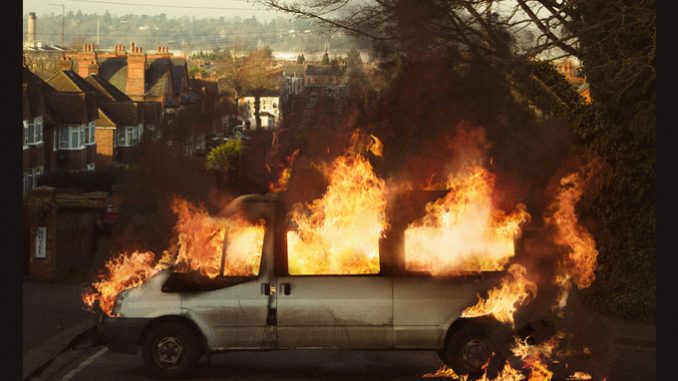 Klicka på bilden, för att se hela bilden
"The most unanimously tipped young guitar band in the UK" – The Observer
"Gonna sound huge." – Kerrang!
"Dark, predatory, and grungy." – Metro
"Sweaty, heavy and ear-piercing." – NME
THE AMAZONS look set to confirm their status as Britain's biggest breaking rock band with the release of their eagerly anticipated self-titled debut album, out May 26th on Fiction Records.
It's been a heady rise for the Reading-based quartet. The most hotly tipped guitar band of 2017 according to Music Week, The Amazons were shortlisted for the BBC Music Sound of 2017 poll, nominated for Q's Best Breakthrough Act gong and made an appearance in MTV's Brand New 2017 list. They also featured in Apple Music's New Artists 2017 playlist and popped up in Amazon UK's Ones To Watch and Deezer's picks for 2017 polls. The band is also set to perform for the first time at "Later With Jools Holland" this week, and they are also playng at Radio 1 Big Weekend festival at the end of May.
Meanwhile the broadsheets and music press have been all over them, with NME, Kerrang!, Metro, Daily Star, Daily Mirror, Gigwise and Radio X all tipping them for greatness. Beat 1's Zane Lowe is a huge fan, and so are Radio 1's Huw Stephens, Annie Mac, Clara Amfo, Nick Grimshaw, Mistajam and Greg James. Frankly, it's not hard to see why.
Produced by the Grammy nominated Catherine Marks (Wolf Alice, Foals, PJ Harvey) and recorded at the world famous Assault and Battery Studios in west London, the album is the result of THE AMAZONS' mission statement to reinvigorate rock 'n' roll. Passionate, ballsy, tender and loud as hell, this is an album not just for the young, but the young at heart too.
It's a collection that collates some of the highlights soundtracking their rise to date – including the punk 'n' roll rush of opener 'Stay With Me', the pulverising riffs and anthemic rallying call of 'Junk Food Forever', and the foreboding grunge of 'Little Something'. With the brand new material just as essential, 'Burn My Eyes' recalling both Husker Du and Biffy Clyro with its cocktail of visceral aggression and melodic intent, while 'Raindrops' simultaneously showcases frontman Matt Thomson's knack for introspective lyricism and emotive vocal delivery. The album comes to surprise conclusion with the lighters-aloft piano ballad 'Palace' which demonstrates another angle to band away from their fiery wall of sound.
"I wrote all the songs between the ages of 18 and 22 years old," explains Thomson of the record's self-analytical bent. At the age of 20, he went through a serious break-up, which means a lot of tracks see him working through his heartache, but with the backing of big guitars, meaty riffs and a certain kind of poetry. "It's all quite direct, but it's emotive too," he adds.
To coincide with the announcement, THE AMAZONS have also shared a brand new video for their current Radio 1 playlisted single 'Black Magic' which also features in the album. It's a video rich with stylised imagery which includes intimate, extreme close-up shots, intense performances from the band, and surreal symbolism which offers significant scope for interpretation.
Completed by guitarist Chris Alderton, coy bassist Elliot Briggs and powerhouse drummer Joe Emmett, THE AMAZONS have been honing their music for a decade, but it wasn't until Valentine's Day 2014 that they finally hit upon their true sound, thanks to a consciousness-shifting Foals show at London's Alexandra Palace. The four piece began listening to the deeply primal artists that originally made them want to start making music; Rage Against The Machine, Nirvana and Led Zeppelin.
Album tracklisting:
1. 'Stay With Me'
2. 'Burn My Eyes'
3. 'In My Mind'
4. 'Junk Food Forever'
5. 'Raindrops'
6. 'Black Magic'
7. 'Ultraviolet'
8. 'Little Something'
9. 'Holy Roller'
10. 'Something in the Water'
11. 'Palace'
© Caroline International Nordics