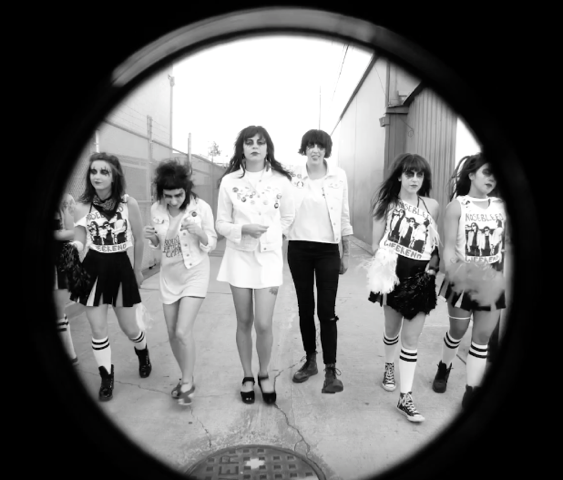 Klicka på bilden, för att se hela bilden
The video has just gone out via a premiere at Paste Magazine.
With a huge European tour kicking off next week, including 10 UK dates, Atlanta punks THE COATHANGERS have shared a new video for 'Captain's Dead'.
Taken from the forthcoming Parasite EP, out June 30th on Suicide Squeeze, the video for 'Captain's Dead' was directed by Matt Odom and is based on ???.
Speaking about the track, guitarist/vocalist Julia Kugel explained the track, saying: "Easy come, easy go; what you reap is what you sow. Sometimes people that you trust fail you miserably by falling victim to their own ego. They start believing their own hype, fancy themselves a leader, but they lead nothing. It's based on a personal experience, but this track has taken on a larger meaning given our current political weather. It's feeling stormy – the ships made out of shit will sink themselves."
Despite the adverse times, The Coathangers' mastery of pop cannot be contained, as is evident in "Captain's Dead", with its sultry verses, triumphant chorus, and a bombastic freak-out of noisy guitar.
When The Coathangers first stormed on the scene over a decade ago, their power resided in their ability to craft a crooked hook out of a grimy guitar line, a delightfully crass chorus, or an enticingly ham-fisted drum-and-bass groove. With each successive album, the Atlanta garage punk ensemble has increasingly tempered their brash charm with sharp-witted pop. Not that the band ever fully excised the primal howl of The Gories or the sparse strut of ESG, but with the trio's latest EP, Parasite, The Coathangers explore the space between their initial unbridled expressionism and their recent nuanced song craft. "I'd like to think the EP takes you on a journey through the band's existence," says guitarist/vocalist Julia Kugel of the sequencing of the five songs on their latest offering.
Parasite's cover features an illustration of The Coathangers as sirens of the sea, an image that aptly captures the nautical themes of the EP. But the notion of The Coathangers as both mischievous and enchanting is certainly fitting too, as is evident in the alternately piercing and beguiling tracks on their latest EP.
Suicide Squeeze is proud to offer Parasite as a one-sided 12" on Sea Green vinyl with a b-side etching with an initial limited pressing of 2000 copies. The EP is also available digitally. Parasite is available worldwide on June 30th, 2017.
The Coathangers live dates:
May 12 UK Manchester Night & Day
May 13 UK Brighton The Joker
May 15 UK Bristol The Exchange
May 16 UK Oxford The Bullingdon
May 17 UK London Oslo
May 18 UK Hastings The Printworks
May 19 UK Leicester The Cookie
May 20 UK Leeds Gold Sounds @ Brudenell Social
May 21 UK Sheffield The Harley
May 23 UK Ramsgate Music Hall
May 24 BE Gent PSYCH OVER 9000
May 25 NL Eindhoven Stroomhuisje
May 26 NL Rotterdam Girls Go Boom Night @ Roodkapje
May 27 NL Amsterdam Pacific Park
May 28 NL Utrecht dB's
May 30 DE Hamburg Molotow
May 31 DE Berlin Cassiopeia
Jun 1 DE Munich Orangehouse
Jun 2 DE Cologne MTC
Jun 3 FR Paris Le Batofar
Jun 4 IT Ravenna Beaches Brew Festival
Jun 8 FR Clermont Ferrand Le Barraka
Jun 9 FR Nimes This is not a Love Song
Jun 10 FI Helsinki Sideways Festival
Parasite track list:
1. Parasite (live video)
2. Wipe Out
3. Captain's Dead
4. Down Down (Alternate Version)
5. Drifter
Links:
Website
Facebook
Instagram
Twitter
© Playground Music