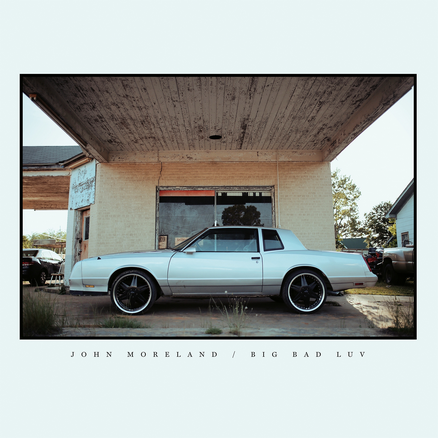 Klicka på bilden, för att se hela bilden
Big Bad Luv – the new album from John Moreland – is an honest, bruising experience. A record about love, faith and the human condition, it's his debut for 4AD and the first full-length released to worldwide anticipation on May 5th 2017. 'It Don't Suit Me (Like Before)', the first track from Big Bad Luv, is launched today.
'It Don't Suit Me (Like Before)'
Moving from Kentucky to Tulsa when he was ten years old, John fronted hardcore and punk bands throughout high school years before feeling the pull of the lyricism he heard in folk and country music; "I was 19 in 2004, and Steve Earle had put out The Revolution Starts Now, and I remember hearing the song 'Rich Man's War' and totally feeling like somebody just punched me in the chest". Moreland has been chasing the 'chest punch' ever since, composing pointedly and prodigiously, releasing largely self-produced albums every other year since 2011.
Playing an equally pivotal role in his rise have been his mesmeric solo performances (including his performance on Colbert in 2016) and burgeoning word-of-mouth live reputation, and by the time he finished touring his most recent album, High On Tulsa Heat, making music was now his living; "I expected to just play in the corner of the bar and have people not really pay attention, make $100, go home and go to work the next morning, doing something I didn't like," Moreland says. "So, yeah, I didn't really expect to be here. But, then, on the other hand, I did. I feel like I'm good enough to be here. And I've always been confident, even when I probably shouldn't have been."
His fourth album and first with international ambition, Big Bad Luv, was recorded in Little Rock, AK, and mostly with a crew of Tulsa friends: John Calvin Abney (piano and guitar), Aaron Boehler (bass), Paddy Ryan (drums), Jared Tyler (dobro) and Lucero's Rick Steff (piano). Coming together in three sessions over ten months, which were sandwiched between touring dates and life, the final album was then mixed by GRAMMY winning Tchad Blake, who has worked with iconic acts from Al Green to Tom Waits.
Asked whether he feels Big Bad Luv is a perhaps a happier record, "I don't think I'm writing songs that are that much different," Moreland says. "It's always been a positive thing at heart, even if a song isn't sunshine and rainbows. At the very least my songs have been a way to exorcise negative feelings so that I can move on. And hopefully they provide that same experience to listeners. So that's what I'm still doing. I think it's a positive thing. I think this record, there's definitely a change in attitude, but it's the same point of view."
© Playground Music