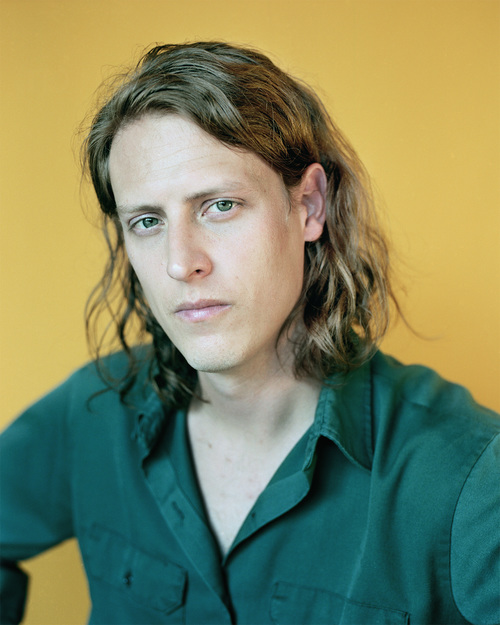 Klicka på bilden, för att se hela bilden
"Don't you dare expect anything in the vein of his previous work, as he's clearly stepping out to craft a huge pop sound. This lead single from Slow Time is filled with funky bits of guitar stabs and synth beats bursting…all while Lowe carefully croons and bounces his way through the vocal performance. It's almost like an uplifting soul experience, and definitely worthy of our attention." – Austin Town Hall
After ten years in the instrumental ensemble Balmorhea, Rob Lowe is releasing his first R&B-inflected solo LP, Slow Time, under the moniker RG Lowe. The record, while incorporating elements from pop and choral music, largely looks back on the warmth and spiritual ecstasy of early R&B through the disjunctive lens of contemporary life. Lowe, who plays keys, guitar, and provides the vocals on Slow Time, wrote and arranged about forty songs from 2014 to 2015 at his studio in Austin, TX, where he resides. He then headed to Philadelphia to record most of the album with producer Jeff Ziegler, whose raw and energetic production work on albums by Kurt Vile and The War on Drugs had inspired him. He decided to record most of the album in Philly, rather than in Austin, hoping that the record would be infused with the city's grit, and rich history of funk, soul, and pop.
What is perhaps most shocking about Slow Time is that Lowe's voice, which he eschewed for eight years in his work with Balmorhea, is the central star of this project. It's hard to believe this is the first time we're hearing it. The key role his vocals play on the album might be less surprising knowing that as a kid in West Texas, he often performed in church choirs and musical theater productions, and even considered heading to New York to pursue a career in theater after high school. Though his wordless vocals appeared occasionally on Balmorhea's albums, on Slow Time we hear the impressive range and malleability of his voice as he glides from hymnal backing harmonies, to melismatic bridges, to punchy choruses and pained screeches that stretch his voice to its unbelievable limits.
The genesis of his solo project came in 2011 when Lowe moved to the remote West Texas town of Alpine (just outside of Marfa, TX) with a group of friends, seeking inspiration. While in Alpine, a simple conversation with a friend sparked the idea that he should attempt to write a pop album. Though he wouldn't start writing what would become Slow Time for several years, the seed had been planted, and the ideas slowly, started to grow. As he toiled through the process of learning how to create a pop song, he recognized the need for an aesthetic foundation that could guide his songwriting process. A few years later he bought an old Wurlitzer electric piano, and immediately recognized that it was just what he'd been looking for. The pleasantly conflicted tone of the Wurlitzer–its electrostatic bite and woozy warmth–provides the perfect backbone for an album filled with catchy, danceable tracks that conceal, on first listen, the wistful nature of the lyrics. Though the album's lyrics focus on an extended transitional period in Lowe's life in which a long-term relationship was ending, the album clings to a positive energy and sense of determined optimism. Slow Time is a lesson in contrast; drawing power from the tension between the warm, propulsive, lush arrangements of the music, and the darkness, introspection and confusion of the lyrics. It's almost inconceivable that on the breezy, handclap-inducing opener Lowe sings, "Everything that you see inside / Is swallowed up by a giant tide. / It's a dream, it's a lie."
The spirit and structure of the album's title track, which closes out the album, perfectly encapsulates Slow Time as a whole. Like the palindromic sequence of the album, the song "Slow Time" patiently builds with a series of crescendos, and then winds itself back down. The album similarly features a string of spirited, uptempo songs in the middle, from the combative dance-pop pulse of "Bluff" to the heartsick insistence of "Building", which contains a host of vamping instruments taking turns carrying the rhythm before colliding together into a soft bedlam. The album and its title track ride out on a pair of saxophones that softly pulse as they fade away, like distant sirens, an ideal last note for a record that hovers gracefully in the long shadow between loss and hope.
© Playground Music