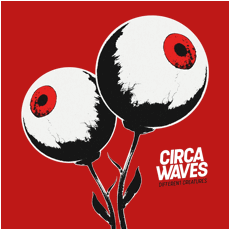 Klicka på bilden, för att se hela bilden
Förra plattan Young Chasers fick lysande kritik i Sverige och singeln T-shirt Weather var en riktig långkörare på både P3 och studentradion.
De unga britterna spelade även det året på Way Out West.
Första singeln WAKE UP, från kommande plattan ,klättrade även den direkt in på P3-listan och all studentradio. Även nya singeln FIRE dundrade in på P3 direkt!
Circa Waves announce their eagerly anticipated new album 'Different Creatures', will be released on Virgin EMI on March 10th. Lead track 'Wake Up' was revealed as Annie Mac's Hottest Record on Radio 1 last night. Listen here. A juttering, barbed statement-of-intent, 'Wake Up' sees walls of fuzzed guitars jostling for space with Kieran Shudall's trademark melodies, re-introducing the world to a band ready to push their sound forward and claim their place at the top table of UK guitar bands.
Co-produced by Alan Moulder (The Killers, Arctic Monkeys,Smashing Pumpkins), 'Different Creatures' is the grittier, 'night time' counterpart to the breezy summer vibes of its Top 10 predecessor 'Young Chasers', exuding a newfound swagger. Shaped by Kieran's perceptive songwriting ability to reflect the changes he sees in the world, 'Different Creatures' showcases a disenchantment with the world he sees, a louder and more vital band, nudging their sonic palette into a territory shared with rock heavyweights such as Arctic Monkeys and Queens Of The Stone Age.
Lead singer Kieran says of the new single "Wake Up is a big and bold way to start. It shows we're not messing around anymore".
Their debut album 'Young Chasers' spawned four Radio 1 A-list singles and saw the band's popularity and profile rise over a meteoric six months, culminating in a sold out Brixton Academy show. The audience's fevered reaction to 'Young Chasers' thirteen direct, propulsive, indie anthems crystallised the band's self-belief, and emboldened Kieran to delve into the weightier subjects explored in 'Different Creatures'. "When I saw the way that people connected with it," Kieran continues, "I really started to believe in myself, I'm a different person now -I feel like I've got a fire in my belly with this record"
"Different Creatures" is not the sound of a band giving people more of what they know that people want from them. It is the sound of a band who are going with their hearts, reflecting the changes they're seeing unfold around them, and moving forward. A risky move, but as fans will soon discover for themselves, it's a risk that has paid off creatively in droves.
"Different Creatures" Tracklisting:
1 – Wake Up
2 – Fire That Burns
3 – Goodbye
4 – Out On My Own
5 – Different Creatures
6 – Crying Shame
7 – Love's Run Out
8 – Stuck
9 – A Night On The Broken Tiles
10 – Without You
11 – Old Friends
Listen to 'Wake Up' here:

© Skiva