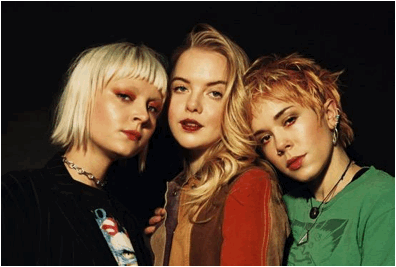 Klicka på bilden, för att se hela bilden
Fire EP släpps 29de september via Lucky Number
Tidigare i år, gjorde brittisk/isländska trion DREAM WIFE sin USA debut turné med THE KILLS och på SXSW och fick löjligt bra kritik av bla. NPR, DIY, Entertainment Weekly mfl.
"Dream Wife is a perfect example of what makes SXSW special, the discovery and excitement of seeing something real that has feeling and meat to it, and makes you grateful you were there to witness it." – NPR Music
"a well-oiled machine worthy of the Strokes but performed with the righteous indignation of Bikini Kill…snappy, punk-informed rock 'n' roll." – Stereogum
"Dream Wife offer a soundtrack ripe for a punk Sofia Coppola movie soundtrack" – NYLON
"the tunes are something to behold" – Entertainment Weekly
"The girl gang proving there's force in femininity. Dream Wife create pop anthems for the Instagram generation" – Dazed
"Icelandic-Brightonian three-piece with the attitude of New York punks and pizazz of disco queens" – The Guardian
Earlier this year, London-based and British/Icelandic born trio Dream Wife made their triumphant U.S. debut on tour with The Kills and at SXSW, which earned them praise from the likes of NPR, Entertainment Weekly, DIY and more. Today, the band announces a new EP entitled Fire to be released on September 29th via Lucky Number. The EP's title track can be heard now via The FADER. EP cover art and tracklisting are below.
"It's a song of explosive emotion; volcanic, eruptive and reflective in turn," explains the band members, all three of which are astrological fire signs, to The FADER. "During moments of pure connection a bolt of fire can be felt between people. The explosion begins; movement is electric, conversation erratic and you become fully immersed in the moment. Thematically and tonally we explore the paradox present in the symbolism of 'fire' as both a creative and destructive force."
Listen to "Fire" via The FADER HERE.
Dream Wife released their debut EP last year which earnedthem spins on BBC Radio 1, BBC 6 Music, Beats 1, and KEXP, as well as massive support from The FADER, Dazed, The Guardian, i-D, NME, and more. The band has also garnered a well-deserved reputation for their exhilarating live shows, having sold out venues acrossUK/Europe, played festivals such as Iceland Airwaves, and toured with the likes of Sleigh Bells. This Summer festival season, they performed at Blue Dot, Benicassim, Latitude and Truck, and will embark on a headline UK tour in October. See below to find a UK/Europe shownear you.
Dream Wife are: Rakel Mjöll (lead vocals), Alice Go (guitar and vocals) and Bella Podpadec (bass and vocals).
Track-list:
1. Fire
2. Somebody
3. Fire (Ellie Herring Remix)
4. Fire (FTSE Remix)
5. Fire (biLLLy Remix)
UK tour dates – tickets avails via Dice FM or See Tickets
10/12/2017 Magnet Bar, Liverpool 16+
10/13/2017 King Tuts, Glasgow 18+
10/14/2017 Hare & Hounds, Birmingham 16+
10/15/2017 The Cookie, Leicester 14+
10/16/2017 The Bullingdon, Oxford 16+
10/18/2017 The Wardrobe, Leeds 14+
10/19/2017 Band on the Wall, Manchester 14+
10/20/2017 Esquires, Bedford 14+
10/21/2017 The Haunt, Brighton 14+
10/22/2017 The Louisiana, Bristol 16+
10/24/2017 Old Fire Station, Bournemouth 14+
10/25/2017 Scala, London 16+
Webpage
Facebook
Instagram
Twitter
© Skiva