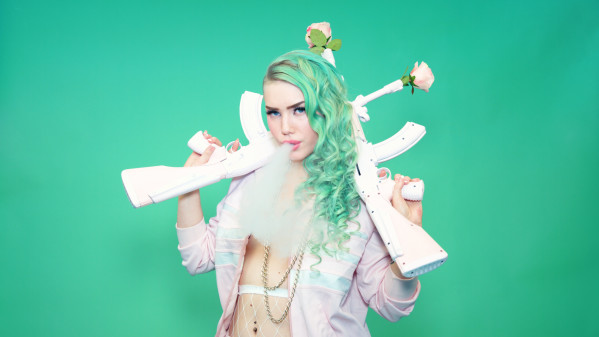 Klicka på bilden, för att se hela bilden
Tearaway Swedish sensation Ängie has returned with her latest single 'Spun', out now through Universal.
'Spun' is a chilled club anthem that pays homage to love and, in true Ängie style, the joys of sex and getting high. Its twisted production is paired with Ängie's infamous cheeky tongue, which has seen her acclaimed by broadsheets, scandalised in the tabloids and become an international internet sensation.
She set last year alight with the release of her highly acclaimed singles 'Smoke Weed Eat Pussy' and 'Housewife Spliffin', which saw the Daily Star dub her "the most controversial star we've ever seen", and The Sun "the most shocking pop star of 2016," among a wealth of further shock and awe for the singer.
Now the Swedish star of in-your-face glamour is set to continue to shake up the world of pop with the release of 'Spun'. She's set to take London's nightlife by storm and has been announced to perform her very first show in the capital at Hoxton Square Bar & Kitchen's 'Gold Dust' club night on April 5th. Tickets are now from SeeTickets.
ACCLAIM FOR ÄNGIE
"Forget Beyonce, we've found our favourite new pop diva" – The Sun
"The new titan of pop-trap outrage" – The Guardian
"Ängie may be the most controversial star we have ever seen" – Daily Star
"The most provocative singer of 2016 is back with a bang." – Loaded
"We wouldn't call her controversial, we'd just call her real." – The 405
"Sweden's answer to Miley Cyrus" – Pink News
"You can always rely on the Swedish to produce artists that break the mould, and newest sensation Ängie is no different" – Indie Shuffle
© Deerlily Music