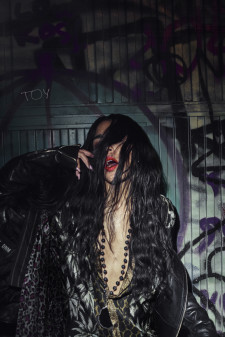 Klicka på bilden, för att se hela bilden
Loreen, the 2012 Eurovision Song Contest winner and beloved Swedish pop artist, has signed to BMG for the release of her new album. The singer gained international fame with her smash hit 'Euphoria' and returned earlier in 2017 with the lead singles from her forthcoming release EP, Nude, out on August 25 via BMG.
The Swedish pop singer kickstarts her new partnership with BMG by releasing a new uptempo pop song, 'Body', which sets the tone for her debut EP for BMG. The singer's next single 'Jungle', featuring Elliphant, is due for release on August 11.
With more than 180m streams worldwide to her name, Loreen has made a firm mark as one of Sweden's most coveted pop exports. Currently finishing her new album together with Petter Winnberg (Amason and Amanda Bergman), the album's first single will be released on September 22, with the full album scoped for release on November 17 2017.
Loreen said, "For me, 2017 was about establishing a sense of independence and channelling it into a new and exciting direction for my music. I really connected with BMG's mission to support independent artists in a transparent way, but also keeping their creative interests close. When I presented them my vision for the future there was an immediate click and I am really excited to begin this journey between our teams."
"We are more than excited to welcome Loreen to BMG," says Sanken Sandqvist, Managing Director at BMG Scandinavia. "Loreen is a true vocalist, her eclectic style can transcend all music genres, from pop to trance music. Her upcoming album has captured that diversity and we cannot wait to introduce it to her fan community."
BMG is the new model music company founded by Bertelsmann in 2008 as a direct response to the challenges of music's digital revolution. Key to its innovative approach is the fact it represents the traditionally separate music publishing and recording rights off the same state-of-the-art platform internationally. BMG is already the world's fourth biggest music publisher and the first new global player in the recordings business in decades. BMG's pitch is unique – a relentless focus on fairness and transparency and service to its artist and songwriter clients. BMG's 14 offices across 12 core music markets now represent over 2,5m songs and recordings, including the catalogues of Chrysalis, Bug, Virgin, Mute, Sanctuary, Primary Wave and Talpa Music, as well as literally thousands of artists and songwriters attracted by its fresh approach. BMG is owned by international media, services and education company Bertelsmann, which also includes the broadcaster RTL Group, the trade book publisher Penguin Random House, the magazine publisher Gruner + Jahr, the service provider Arvato, the Bertelsmann Printing Group, the Bertelsmann Education Group, and Bertelsmann Investments, an international network of funds. With its multi-platform perspective, integrated technology platform and commitment to help artists maximize their income, BMG aims to be the best company in music to do business with.
© BMG Scandinavia