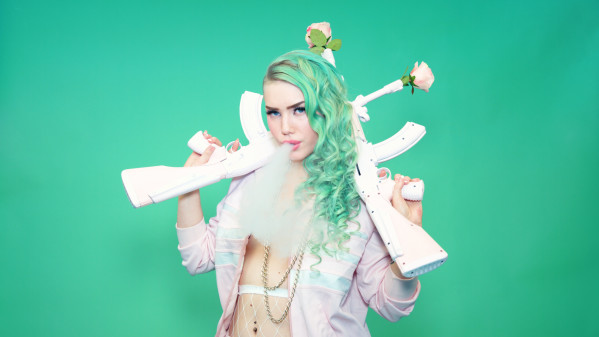 Klicka på bilden, för att se hela bilden
The Guardian dub Ängie, "an emblem of the liberal-minded revolution", and The Red Bulletin describe her, "on a dizzying upward directory."
LIVE IN LONDON
'GOLD DUST' @ HOXTON BAR & KITCHEN W. URBAN CONE – APRIL 5th
Swedish star Ängie has unveiled the video for her highly acclaimed new single 'Spun', out now through Universal.
'Spun' is a chilled club anthem that pays homage to love and, in true Ängie style, the joys of sex and getting high. Its twisted production is paired with Ängie's infamous cheeky tongue, which has seen her acclaimed by broadsheets, scandalize the tabloids and become an international internet sensation.
The video sees the tearaway sensation kicking up yet another storm – drugs, guns, snakes and flowers abound, as do gang-style balaclavas and some hot limo action. You'd expect nothing less from one of the most controversial and exciting new artists of the past twelve months.
'Spun' has been met with great praise and has seen The Guardian dub her, "an emblem of the liberal-minded revolution", and The Red Bulletin describe her, "on a dizzying upward directory," among a wealth of further acclaim.
She is now blossoming into a truly internationally renowned star and unofficial fan clubs for Ängie have been established across the world in locations as far-flung as Brazil and Russia.
She set last year alight with the release of her highly acclaimed singles 'Smoke Weed Eat Pussy' and 'Housewife Spliffin', which saw the Daily Star dub her "the most controversial star we've ever seen", and The Sun "the most shocking pop star of 2016," among a wealth of further shock and awe for the singer.
Ängie has continued to shake up the world of pop with her new single 'Spun'. She's set to take London's nightlife by storm and has been announced to perform her very first show in the capital at Hoxton Square Bar & Kitchen's 'Gold Dust' club night on April 5th. Tickets are now from SeeTickets.
ACCLAIM FOR ÄNGIE
"Forget Beyonce, we've found our favourite new pop diva" – The Sun
"An emblem of the liberal-minded revolution" – The Guardian
"Ängie may be the most controversial star we have ever seen" – Daily Star
"The most provocative singer of 2016 is back with a bang." – Loaded
"We wouldn't call her controversial, we'd just call her real." – The 405
"Sweden's answer to Miley Cyrus" – Pink News
"Angie is on the cusp of stardom" – Indie Shuffle
© Deerlily Music