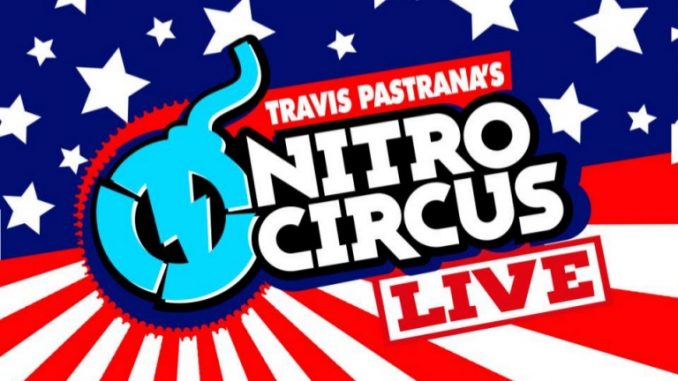 Klicka på bilden, för att se hela bilden
Nitro Circus Live is back and on its second tour of Europe. This is the first time that the adrenalin-packed live show has come to Malmö. Another first was the ability to purchase VIP tickets, which allowed fans to be behind the scenes during practice and special interviews.
Pyrotechnics opened the show and the audience was treated to a two and a half hour action sports extravaganza with a break in between. The show combined the biggest and finest freestyle motocross (FMX) stunts with insane BMX and skateboard action, as well as the famous Nitro Circus crew performing outrageous feats on a crazy array of contraptions launched off the 50 foot high Nitro Gigant-A-Ramp.
As if the stunts were not enough the excitement level was pumped up with Bruce Robson as MC and Jeremy Rawle as host.
The fans were treated to a fantastic surprise as Nitro Circus's ring leader, Travis Pastrana, was back on his Suzuki throwing tricks for the first time in a year (although he only rode for the first half). Pastrana announced on 11 November that he would be retiring from NASCAR and he and his wife, Lyn-Z, would join Nitro Circus Live Tour. Lyn-Z was excited to get back to skateboarding even though she only gave birth to their daughter 2.5 months ago.
As a motocross fan I can say that freestyle motocross has come a long way since Jeremy Mcgrath (7x – 250cc AMA Supercross Champion) did his tricks during jumps on the supercross track, the most famous of which he called the "Nac Nac", which helped spawn the sport of FMX.
The FMX riders were really pushing the limits with tricks like Josh Sheehan's double back flip and Clinton Moore's Volt (body varial), and Adam Jones's double back flip, which is probably the scariest trick in the show. In addition to motorbikes were a quad bike and a rebuilt snow mobile ridden by Sweden's own Daniel Bodin. Another noteworthy astonishing stunt included a seven rider back flip combination train that you must see to believe.
It's a long way up to the gigantic ramp used by the Circus crew. I had assumed that there was an elevator, but these athletes climbed about 75 stairs every time they performed a stunt. Fans saw athletes pushing the limits performing jumps and tricks with snow skis, skates, snowboards and contraptions like tricycles, scooters, shopping carts, bathtubs and a pink Barbie car. Ryan Williams especially impressed me on his scooter. I think he had the perfect landing every time.
The BMX crew climbed the same set of stairs with their bikes and impressed us with their breathtaking feats of flips and twists. James Foster busted out a triple back flip.
At one point Pastrana asked for volunteers from the audience. Of course, no one knows what crazy stunt is in store for them. Later the two chosen come out with full bike gear. It's explained that they and another rider will mount a motorbike together and do a front flip. Pastrana adds that they get to keep the gear regardless of how the stunt turns out. I must say everyone was amazed that the front flip was executed and landed perfectly. Now, that leaves me to wonder if those two were stunt riders or the actual fans. It's almost too scary to believe that they were fans.
To further engage and fire-up the crowd the extreme athletes were divided into team Sweden and team USA. Who would bust out the best tricks? Well, because it was a crowd vote, it didn't surprise me that Sweden won.
A fan favorite, Aaron "Wheelz" Fotheringham, received a standing ovation after landing a front flip in his green wheel chair. Wheelz is 22 yrs and has been in a wheel chair most of his life, but he doesn't let that keep him down and he truly is part of the team. He has said, "What is the worst that is going to happen to me? End up in a wheelchair?"
The Nitro Circus brand founded by Travis Pastrana, Gregg Godfrey and Jeremy Rawle has enjoyed a rapid rise in global popularity, started by the innovative DVD series featuring Travis and friends performing outrageously dangerous stunts on a range of crazy contraptions.
In 2009, they partnered with MTV to create a new smash- hit TV series produced by Godfrey Entertainment and Dickhouse productions that aired to huge ratings in over 60 countries over two seasons. This has led to the Nitro Circus 3D movie that will be released globally later this year, following in the footsteps of the Jackass 3D movie, which has grossed over $120 million in ticket sales worldwide.
If you get a chance make sure you don't miss it!!!
Foto: Michael Lindström
Kathleen Sauret
Skriven: 2013-11-20