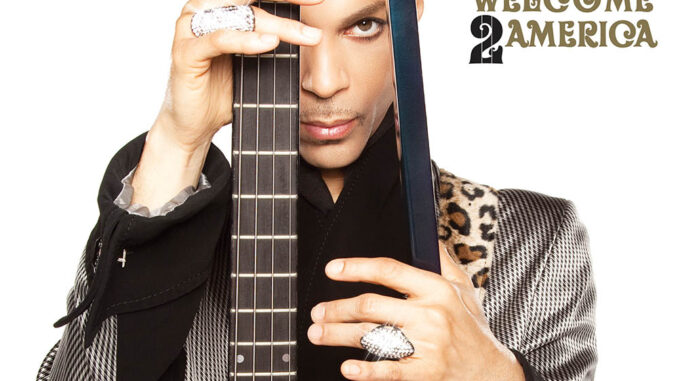 Klicka på bilden, för att se hela bilden
"The world is fraught with misin4mation. George Orwell's vision of the future is here. We need 2 remain steadfast in faith in the trying times ahead."
Prince, 2010
The Prince Estate och Legacy Recordings (en del av Sony Music Entertainment) presenterar stolt släppet av Prince tidigare outgivna studioalbum "Welcome 2 America" från 2010 med 12 spår. Albumet släpps fredagen den 30 juli.
Jon Wertheim på CBS 60 Minutes beskriver albumet: "A powerful creative statement that documents Prince's concerns, hopes, and visions for a shifting society, presciently foreshadowing an era of political division, disinformation, and a renewed fight for racial justice." Nu på söndag sänder CBS 60 Minutes ett längre reportage om albumet.
Albumets titelspår "Welcome 2 America" är nu släppt och kan höras här.
Prince tar oss med på en brännande, igenkännande resa som handlar om gyllene fallskärmar, ytligheten i sociala medier, de stora musikbolagens monopol, reality-TV, kändishysteri och i slutet sammanfattar Prince låten med att Amerika är "Land of the free / home of the slave." Läs hela låttexten här.
Kort efter Prince spelat in albumet "Welcome 2 America" åkte han på en turné med samma namn och turnén besökte ett flertal i städer runt om i USA, Europa och Australien. Albumets fysiska deluxeversion innehåller "Welcome 2 America" på CD, vinyl, digital nedladdning samt en tidigare outgiven konsertfilm från Princes konsert "21 Nite Stand" på The Forum i Los Angeles den 28 april 2011.
Prince – Welcome 2 America
Studio Album (CD/LP/Digital)
1. Welcome 2 America
2. Running Game (Son of a Slave Master)
3. Born 2 Die
4. 1000 Light Years From Here
5. Hot Summer
6. Stand Up and B Strong *
7. Check The Record
8. Same Page, Different Book
9. When She Comes
10. 1010 (Rin Tin Tin)
11. Yes
12. One Day We Will All B Free
* Soul Asylum cover
Prince – Welcome 2 America (Live at The Forum, April 28, 2011)
Concert Performance (Blu-Ray):
1. Joy In Repetition
2. Brown Skin (India.Arie cover)
3. 17 Days
4. Shhh
5. Controversy
6. Theme From "Which Way Is Up" (Stargard cover)
7. What Have You Done For Me Lately (Janet Jackson cover)
8. Partyman
9. Make You Feel My Love (Bob Dylan cover)
10. Misty Blue (Eddy Arnold cover)
11. Let's Go Crazy
12. Delirious
13. 1999
14. Little Red Corvette
15. Purple Rain
16. The Bird (The Time cover – Prince composition)
17. Jungle Love (The Time cover – Prince composition)
18. A Love Bizarre (Sheila E. cover – Prince composition)
19. Kiss
20. Play That Funky Music (Wild Cherry cover)
21. Inglewood Swinging (cover of Kool & the Gang's "Hollywood Swinging")
22. Fantastic Voyage (Lakeside cover)
23. More Than This (Roxy Music cover)
Welcome 2 America
Prince: Vocals, Guitar, Keyboards
Tal Wilkenfeld: Bass
Chris Coleman: Drums
Mr. Hayes: Keyboards, Percussion
Liv Warfield: Vocals
Shelby J.: Vocals
Elisa Fiorillo: Vocals
Co-Produced by Mr. Hayes
Mer om The Prince Estate:
The Prince Estate passionately presents Prince's life and work, and cultivates opportunities to further his legacy. As the singular, authoritative source on all things Prince, The Prince Estate inspires and educates fans, celebrates Prince in his totality, and stewards Prince's legacy into the future.
Mer om Legacy Recordings
Legacy Recordings, the catalog division of Sony Music Entertainment, is home to the world's foremost library of historically significant commercial recordings, a peerless collection of works by the most important musical artists of the 19th, 20th and 21st centuries. Across a variety of platforms, the label offers contemporary music fans access to thousands of meticulously restored archival titles representing virtually every musical genre.
© Sony Music Entertainment Sweden