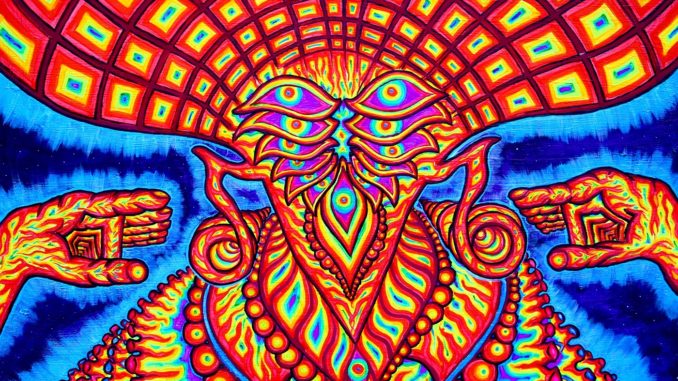 Klicka på bilden, för att se hela bilden
THE DREAM SYNDICATE ANNOUNCE NEW ALBUM 'THE UNIVERSE INSIDE', COMING OUT APRIL 10
LA indie rock forbearers The Dream Syndicate are announcing their third ANTI- Records release. Titled The Universe Inside, the mind-bending new album will be released on April 10. First single "The Regulator" kicks in instantly; at twenty minutes long, immerse yourself in the song and watch the video. Directed by David Daglish, the video is a psychedelic journey through New York City, equal parts panoramic, psychedelic, somnambulistic and political in all the best ways. George Harrison once said, "arrive without traveling." This is your ticket to The Universe Inside.
Reminiscent of 70s Miles Davis and his chaotic brilliance, the track starts all fired up. Over of the course of the song, textures of eastern droning electric sitar (played by Stephen McCarthy of The Long Ryders), deep funky bass, haunting vocals, and saxophone flourishes by guest Marcus Tenney (a member of all-instrumental progressive ensemble Butcher Brown) grow into something delightful and unexpected.
When one thinks of The Dream Syndicate, it is not just the wild abandon with which singer/guitarist Steve Wynn, drummer Dennis Duck, bassist Mark Walton, keyboardist Chris Cacavas and lead guitarist Jason Victor perform; it is the carefully constructed songwriting of Wynn that comes to mind. By now every rock critic in the country has predetermined who he or she feels Wynn reminds them of and what they think of that style of songs. This time, don't! For the first time, every song is a group songwriting effort.
"The Regulator" is a microcosm of the entire record," Wynn explains. "It was just a formless, trippy mass as we all started playing together. There was an early 70's drum machine–a Maestro Rhythm King, the same model used on "There's A Riot Goin' On"–with Dennis locking in and setting the pace. Stephen grabbed an electric sitar because it was the first thing he saw. Jason and I were kicking pedals on like lab monkeys in a laboratory and Mark was a lightning rod, uniting all of those elements into one tough groove. I collected a list of random, unconnected lyric ideas that I kept on my phone. I tried them all out in random order in my home studio just to see how they would feel and that one-take test run is the vocal you hear!. There's just so much lightning-in-a-jar, first take excitement on this record."
What seeps into this music are Dennis Duck's knowledge of European avantgarde music, Jason Victor's passion for 70s prog, Mark Walton's experience in Southern-fried music collectives, Chris Cacavas' hunger for sound manipulation and Wynn's love of vintage electric jazz. This album could have been called The Art of The Improvisers – in one session, they recorded 80 continuous minutes of soundscapes. "All we added was air," Wynn explained. Which is to say aside from vocals, horns and a touch of percussion – every instrument is live as it happened.
The Dream Syndicate – The Universe Inside
Genre: Pop/Rock
Label: Anti
Release Date: 10 April 2020
2nd track to launch from the album Temple which is released 15th May
The album launch track Temple has been playlisted across Ultimate Indie in the US! We've seen spot plays for the track across 6 Music and press across Dork and DIY in the UK.
After spending some time hosting the popular podcast 'Song Exploder', Temple is Thao's follow up to 2016's A Man Alive and sees the band continuing to build soulful pop grooves around layers of controlled chaos. Thao's voice, as ever, is the centerpoint which threads everything together. On this album, her lyrics are more vulnerable than ever, and she directly addresses some of the most personal aspects of her life. In her own words: "I was raised Buddhist, and pagodas and temples have a very special place in my heart. The record in general is about me creating my own kind of temple wherein I can exist as my whole self. I feel as though I've lived separate and disparate lives for a long time. Compartmentalizing my life is how I've navigated a lot of unresolved things in my history and my present day, including lasting effects of a traumatic upbringing and being queer in a family that places a high premium on cultural traditions, ideals, and expectations.
Thao & The Get Down Stay Down – Phenom
Genre: Alternative
Label: Ribbon Music
Release Date: 3 April 2020
© Playground Music