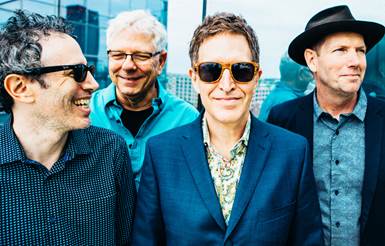 Klicka på bilden, för att se hela bilden
On September 8, seminal indie rock band The Dream Syndicate will release their fifth studio album, How Did I Find Myself Here? The band's first album since 1988, How Did I Find Myself Here? also marks their debut for ANTI- Records.
Today, the Dream Syndicate shares the first single and title track from How Did I Find Myself Here? With its heavy grooves, hypnotic guitar work, and gorgeously fractured textures, the 11-minute-plus piece of sprawling psych-rock feels both classic and forward-pushing.
Formed in Los Angeles in 1981, the Dream Syndicate was founded by current members Steve Wynn (guitar, vocals) and Dennis Duck (drums), along with Karl Precoda (guitar) and Kendra Smith (bass). With its widely celebrated 1982 debut The Days of Wine and Roses, the band soon emerged at the forefront of the 1980s college-rock scene.
Following the release of three more albums (1984's Medicine Show, 1986's Out of the Grey, and 1988's Ghost Stories), the Dream Syndicate split up indefinitely—then reunited for a Spanish music festival in 2012. With its lineup now including guitarist Jason Victor, the band has since played over 50 shows and toured throughout the U.S. and Europe. In 2016, they headed into the studio and began working on their first album in nearly 30 years.
"[The magic] was there with almost as much ease and grace as the first rehearsal we had three years before in Madrid, despite [longtime bassist] Mark Walton, Dennis Duck and I having not played together for several decades," says Wynn of the making of How Did I Find Myself Here? "It sounds like everything that I loved about the Dream Syndicate and yet sounds unlike any other record we made."
Over the years, the Dream Syndicate has proven to be a massively influential force in the world of alternative rock, with artists like Kurt Cobain listing the band among their inspirations. As Wynn points out, the band itself was greatly influenced by underground pioneers like the Fall, the Gun Club, Neu!, and Big Star.
"I always felt that the Dream Syndicate was largely about receiving, carrying and then passing along a torch of the bands that we loved passionately but who didn't necessarily get the love and attention they deserved, living in the shadows as cult favorites, secret passwords into a society of musical fanaticism and time-delayed impact on generations to come," he says.
Here, several of the Dream Syndicate's most notable admirers continue that tradition and discuss their favorite tracks from the band:
"It's been one of the great pleasures of my life to play 'Tell Me When It's Over' with Steve over the last few years. The Dream Syndicate version is a perfect distillation of Los Angeles noir and febrile, menacing garage rock." – Peter Buck, R.E.M.
"'Halloween' is an eerie number. When the second guitar kicks in I think of a stage covered with fog, Karl stepping to the front of the stage and unashamedly striking a rock pose. It helped me feel alright about playing leads which were so hated at the time. Steve's more jangly sound also influenced my choice of getting a Fender for my first guitar to start Dinosaur. I wanted to write some songs, strum, then kick in to some fuzz for the lead. It was all there in the Dream Syndicate." – J Mascis, Dinosaur Jr.
"The Days of Wine and Roses was my introduction to the Dream Syndicate, and the very beginning of my love affair with the band and their music. My discovery coincided with the writing/recording of our second album, and our song 'The Nights of Wine and Roses' was inspired by (and named in homage of) theirs. While I like the album version, I LOVE the version from Live At Raji's, which is not only my favourite Dream Syndicate album, but one of my favourite live albums of all time." – Brian King, Japandroids
This fall, the Dream Syndicate will tour throughout Europe in support of How Did I Find Myself Here?
The Dream Syndicate European/UK Tour Dates
October 14th, 2017 – Oslo – Rockefeller (NO)
October 15th, 2017 – Göteborg – Pustervik (SE)
October 16th, 2017 – Stockholm – Kägelbanan (SE)
October 18th, 2017 – Copenhagen – VEGA (DK)
October 19th, 2017 – Hamburg – Uebel & Gefährlich (DE)
October 20th, 2017 – Bonn – Rockpalast Crossroads @ Harmonie (DE)
October 21st, 2017 – Berlin – Festsaal Kreuzberg (DE)
October 23rd, 2017 – Amsterdam – Bitterzoet (NL)
October 24th, 2017 – Paris – Centre Barbara Fleury Goutte-d'Or (FGO) (FR)
October 25th, 2017 – Turin – Spazio 211 (IT)
October 26th, 2017 – Milan – Magnolia Segrate (IT)
October 27th, 2017 – Bologna – Locomotiv (IT)
October 30th, 2017 – London – The Lexington (UK)
November 1st, 2017 – Leeds – Brudenell Social Club (UK)
November 3rd, 2017 – Leuven – Het Depot (BE)
November 4th, 2017 – Athens – Fuzz Club (GR)
For more information on The Dream Syndicate, visit:
Webpage
Facebook
Twitter
Instagram
© Playground Music