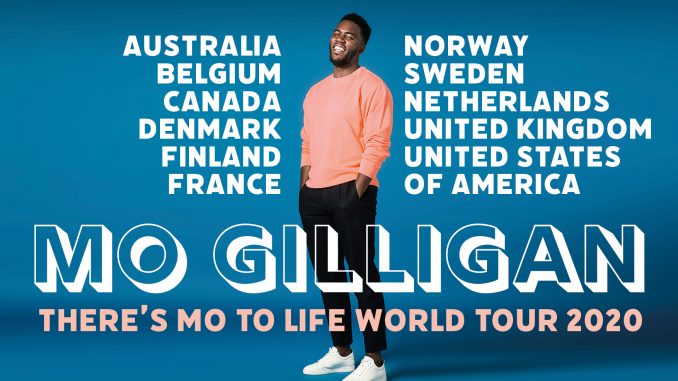 Med en global Netflix-special, BAFTA-nominering och det populäraste underhållningsprogrammet på Channel 4 i Storbritannien har Mo Gilligan återigen höjt ribban när han meddelar att han åker på en omfattande världsturné 2020. Turnén gör ett par stopp i Skandinavien nästa höst då Mo Gilligan bl.a. framträder på Vasateatern i Stockholm den 24 september!
En av Storbritanniens största genombrottstjärnor kommer att ta med sitt energiska och kraftfulla framträdande till teatrar i Storbritannien nästa höst med sin helt nya show There's Mo To Life. Turnén åker också till USA, Australien och över hela Europa. Såhär beskrev Mo nyheten: "My favourite thing is performing live to those who like what I do. The last few years have been so phenomenally life changing – and that's all down to you guys. Thank you to all my supporters all over the World and I can't wait to get back out on the road to see you again!"
2019 har varit ytterligare ett framgångsrikt år för Mo – med flera utmärkelser och nomineringar, inspelningen av The Big Narstie Show säsong 2 och hans egna Channel 4-serie The Lateish Show med Mo Gilligan. Han blev utnämnd till The Funniest Man in Britain av The Times och hans debutturné Coupla Cans sålde nästan över 50 000 biljetter, inklusive en enorm show på West End där han var ett stående namn i två veckor. Hans första stand-up special på Netflix, Momentum, släpptes globalt i 190 länder.
Nästa år kommer han äntligen till Skandinavien och vi längtar efter att få se honom live på Vasateatern!
Datum 2020
24/9 – Vasateatern, Stockholm
25/9 – DR Koncerthuset Studie 2, Köpenhamn
26/9 – Latter, Oslo
© Live Nation