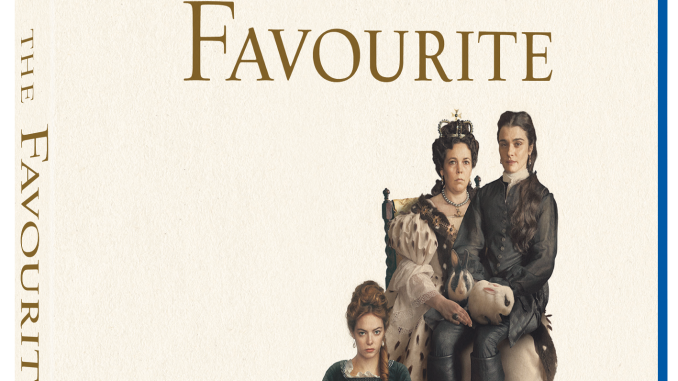 Klicka för att se hela bilden
FILM
The Favourite
Släpps för digitalt köp 27/5, på VOD, DVD & Blu-ray 10/6
Handlingen i Yorgos Lanthimos ("The Lobster", "The Killing of a Sacred Deer") flerfaldigt prisbelönade THE FAVOURITE utspelas i början av 1700-talets England. England är i krig med Frankrike, men ändå frodas ankracing och ananasätande. Den bräckliga drottning Anne (Olivia Colman) sitter på tronen medan vännen lady Sarah (Rachel Weisz) styr landet samtidigt som hon tampas med Annes sviktande hälsa och kraftiga humörsvängningar. När den nya tjänaren Abigail (Emma Stone) anländer tar Sarah henne under sina vingar, men då kriget blir tidskrävande kliver istället Abigail in i rollen som drottningens högra hand. Deras spirande vänskap ger henne en chans att återvända till sina aristokratiska rötter och hon kommer inte låta någon kvinna, man, politiker eller kanin stå i vägen.
Olivia Colman, Rachel Weisz och Emma Stone har fått lysande kritik för sina rolltolkningar – Olivia Colman fick bland annat en Oscar-, en Golden Globe- och en BAFTA-utmärkelse för Bästa kvinnliga huvudroll.
Extramaterial: Deleted Scenes • The Favourite: Unstitching The Costume Drama
The Hate U Give
Släpps för digitalt köp 10/6, på VOD 24/6
The Hate U Give bygger på den bästsäljande romanen om Starr Carter, som lever ett dubbelliv i två skilda världar: den fattiga svarta förorten där hon bor och den fina vita privatskolan som hon går i. Men hennes tillvaro ställs på ända när hon blir vittne till hur en polis skjuter hennes barndomsvän till döds. Trots omgivningens påtryckningar måste Starr nu stå upp för vad som är rätt. I rollerna: Amandla Stenberg, Regina Hall, Anthony Mackie, K.J. Apa m fl.
TV
PAW Patrol säsong 4 / volym 6
Släpps på DVD 24/6
Välkommen till Äventyrsbukten! Om någonting har gått snett, kommer PAW Patrol och löser allting lätt! Inget jobb är för stort för polisvalpen Chase, brandmannen Marshall, byggaren Rubble, piloten Skye, dykaren Zuma, återvinnaren Rocky och snöröjaren Everest. Följ med på deras många spännande räddningsuppdrag i Äventyrsbukten!
HAJEN & ANDRA ÄVENTYR
Det är en varm sommardag och alla är och badar i Äventyrsbukten. Borgmästare Överdängare vill ha stranden för sig själv och gör allt för att skrämma bort de andra badgästerna. Vad är det som simmar ute i vattnet?
Nyheter på UHD & Blu-ray
Batman (1989)
Släpps på UHD 17/6
I rollerna: Michael Keaton, Jack Nicholson & Kim Basinger. Regi: Tim Burton.
Jack Nicholson is the Joker, who emerged from a horrible accident as a maniacal criminal. Michael Keaton is the Caped Crusader, who emerged from a childhood trauma to become a masked crime-fighter. Kim Basinger is Vicki Vale, the talented photojournalist desired by both men. And Batman is the movie, the all-out spectacular directed by Tim Burton, set to songs by Prince and a music score by Danny Elfman, and an Academy Award winner* for Best Art Direction/Set Decoration (Anton Furst and Peter Young).
Extramaterial: Commentary by Director Tim Burton • On the Set with Bob Kane • Legends of the Dark Knight: The History of Batman • Shadows of the Bat: The Cinematic Saga of the Dark Knight Parts 1–3 Beyond Batman Documentary Gallery • 3 Prince Music Videos • The Heroes and The Villains Profile Galleries • Batman: The Complete Robin Storyboard Sequence • Theatrical Trailer
Batman Returns
Släpps på UHD 17/6
I rollerna: Michael Keaton, Danny DeVito & Michelle Pfeiffer. Regi: Tim Burton.
Gotham City faces two monstrous criminal menaces: the bizarre, sinister Penguin (Danny DeVito) and the slinky, mysterious Catwoman (Michelle Pfeiffer). Can Batman (Michael Keaton) battle two formidable foes at once? Especially when one wants to be mayor and the other is romantically attracted to Gotham's hero? Like the Academy Award®-winning* 1989 original, Batman Returns is directed by moviemaking wizard Tim Burton. And like the first blockbuster, it's a dazzling adventure that leaves you breathless.
Extramaterial: Commentary by Director Tim Burton • The Bat, the Cat and the Penguin Making-of Featurette Shadows of the Bat: The Cinematic Saga of the Dark Knight Part 4 • Beyond Batman Documentary Gallery • Siouxsie and the Banshees "Face to Face" Music Video • The Heroes and The Villains Profile Galleries • Theatrical Trailer
Batman Forever
Släpps på UHD 17/6
I rollerna: Val Kilmer, Tommy Lee Jones & Jim Carrey. Regi: Joel Schumacher.
Riddle me this, riddle me that, you'll find adventure on the wings of a bat! Brace for excitement as Val Kilmer (Batman), Tommy Lee Jones (Two-Face), Jim Carrey (The Riddler), Nicole Kidman (Dr. Chase Meridian) and Chris O'Donnell (Robin) star in the third spectacular film in the Warner Bros. Batman series. Joel Schumacher (The Client) directs and Tim Burton coproduces this thrill ride of a movie that thunders along on Batmobile, Batwing, Batboat, Batsub and bold heroics. Hang on!
Extramaterial: Commentary by Director Joel Schumacher • Additional Scenes • Riddle Me This: Why Is Batman Forever? • Shadows of the Bat: The Cinematic Saga of the Dark Knight Part 5 • Beyond Batman Documentary Gallery • Seal "Kiss from a Rose" Music Video • The Heroes and The Villains Profile Galleries • Theatrical Trailer
Batman & Robin
Släpps på UHD 17/6
I rollerna: Arnold Schwarzenegger, George Clooney & Chris O'Donnell. Regi: Joel Schumacher.
George Clooney plays the Dark Knight, who's facing his deadliest threat yet: coldhearted Mr. Freeze (Arnold Schwarzenegger) and venomous Poison Ivy (Uma Thurman). Batman has more than Gotham City to protect: The youthful eagerness of crime-fighting comrades Robin (Chris O'Donnell) and Batgirl (Alicia Silverstone) puts them frequently in harm's way. Very special effects include a wild skysurfing sequence and Mr. Freeze's outrageous arsenal of ice-blasting weapons. Joel Schumacher directs.
Extramaterial: Commentary by Director Joel Schumacher • Shadows of the Bat: The Cinematic Saga of the Dark Knight Part 6 • Additional Scene: Alfred's Lost Love • Beyond Batman Documentary Gallery • 3 Music Videos • The Heroes and The Villains Profile Galleries • Theatrical Trailer
Forrest Gump (remastered 25th Anniversary edition)
Släpps på Blu-ray 24/6
Den 6 juli är det 25 år sedan en av historiens största filmframgångar hade premiär. Det firar vi med en remastrad utgåva på Blu-ray.
I Sverige firar filmen 25 år den 14 oktober.
Tom Hanks gör en imponerande insats som Forrest, en helt vanlig kille vars naiva charm blivit symbolen för en hel generation. Tillsammans med sin mamma, sin bäste vän Bubba och sin stora kärlek Jenny får Forrest vara med om alla de mest minnesvärda händelserna under 1900-talets senare hälft.
Forrest Gump var Oscar-nominerad i 13 kategorier och vann sex, bland annat de tunga kategorierna Bästa film, Bästa manliga huvudroll och Bästa regi och är fortfarande en av tidernas främsta filmframgångar.
I rollerna: Tom Hanks, Robin Wright, Gary Sinise m fl. Regi: Robert Zemeckis.
Extramaterial: Commentary with Robert Zemeckis, Steve Starkey and Rick Carter • Commentary with Wendy Finerman • Musical Signposts to History
© Twentieth Century Fox