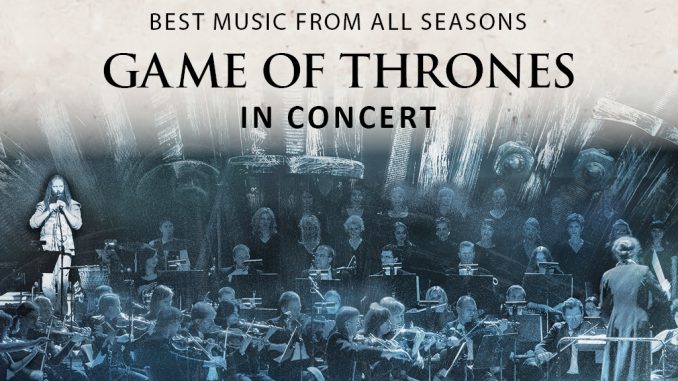 Game of Thrones in Concert – endast tre konserter i Sverige 2020! Konserten inkluderar höjdpunkter från den åttonde och sista säsongen med 100 solister, sångare och musiker från Cinema Festival Symphonics. Konstnärlig ledare: Stephen Ellerty.
Game of Thrones – The Concert Show är en gripande föreställning av exklusiv karaktär. De musikaliska mästerverken framförs av en orkester, stor kör och solister. Skärmanimationer och visuella effekter kommer bidra till att förstärka upplevelsen där hjärtat går på högvarv i det stora spelet. En exklusiv föreställning hyllad av både publik och press.
Stig in i Westeros med Game of Thrones – The Concert Show. En fantastisk musikalisk och visuell upplevelse. Den väcker de sju kungarikena till liv med en extraordinär intensitet och modern teknologi. Publiken bjuds på en mäktig föreställning, en musikalisk resa genom kungarikena. Den kritikerrosade och Emmy-belönade HBO-seriens fans kommer att stiga in i det stora äventyret Game of Thrones.
Game of Thrones-serien har fått en aldrig tidigare skådad global hype och i väntan på den åttonde finalsäsongen är uppmärksamheten större än någonsin! Stående ovationer och lovord har följt den senaste turnén med musik ur Game of Thrones framförd av Cinema Festival Symphonics. De musikaliska mästerverken är skapade av komponisten Ramin Djawadi från Duisburg.
Datum: Malmö Arena 16 februari 2020
Biljettsläpp: Fredag 29/3 09:00
© Malmö Arena