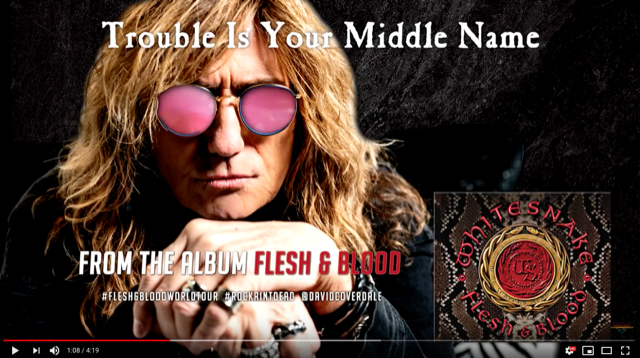 Klicka på bilden, för att se hela bilden
Fresh off celebrating their 40th anniversary, rock legends Whitesnake return with their latest studio album, Flesh & Blood. This album follows the 2011 critically acclaimed studio album "Forevermore" and 2015's The Purple Album, a reimagining of Deep Purple classics from Whitesnake mastermind's David Coverdale's time in that band.
The 13 original, visceral tracks on Flesh & Blood, the band's 13th studio album, are, luckily for you dear reader, "all killer, no filler", as the saying goes. But would you expect anything less from the 'Snakes? Joining Coverdale on Flesh & Blood is the powerhouse band comprised of Reb Beach and Joel Hoekstra on guitar, Michael Devin on bass, Tommy Aldridge on drums, and Michele Luppi on keyboards.The current incarnation of the band carries on the long and unwavering tradition of main man David Coverdale being surrounded by cream of the crop players who go all in to bring fans the best hard rock humanly possible. 40+ years into their existence, the 'Snakes fangs have only grown sharper and are ready to inject fans with more of that rock 'n roll venom they crave. Flesh & Blood will be released via Frontiers Music Srl in multiple formats. See below for full details.
• CD (Jewel Case)
• CD+DVD Deluxe Edition (Digipak) – Includes two studio bonus tracks on CD. DVD includes "Shut Up & Kiss Me" (classic jag version) (VIDEOCLIP), "Shut Up & Kiss Me" (club mix version) (VIDEOCLIP), Behind the Scenes of 'Flesh & Blood' VIDEO + 3 DVD Audio Tracks (Remixes of album tracks)
• Super Luxury Boxset – Includes CD+DVD Deluxe Edition, 2xLP, Poster, Numbered Lithograph
• 2xLP – Black, 180g, Gatefold
Tracklist CD / 2xLP: 1. Good To See You Again 2. Gonna Be Alright 3. Shut Up & Kiss Me 4. Hey You (You Make Me Rock) 5. Always & Forever 6. When I Think Of You (Color Me Blue) 7. Trouble Is Your Middle Name 8. Flesh & Blood 9. Well I Never 10. Heart Of Stone 11. Get Up 12. After All 13. Sands Of Time Bonus Tracks Appearing on CD+DVD Deluxe Edition and Digital Version: 14. Can't Do Right For Doing Wrong (Bonus Track – New Studio Song) 15. If I Can't Have You (Bonus Track – New Studio Song) 16. Gonna Be Alright (X-Tendo Mix) – DVD Audio Track 17. Sands Of Time (Radio Mix) – DVD Audio Track 18. Shut Up And Kiss Me (Video Mix) – DVD Audio Track
© Playground Music 2019-03-14