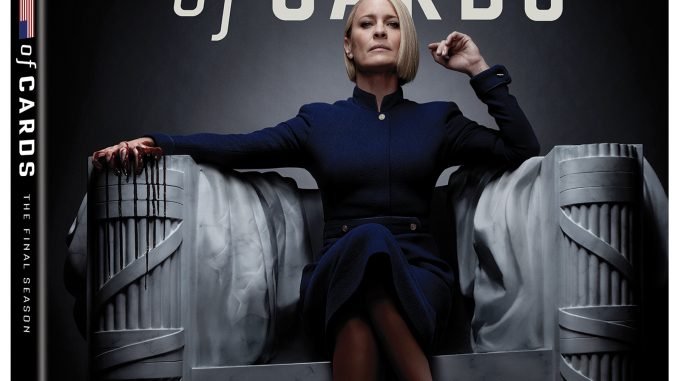 The final chapter in the critically acclaimed and award-winning political drama HOUSE OF CARDS: SEASON SIX debuts on Blu-ray™ and DVD March 4th from Sony Pictures Home Entertainment. Following the death of President Frank Underwood, Vice President Claire Underwood (Robin Wright) has ascended to the position of Commander in Chief of the United States, working to rally her allies and outwit those who oppose her. The intrigue and political maneuverings inside the White House continue as the first female president seeks to solidify her legacy.
HOUSE OF CARDS: SEASON SIX is executive produced by Melissa James Gibson, Frank Pugliese, Robin Wright, David Fincher, Dana Brunetti, Joshua Donen, Eric Roth, Michael Dobbs and Andrew Davies. MRC is the studio behind the series. The series was created for television by award-winning playwright and Academy Award® nominated screenwriter Beau Willimon ("Farragut North"; The Ides of March, Best Writing, Adapted Screenplay, 2011).
Synopsis:
With Frank out of the picture, Claire Underwood (Robin Wright) steps fully into her own as the first female president, but faces formidable threats to her legacy. The final season of the Emmy® Award-winning drama builds to a tense and unforgettable climax.
© Universal Sony Pictures Home Entertainment