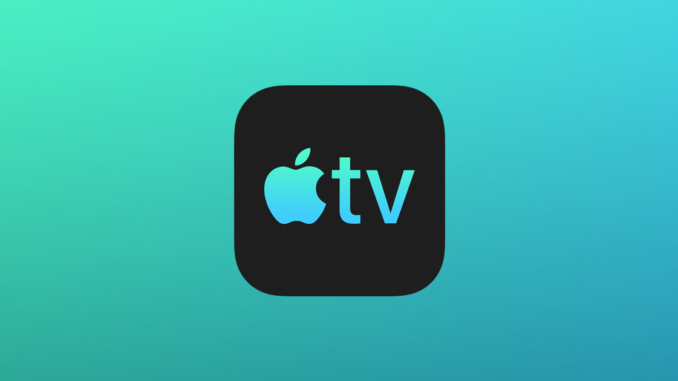 Klicka på bilden, för att se hela bilden
New this week on Apple TV+
Recently renewed for a second season, the highly anticipated season finale of acclaimed and hit comedy series "The Afterparty" premieres this Friday on Apple TV+.
The second season of "Dear…" drops this Friday with a new roster of icons, including the late André Leon Talley, Viola Davis, Malala Yousafzai, Jane Fonda, Ava DuVernay, Billy Porter, Sandra Oh, Kareem Abdul-Jabbar and Laird Hamilton.
Also, new episodes of the Emmy and NAACP Image Award nominated animated comedy "Central Park" premiere this Friday on Apple TV+, alongside a new episode of "The Problem with Jon Stewart," now streaming weekly with new episodes every Thursday.
The Afterparty – Season finale
From Academy Award, BAFTA and Golden Globe Award winners Chris Miller and Phil Lord ("Spider-Man: Into the Spider-Verse," "The Lego Movie," "21 Jump Street"), "The Afterparty" is a genre-defying series centered on a murder mystery at a high school reunion. Each episode explores a different character's account of the fateful evening in question, all through the lens of popular film genres and unique visuals to match the storyteller's perspective.
"The Afterparty" features a stellar ensemble cast including Tiffany Haddish, Sam Richardson, Zoë Chao, Ben Schwartz, Ike Barinholtz, Ilana Glazer, Jamie Demetriou and Dave Franco.
In the season finale, "Maggie," an unexpected eyewitness emerges to help Detective Danner piece together the true story behind Xavier's demise.
The season one finale of "The Afterparty," premieres this Friday, March 4on Apple TV+.
Severance – New episode
From director and executive producer Ben Stiller, and creator Dan Erickson, "Severance" is a highly anticipated new drama series that reunites Emmy and DGA Award winner Stiller with Academy Award and Emmy Award winner Patricia Arquette, who stars alongside Adam Scott, Emmy Award winner John Turturro, Britt Lower, Zach Cherry, Dichen Lachman, Jen Tullock, Tramell Tillman, Michael Chernus and Academy Award winner Christopher Walken.
In "Severance," Mark Scout (Adam Scott) leads a team at Lumon Industries, whose employees have undergone a severance procedure, which surgically divides their memories between their work and personal lives. This daring experiment in 'work-life balance' is called into question as Mark finds himself at the center of an unraveling mystery that will force him to confront the true nature of his work … and of himself.
In this week's new episode "The You You Are," Irving finds an intriguing book at work. Helly aggressively pursues a meeting with her outie. Mark attends a funeral with Ms. Selvig.
The fourth episode of "Severance" premieres on Apple TV+ this Friday, March 4, 2022.
The Problem With Jon Stewart – New episode now streaming
With new episodes every Thursday, "The Problem With Jon Stewart" is a multiple-season, single-issue series with Stewart exploring complex topics through the differing perspectives of stakeholders, experts and individuals confronting these challenges. The Apple Original series will also feature a companion podcast that will extend the conversation from each episode, featuring staff members from across the show who will bring us interviews with activists in the space, the facts on the issue, and yes, lots of jokes.
In this week's new episode, "Stock Market," the rise of e-brokers was meant to democratize the stock market — yet inequality in the market has actually worsened. How can it be fixed?
"The Problem With Jon Stewart" is now streaming, with new episodes premiering weekly, every Thursday on Apple TV+.
"Dear…" – Season two premiere
From Emmy and Peabody Award winner R.J. Cutler, season two of inspiring and acclaimed unscripted series "Dear…" features a new roster of icons, their illuminating stories and the lives of those they have impacted.
The second season returns with a new roster of icons, including the late André Leon Talley, Viola Davis, Malala Yousafzai, Jane Fonda, Ava DuVernay, Billy Porter, Sandra Oh, Kareem Abdul-Jabbar and Laird Hamilton. "Dear…" spotlights internationally recognized leaders, entertainers and athletes, and how they have shaped culture and society through a collection of intimate letters from their fans. By reading these letters, each influential figure learns how they have unknowingly impacted others and gains new insight into how their work has made a unique contribution to the global community.
The complete second season of "Dear…" premieres this Friday, March 4 on Apple TV+.
Central Park – New episodes now streaming
Recently renewed for a third season, Apple's NAACP Image and Emmy Award-nominated, original animated musical comedy creator, writer and executive producer Loren Bouchard, Josh Gad and Nora Smith stars a renowned voice cast that includes Josh Gad, Leslie Odom Jr., Daveed Diggs, Emmy Raver-Lampman, Kathryn Hahn, Tituss Burgess and Stanley Tucci. New guest stars featured in the second season include Aparna Nancherla, Billy Porter, Catherine O'Hara, Ellie Kemper and Naomi Ekperigin.
As season two of "Central Park" unfolds with eight new episodes, the Tillerman family continues to navigate living in and caring for the world's most famous park. Molly experiences the trials and tribulations of adolescence, Cole is challenged by a truly embarrassing moment at school, Paige continues to chase down the Mayor's corruption story, and Owen juggles managing the park, his staff, and his family all with a smile on his face. Meanwhile, Bitsy inches ever closer to her sinister goal of claiming Central Park as her own; with Helen by her side, eternally wondering whether she's made it into Bitsy's will. Every step of the way, we are guided along by our friendly, fumbling, fiddler narrator, Birdie.
Three new episodes of "Central Park" season two will premiere on Friday, March 4, and new episodes will stream weekly every Friday thereafter through April 8, 2022.
Suspicion – New episode
"Suspicion" is a new, high-paced thriller starring Academy Award-nominated actress Uma Thurman about the kidnapping of the son of a prominent American businesswoman (played by Thurman). Twenty-one-year-old Leo's abduction from a large, upmarket hotel in central New York is captured on video and goes viral. Swiftly, four British citizens staying at the hotel become the prime suspects. But are they guilty of anymore than being in the wrong place at the wrong time?
In addition to Thurman, the new series will star Kunal Nayyar ("The Big Bang Theory"), Noah Emmerich ("The Americans"), Georgina Campbell ("Black Mirror"), Elyes Gabel ("Scorpion"), Elizabeth Henstridge ("Agents of S.H.I.E.L.D.") and Angel Coulby ("Dancing on the Edge"). Rob Williams serves as showrunner and the series is directed by Chris Long.
In this week's new episode, "Be the Gray Man," the suspects prepare to flee, but each must decide which way to run. Vanessa shares a secret with Scott. Katherine does client damage control.
The sixth episode of "Suspicion" premieres this Friday, March 4.
Coming Soon
The Last Days of Ptolemy Grey – New limited series
"The Last Days of Ptolemy Grey" stars Jackson as Ptolemy Grey, an ailing man forgotten by his family, by his friends, and by even himself. Suddenly left without his trusted caretaker and on the brink of sinking even deeper into a lonely dementia, Ptolemy is assigned to the care of orphaned teenager Robyn, played by Dominique Fishback. When they learn about a treatment that can restore Ptolemy's dementia-addled memories, it begins a journey toward shocking truths about the past, present and future.
The six-episode limited series will debut will debut globally Friday, March 11 on Apple TV+ with the first two episodes, followed by one new episode weekly, every Friday.
The Snoopy Show – New season
Based upon the "Peanuts" comic strip by Charles M. Schulz, "The Snoopy Show" is a new animated series for kids and families that stars the internationally beloved beagle and his feathered best friend Woodstock as they tackle all-new adventures. Snoopy may seem like just a happy-dancin', bone-lovin', doghouse-sittin' pup, but he's much more than that. He's Joe Cool: hippest kid in school. He's surfer king and famed arm wrestler Masked Marvel. He's a World War I flying ace who battles the Red Baron. All of his bold, beloved personas are on full display in this brand-new animated comedy.
All episodes of season two premiere on Friday, March 11.
WeCrashed – New limited series
Starring c"WeCrashed" is the highly anticipated eight-episode limited series from Lee Eisenberg and Drew Crevello, based on the hit Wondery podcast "WeCrashed: The Rise and Fall of WeWor.k Inspired by actual events — and the love story at the center of it all. WeWork grew from a single coworking space into a global brand worth $47 billion in under a decade. Then, in less than a year, its value plummeted. What happened?
"WeCrashed" will premiere globally on Apple TV+ with the first three episodes on March 18, 2022, followed by new weekly installments each Friday.
Pachinko
Told in three languages – Korean, Japanese, and English — "Pachinko" is the highly anticipated international drama series based on The New York Times bestselling, acclaimed novel by the same name. Epic in scope and intimate in tone, the story begins with a forbidden love and crescendos into a sweeping saga that journeys between Korea, Japan and America to tell an unforgettable story of war and peace, love and loss, triumph and reckoning.
"Pachinko" is written and executive produced by Soo Hugh ("The Terror," "The Killing"), who created the series and serves as showrunner. The series stars Soji Arai, Jin Ha, Inji Jeong, Minha Kim, Lee Minho, Kaho Minami, Steve Sanghyun Noh, Anna Sawai, Junwoo Han, Eun Chae Jung, Jimmi Simpson, Yu-na Jeon and Academy Award-winning actress Youn Yuh Jung.
"Pachinko" will premiere globally on Apple TV+ with the first three episodes on March 25, 2022, followed by new weekly installments each Friday.
Slow Horses – New series
Starring Academy Award winner Gary Oldman, "Slow Horses" is a new six-episode espionage drama adapted from CWA Gold Dagger Award-winning Mick Herron's first novel in the "Slow Horses" series. The series follows a team of British intelligence agents who serve in a dumping ground department of MI5 – Slough House. Oldman stars as Jackson Lamb, the brilliant but irascible leader of the spies who end up in Slough House due to their career-ending mistakes. Joining Oldman is a decorated ensemble cast including Academy Award nominee Kristin Scott Thomas, Academy Award nominee Jonathan Pryce, BAFTA Scotland Award winner Jack Lowden, and Olivia Cooke.
"Slow Horses" will premiere Friday, April 1, 2022 with the first two episodes, followed by one new episode weekly every Friday.
Roar – New anthology series
"Roar" is a new Apple Original anthology series that offers an insightful, poignant and sometimes hilarious portrait of what it means to be a woman today. Featuring a unique blend of magical realism, familiar domestic and professional scenarios, and futuristic worlds, these eight stories mirror the dilemmas of ordinary women in accessible yet surprising ways. How they emerge from their respective journeys speaks to the resiliency that exists within themselves, and with all women.
Based on a book of short stories by Cecelia Ahern, "Roar" is created by co-showrunners Carly Mensch and Liz Flahive, and features an all-star cast including Academy, Emmy and Golden Globe Award winner Nicole Kidman, who also executive produces; Emmy, Grammy and Tony Award winner Cynthia Erivo; six-time Emmy Award nominee Issa Rae; Emmy Award winner Merritt Wever; SAG Award nominee Alison Brie; three-time Emmy Award nominee Betty Gilpin; and Meera Syal, Fivel Stewart and Kara Hayward.
All eight episodes of "Roar" will premiere Friday, April 15 on Apple TV+.
They Call Me Magic – New Documentary event series
"They Call Me Magic" is the highly anticipated four-part documentary event that takes an illuminating, holistic look into the life and career of one of the world's most iconic figures, Earvin "Magic" Johnson.
For global sports icon Earvin Johnson, "Magic" has many meanings. It's the sparkle of his megawatt smile and dazzling style of play that forever changed the game of basketball. It's the magnetic connection that led him to the love of his life. It's the shock of an HIV diagnosis that he transformed from grief into triumph — shifting global dialogue about the disease and overcoming its staggering odds. It's his transcendence from sports superstar to business titan, blazing new trails for former athletes and revolutionizing the way corporate America does business in Black communities. Featuring intimate interviews with Magic and an all-star lineup, "They Call Me Magic" charts the cinematic life of one of the biggest cultural icons of our era with unprecedented access in a definitive four-part documentary series.
All four parts of "The Call Me Magic" will make their global debut Friday, April 22 on Apple TV+.
Shining Girls – New series
A new, eight-episode metaphysical thriller starring and executive produced by Emmy Award-winning actress Elisabeth Moss, and based on Lauren Beukes' bestselling novel, "Shining Girls" follows Kirby Mazrachi (Moss) as a Chicago newspaper archivist whose journalistic ambitions were put on hold after enduring a traumatic assault. When Kirby learns that a recent murder mirrors her own case, she partners with seasoned, yet troubled reporter Dan Velazquez (played by Wagner Moura), to uncover her attacker's identity. As they realize these cold cases are inextricably linked, their own personal traumas and Kirby's blurred reality allow her assailant to remain one step ahead. In addition to Moss and Moura, the gripping drama stars Phillipa Soo, with Amy Brenneman and Jamie Bell rounding out the ensemble cast. The series is adapted for television by showrunner Silka Luisa.
The first three episodes of "Shining Girls" premiere Friday, April 29, 2022, followed by one new episode weekly every Friday.
Tehran – New season
The international Emmy Award-winning global espionage thriller "Tehran" returns for season two with two-time Emmy Award winner and Academy Award nominee Glenn Close joining the ensemble cast alongside returning stars Niv Sultan, who returns as Mossad agent Tamar Rabinyan, as well as Shaun Toub and Shervin Alenabi. "Tehran" tells the thrilling story of a Mossad agent who goes deep undercover on a dangerous mission in Tehran that places her and everyone around her in dire jeopardy. The series is created by Moshe Zonder, Dana Eden and Maor Kohn, and directed by Daniel Syrkin.
The second season of " Tehran" will debut with the first two episodes on Friday, May 6, 2022, followed by one new episode weekly every Friday.
Now and Then – New Spanish and English language series
Set in Miami, "Now and Then" is an eight-episode bilingual and multi-layered thriller told in Spanish and English that explores the differences between youthful aspirations and the reality of adulthood, when the lives of a group of college best friends are forever changed after a celebratory weekend ends up with one of them dead. Now, 20 years later, the remaining five are reluctantly reunited by a threat that puts their seemingly perfect worlds at risk. The exceptional ensemble cast includes Academy Award nominees Marina de Tavira and Rosie Perez, Ariel Award winner José María Yazpik, multi-Goya Award winner Maribel Verdú, Manolo Cardona, Goya Award winner Soledad Villamil, Emmy Award winner Željko Ivanek, Jorge López, Alicia Jaziz, Dario Yazbek Bernal, Alicia Sanz, Jack Duarte and Miranda de la Serna.
"Now and Then" will premiere globally on Apple TV+ with the first three episodes on Friday, May 20, followed by one new episode weekly every Friday.
Apple TV+ is now available in over 100 countries and regions on the Apple TV app on iPhone, iPad, Apple TV, iPod touch, Mac and other platforms, including online at tv.apple.com, for just $4.99 per month with a seven-day free trial.
© Apple TV