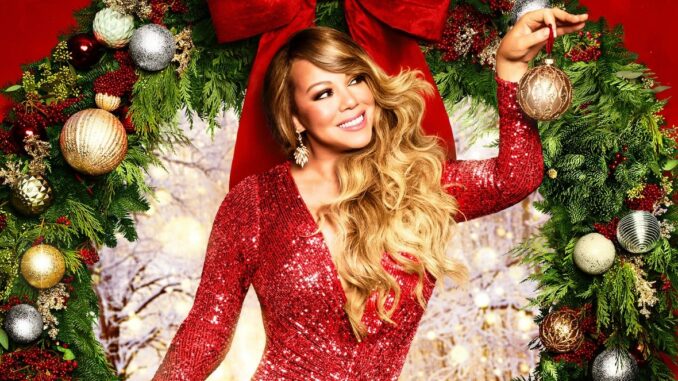 Klicka på bilden, för att se hela bilden
Global icon Mariah Carey celebrates the holidays with a star-studded lineup of surprise guests star in "Mariah Carey's Magical Christmas Special," an exclusive holiday event premiering globally on Apple TV+ this Friday.
Also premiering this Friday, Tom Hiddleston narrates new natural history series "Earth At Night In Color," and new children's series "Stillwater" make their global debut on Apple TV+.
Mariah Carey's Magical Christmas Special
An exclusive holiday event from worldwide superstar and multi-platinum, multi-Grammy award-winning artist Mariah Carey which will debut globally on Apple TV+ this holiday season. The new special is set to premiere on the heels of the 25th anniversary of Carey's iconic No. 1 holiday anthem "All I Want For Christmas Is You," and will feature the legendary icon Carey and a star-studded lineup of surprise guest appearances, in a magical holiday journey to enliven the Christmas spirit around the world. The innovative special will combine music, dancing and animation driven by a universally heartwarming story that brings the world together.
Premieres globally on December 4 on Apple TV+.
Earth At Night In Color
This landmark natural history series narrated by Tom Hiddleston, "Earth At Night In Color" uses next-generation cameras to reveal the nocturnal lives of animals, in color, for the first time ever. Filmed across six continents, from the Arctic Circle to the African grasslands, this pioneering series follows the moonlit dramas of animals at night, revealing new insights and never before seen behaviors. "Earth At Night In Color" is produced by Offspring Films. The series is executive produced by Alex Williamson and Isla Robertson, and produced by Sam Hodgson.
Premieres Friday, December 4, exclusively on Apple TV+.
Stillwater
Based on the Scholastic book series "Zen Shorts" by Jon J Muth, "Stillwater" is produced by Gaumont and Scholastic Entertainment and centers on siblings Karl, Addy and Michael, who are typical kids with typical kid challenges – meaning that sometimes even the smallest things can feel insurmountable. Fortunately for these three, they have Stillwater, a wise panda, as their next-door neighbor. Through his example, stories and gentle humor, Stillwater gives the children a deeper understanding of their feelings as well as tools that help them face their own day-to-day challenges. Stillwater also brings newfound fun and adventure for the three, opening their eyes to the quiet wonders of the world around them, and guiding them to their place within it. "Stillwater" is executive produced by Sidonie Dumas, Christophe Riandee, Nicolas Atlan, Terry Kalagian, Iole Lucchese, Caitlin Friedman, Jef Kaminsky and Rob Hoegee and features the voice talents of James Sie, Eva Binder, Tucker Chandler and Judah Mackey.
New children's series premieres Friday, December 4, exclusively on Apple TV+.
Coming Soon
Wolfwalkers
An Apple Original Film, "Wolfwalkers" is the latest from two-time Academy Award-nominated director Tomm Moore ("Song of the Sea," "The Secret of Kells") and director Ross Stewart ("The Secret of Kells"), and co-produced by the award-winning animation studios Cartoon Saloon (Oscar and Golden Globe nominee, "The Breadwinner") and Melusine Productions (Oscar nominee, "Ernest & Celestine"). In a time of superstition and magic, a young apprentice hunter, Robyn Goodfellowe, journeys to Ireland with her father to wipe out the last wolf pack. While exploring the forbidden lands outside the city walls, Robyn befriends a free-spirited girl, Mebh, a member of a mysterious tribe rumored to have the ability to transform into wolves by night. As they search for Mebh's missing mother, Robyn uncovers a secret that draws her further into the enchanted world of the Wolfwalkers and risks turning into the very thing her father is tasked to destroy.
Premieres Friday, December 11 on Apple TV+, following its theatrical run.
Dickinson – Peabody Award-winner
Created, written and executive produced by Alena Smith, and starring Academy Award and Golden Globe Award nominee Hailee Steinfeld, who executive produces. In the second season, Emily Dickinson (Steinfeld) is pulled out of her private literary life and thrust into the public eye, while struggling with the sense that the pursuit of fame might be a dangerous game for her to play. "Dickinson" is a half-hour comedy series starring Oscar® nominee Hailee Steinfeld. Created by Alena Smith, "Dickinson" audaciously explores the constraints of society, gender, and family from the perspective of rebellious young poet Emily Dickinson. Created, written and executive produced by Alena Smith and executive produced by Hailee Steinfeld, "Dickinson" stars Hailee Steinfeld, Jane Krakowski, Toby Huss, Anna Baryshnikov, Ella Hunt, and Adrian Blake Enscoe. Wiz Khalifa guest stars.
Season two premieres Friday, January 8, 2021.
Servant
Executive produced by Academy Award-nominated director M. Night Shyamalan ("Glass," "Split," "The Sixth Sense"), acclaimed thriller "Servant" will return for season two on January 15, 2021. Following its suspenseful season one finale, the second season of the thriller takes a supernatural turn. As Leanne returns to the brownstone and her true nature is revealed, a darker future for all lies ahead. The cast of "Servant" including Lauren Ambrose ("Six Feet Under"), Toby Kebbell ("Kong: Skull Island," "Fantastic Four," "Black Mirror"), Nell Tiger Free ("Game of Thrones") and Rupert Grint ("Harry Potter" franchise, "Snatch") will all reprise their characters for the second season. The series is created by the British Academy of Film and Television Arts nominated executive producer and writer Tony Basgallop. In addition to executive producers M. Night Shyamalan and Tony Basgallop, "Servant" is executive produced by Ashwin Rajan, Jason Blumenthal, Todd Black and Steve Tisch. Taylor Latham and Patrick Markey serve as co-executive producers.
Season two premieres Friday, January 15, 2021.
Losing Alice
Shrouded with mystery at every turn, "Losing Alice" is a cinematic neo-noir psychological thriller that follows an aging director, Alice, and her growing obsession with a young screenwriter, Sophie, whose dark and trouble script appears more truth than fiction. Using flashbacks and flash-forwards in a satisfyingly complex narrative that takes the viewer through the conscious and subconscious of its protagonist's mind, the series follows Alice (played by Ayelet Zurer), a 48-year-old female film director, who feels irrelevant since raising her family. After a brief encounter on the train, she becomes obsessed with a 24-year-old screenwriter femme fatale, Sophie (played by Lihi Kornowski), and eventually surrenders her moral integrity in order to achieve power, relevance and success.
Global premiere Friday, January 22, 2021 on Apple TV+.
For All Mankind – Season two
"For All Mankind" season two picks up a decade later in 1983. It's the height of the Cold War and tensions between the United States and the USSR are at their peak. Ronald Reagan is President and the greater ambitions of science and space exploration are at threat of being squandered as the US and Soviets go head to head to control sites rich in resources on the moon. The Department of Defense has moved into Mission Control, and the militarization of NASA becomes central to several characters' stories: some fight it, some use it as an opportunity to advance their own interests, and some find themselves at the height of a conflict that may lead to nuclear war.
The series stars Joel Kinnaman, Michael Dorman, Sarah Jones, Shantel VanSanten, Wrenn Schmidt, Jodi Balfour, Cynthy Wu, Coral Peña and Casey W. Johnson. "For All Mankind" is created by Ronald D. Moore, Matt Wolpert and Ben Nedivi, and directed by Seth Gordon.
Season two premieres February 19, 2021 on Apple TV+.
Cherry – Global film premiere
"Cherry" follows the wild journey of a disenfranchised young man from Ohio who meets the love of his life, only to risk losing her through a series of bad decisions and challenging life circumstances. Inspired by the best-selling novel of the same name, "Cherry" features Tom Holland in the title role as an unhinged character who drifts from dropping out of college to serving in Iraq as an Army medic and is only anchored by his one true love, Emily (Ciara Bravo). When Cherry returns home a war hero, he battles the demons of undiagnosed PTSD and spirals into drug addiction, surrounding himself with a menagerie of depraved misfits. Draining his finances, Cherry turns to bank robbing to fund his addiction, shattering his relationship with Emily along the way. Brought to the screen in bold, gritty fashion by visionary directors Anthony and Joe Russo, "Cherry" is a darkly humorous, unflinching coming-of-age story of a man on a universal quest for purpose and human connection.
Premieres in select theaters February 26, 2021 and on Apple TV+ on Friday, March 12, 2021.
Now Streaming
The Oprah Conversation: President Barack Obama
Oprah sits down with the 44th president in a candid conversation covering his legacy, democracy, race and the American dream. In a candid conversation, Oprah and President Obama explore the transformative years leading up to President Obama's historic presidency, the accomplishments that led him to the White House, and the monumental expectations placed upon him during his pivotal time in office. In this candid conversation, Oprah and President Obama will also talk about his new insightful and deeply personal memoir, "A Promised Land."
Now streaming for free through Tuesday, December 1 on Apple TV+.
Fireball: Visitors From Darker Worlds – Global Film Premiere
Following their Academy Award-nominated work on "Encounters at the End of the World" and Emmy-nominated "Into the Inferno," Werner Herzog and Clive Oppenheimer's new film "Fireball: Visitors From Darker Worlds" takes viewers on an extraordinary journey to discover how shooting stars, meteorites and deep impacts have focused the human imagination on other realms and worlds, and on our past and our future.
On The Rocks
A young New York mother faced with sudden doubts about her marriage teams up with her larger-than-life playboy father to tail her husband. What follows is a sparkling comic adventure across the city – drawing father and daughter closer together despite one detour after another. Acclaimed filmmaker Sofia Coppola brings a light touch to this blend of an exuberant love letter to New York, a generation-clash comedy about how we see relationships differently from our parents, and a funny celebration of the complications that bind modern families even as they tie us in crazy knots.
Laura (Rashida Jones) thinks she's happily hitched, but when her husband Dean (Marlon Wayans) starts logging late hours at the office with a new co-worker, Laura begins to fear the worst. She turns to the one man she suspects may have insight: her charming, impulsive father Felix (Bill Murray), who insists they investigate the situation. As the two begin prowling New York at night, careening from uptown parties to downtown hotspots, they discover at the heart of their journey lies their own relationship.
Bruce Springsteen's Letter to You
"Bruce Springsteen's Letter to You" captures Bruce Springsteen recording his new album "Letter To You" live with the full E Street Band, and includes final take performances of 10 originals from the new record. The feature-length vérité documentary features full performances from the E Street Band, in-studio footage, never-before-seen archival material, and a deeper look into "Letter To You" from Springsteen himself. Written by Springsteen and directed by his frequent collaborator Thom Zimny, the film is a tribute to the E Street Band, to rock music itself, and to the role it has played in Springsteen's life.
Tehran – Complete first season now streaming
A new espionage thriller from "Fauda" writer Moshe Zonder that tells the utterly thrilling story of a Mossad agent who goes deep undercover on a dangerous mission in Tehran that places her and everyone around her in dire jeopardy. Created by Moshe Zonder, Dana Eden and Maor Kohn, and directed by Daniel Syrkin. Zonder also serves as writer alongside Omri Shenhar. The series is executive produced by Zonder, Dana Eden, Shula Spiegel, Alon Aranya, Julien Leroux, Peter Emerson and Eldad Koblenz; and produced by Donna and Shula Productions in association with Paper Plane Productions, with the participation of Cineflix Rights and Cosmote TV.
Ted Lasso
Recently renewed for a third season, global hit series "Ted Lasso" stars Jason Sudeikis as Ted Lasso, a small-time college football coach from Kansas hired to coach a professional soccer team in England, despite having no experience coaching soccer. In addition to starring, Sudeikis serves as executive producer, alongside Bill Lawrence ("Scrubs") via his Doozer Productions, in association with Warner Bros. Television and Universal Television, a division of NBCUniversal Content. Doozer's Jeff Ingold also serves as an executive producer with Liza Katzer as co-executive producer. The series was developed by Jason Sudeikis & Bill Lawrence & Joe Kelly & Brendan Hunt, and is based on pre-existing format/characters from NBC Sports.
The Oprah Conversation: Dolly Parton
One of the most cherished figures in pop culture, Dolly Parton discusses her lifetime of songwriting and being a unifier in divided times.
"The Oprah Conversation" is a timely series that features Oprah leading intimate discussions with today's foremost newsmakers, thought leaders, and masters of their craft, exclusively on Apple TV+. Filmed remotely and incorporating audience engagement, Oprah hosts conversations that aim to bring truth and perspective to a range of topics shaping our world, revealing gripping stories of human connection.
Long Way Up – Complete first season now streaming
Starring and executive produced by Ewan McGregor and Charley Boorman, "Long Way Up" reunites the best friends after more than a decade since their last motorbike adventure around the world. Covering 13,000 miles over 100 days through 16 border crossings and 13 countries, starting from the city of Ushuaia at the tip of South America, Ewan and Charley journey through the glorious and underexposed landscapes of South and Central America in their most challenging expedition to date, using cutting-edge technology on the backs of their prototype electric Harley-Davidsons in order to contribute to the sustainability of the planet.
Becoming You
Olivia Colman narrates "Becoming You," a global child development series that explores how the first 2000 days on earth shape the rest of our lives. Told through the eyes of over 100 children across the world, from Nepal to Japan and Borneo, each episode offers a thought-provoking look at how children learn to think, speak and move from birth to five-years-old. It underscores how different our journeys can be but ultimately tells the story of our shared humanity and community when it comes to raising children. This series is produced by Wall to Wall Media and is executive produced by Leanne Klein and Hamo Forsyth.
Doug Unplugs
Hailing from DreamWorks Animation and based on Dan Yaccarino's "Doug Unplugged" book series, "Doug Unplugs" follows a young robot named Doug who senses there's more to life than just the facts. While other robots plug in for their daily download, curious Doug unplugs and journeys into the human world, and with his best friend Emma, experiences its wonders firsthand. "Doug Unplugs" is executive produced by Jim Nolan, Aliki Theofilopoulos and Dan Yaccarino, and stars the voice talents of Brandon James Cienfuegos, Kyrie McAlpin, Eric Bauza, Mae Whitman, Leslie David Baker and Becky Robinson.
Helpsters – Season two now streaming
In Season Two of "Helpsters," preschoolers continue to explore the power of teamwork as puppets Cody, Scatter, Mr. Primm, and Heart join a cadre of new celebrity and musical guests to solve problems. The Helpsters approach any challenge – from party-planning to magic trick mastery, and even mountain-climbing – with a can-do attitude, because everything starts with a plan Featured guest stars in the new season include Terry Crews, Danny Trejo, Gabby Douglas, Christopher Meloni, Richard Kind, Michael Ian Black, Janeane Garofalo, Michelle Buteau, and Judah Friedlander, with musical guests including Talib Kweili, Matt Berninger, Jason Mraz, K. Flay, Norah Jones, and Ingrid Michaelson. The recipient of a Parents' Choice Gold Medal Award and Common Sense Media Award, "Helpsters" has been recognized as "immersive, educational, and entertaining." The series teaches young viewers important lessons in pre-coding skills, and inspires self-confidence, collaboration, effective communication and much more.
Ghostwriter – Season two
After being honored with the Outstanding Children's or Family Viewing Programming Award at the 47th Annual Daytime Emmys, "Ghostwriter" returns after a landmark first season. Touted as a "knockout" and a "clever" show for today's youth, the series additionally earned a highly coveted Prix Jeunesse Award, a Parents' Choice Gold Medal Award, and recognition from Common Sense Media. A reimagining of the 1992 hit series from Sesame Workshop, the modern-day "Ghostwriter" maintains a city-based, multicultural cast, inviting children ages 6-11 to see themselves on screen as they learn to appreciate a range of new and classic literature. In its second season, the series' young heroes work to save their bookstore and discover the true identity of the Ghostwriter while introducing audiences to fresh tales like "Malia and the Magic Paintbrush" and "The Cobalt Mask," and familiar literary characters including Dr. Watson of "Sherlock Holmes" fame.
The Morning Show – Emmy Award winner
Starring Jennifer Aniston, Reese Witherspoon and Steve Carell, "The Morning Show" is an Emmy Award winning series, and has been honored with a SAG Award for Outstanding Performance by a Female Actor in a Drama Series for Jennifer Aniston, a Critics Choice Award for Best Supporting Actor in a Drama Series for Billy Crudup, as well as three Golden Globe Award nominations just shortly after its premiere. The drama series explores the cutthroat world of morning news and the lives of the people who help America wake up in the morning. Told through the lens of two complicated women working to navigate the minefield of high-octane jobs while facing crises in both their personal and professional lives, "The Morning Show" is an unapologetically candid drama that looks at the power dynamics between women and men, and women and women, in the workplace. In addition to Aniston, Witherspoon and Carell, the series stars Billy Crudup, Mark Duplass, Gugu Mbatha-Raw, Nestor Carbonell, Karen Pittman, Bel Powley, Desean Terry and Janina Gavankar.
Beastie Boys Story – Five-time Emmy Award nominated
Nominated for five Emmy Awards, including Outstanding Documentary or Nonfiction Special, Beastie Boys Mike Diamond and Adam Horovitz tell you an intimate, personal story of their band and 40 years of friendship in this live documentary experience directed by their longtime friend and collaborator, and their former grandfather, filmmaker Spike Jonze. "Beastie Boys Story" is set to premiere on the heels of the 26th anniversary of the release of Beastie Boys' No. 1 charting 1994 album, "Ill Communication." The film reunites Beastie Boys with director Spike Jonze over 25 years after directing the music video for the album's immortal hit single, "Sabotage."
Defending Jacob – Emmy Award-nominated
Nominated for two Emmy Awards, "Defending Jacob" is a gripping, character-driven thriller based on the 2012 New York Times best-selling novel of the same name, and starring Chris Evans, Michelle Dockery, Jaeden Martell, Cherry Jones, Pablo Schreiber, Betty Gabriel and Sakina Jaffrey. The limited drama series unfolds around a shocking crime that rocks a small Massachusetts town and one family in particular, forcing an assistant district attorney to choose between his sworn duty to uphold justice and his unconditional love for his son.
Greyhound
Tom Hanks stars as a longtime Navy veteran who, as a first-time captain, is tasked with protecting a convoy of 37 ships carrying thousands of soldiers and much-needed supplies across the treacherous waters of the Atlantic during World War II. For five days with no air cover, the captain and his small force of three escort ships must make their way through an area of the ocean known as "the Black Pit," battling Nazi U-boats while protecting their invaluable ships and soldiers. "Greyhound" is inspired by events during the Battle of the Atlantic, which took place in the earliest months of America's alliance with Great Britain and the Allied Forces. Stephen Graham, Rob Morgan and Elisabeth Shue star alongside Hanks. "Greyhound" was written by Tom Hanks, directed by Aaron Schneider and produced by Gary Goetzman.
Tiny World
Narrated by Paul Rudd, "Tiny World" takes a unique perspective on the natural world, exploring the ingenuity and resilience of the smallest animals on the planet. Brand new camera technology allows us, for the very first time, to see the world through the eyes of the tiniest creatures and witness the extraordinary things they do to survive. "Tiny World" is produced by Plimsoll Productions, and written and executive produced by Tom Hugh Jones. Dr. Martha Holmes and Grant Mansfield also serve as executive producers on behalf of Plimsoll Productions.
Central Park – Emmy Award-nominated
Apple's Emmy-nominated, original animated musical comedy starring Josh Gad, Leslie Odom Jr., Kristen Bell, Kathryn Hahn, Tituss Burgess, Daveed Diggs and Stanley Tucci. "Central Park" is created, written and executive produced by Emmy Award winner Loren Bouchard ("Bob's Burgers"), alongside Grammy Award winner Josh Gad ("Frozen") and Emmy Award winner Nora Smith ("Bob's Burgers"), and follows the Tillermans, a family that lives in Central Park. Owen, the park manager, and Paige, his journalist wife, raise their kids Molly and Cole in the world's most famous park, while fending off hotel heiress Bitsy Brandenham and her long suffering assistant Helen, who would love nothing more than to turn the park into condos.
Home – Emmy Award-nominated
Emmy-nominated for Outstanding Music Composition for a Documentary Series or Special, "Home" offers viewers a never-before-seen look inside the world's most innovative homes. Each episode in the nine-episode first season unveils the boundary-pushing imagination of the visionaries who dared to dream and build them. "Home" is executive produced by Joe Poulin, Matthew Weaver, Bruce Gersh, Ian Orefice, Doug Pray, Collin Orcutt, Matt Tyrnauer, Corey Reeser and Kim Rozenfeld. Alexa Conway and Nick Stern serve as co-executive producers, and the series hails from MediaWeaver, Four M Studios and Altimeter Films.
Little Voice
A fresh, intensely romantic tale from the award-winning team of J.J. Abrams, Sara Bareilles and Jessie Nelson, "Little Voice" is a love letter to the diverse musicality of New York starring Brittany O'Grady, Sean Teale, Colton Ryan, Shalini Bathina, Kevin Valdez, Phillip Johnson Richardson and Chuck Cooper. The series follows Bess King, (O'Grady) a uniquely talented performer struggling to fulfill her dreams while navigating rejection, love, and complicated family issues. Featuring original music by Grammy and Tony Award nominee, Sara Bareilles, this is a story about finding your authentic voice—and the courage to use it.
Boys State
The sensational winner of the Grand Jury Prize for documentary at this year's Sundance Film Festival, "Boys State" is a wildly entertaining and continually revealing immersion into a week-long annual program in which a thousand Texas high school seniors gather for an elaborate mock exercise: building their own state government. Filmmakers Jesse Moss and Amanda McBaine closely track the escalating tensions that arise within a particularly riveting gubernatorial race, training their cameras on unforgettable teenagers like Ben, a Reagan-loving arch-conservative who brims with confidence despite personal setbacks, and Steven, a progressive-minded child of Mexican immigrants who stands by his convictions amidst the sea of red. In the process, they have created a complex portrait of contemporary American masculinity, as well as a microcosm of our often dispiriting national political divisions that nevertheless manages to plant seeds of hope.
Greatness Code
A landmark, short form unscripted series directed by Gotham Chopra that spotlights untold stories from the greatest athletes in the world. The first season unfolds with seven mini-episodes, each examining a pivotal moment that defined an athlete's career. Internationally revered athletes featured in season one include four-time NBA MVP, three-time NBA Champion and two-time Olympic Gold Medalist Lebron James; six-time Super Bowl Champion and four-time Super Bowl MVP Tom Brady; Olympic Gold Medalist and Co-Captain of the US Women's National Soccer Team Alex Morgan; world's fastest man and eight-time Olympic champion Usain Bolt; five-time Olympic Gold medalist and 15-time World Champion swimmer Katie Ledecky; 11-time world champion surfer Kelly Slater. "Greatness Code" is a co-production between powerhouse sports content platforms Religion of Sports, which is co-founded by Chopra, Brady, and NFL Hall of Fame legend Michael Strahan; and Uninterrupted, the athlete empowerment brand founded by LeBron James and Maverick Carter. Gotham Chopra also executive produces through Religion of Sports, alongside executive producer Maverick Carter via Uninterrupted. Ameeth Sankaran also serves as executive producer through Religion of Sports, and Devin Johnson executive produces via Uninterrupted.
The Banker
Inspired by true events, "The Banker" centers on revolutionary businessmen Bernard Garrett (Anthony Mackie) and Joe Morris (Samuel L. Jackson), who devise an audacious and risky plan to take on the racist establishment of the 1960s by helping other African Americans pursue the American dream. Along with Garrett's wife Eunice (Nia Long), they train a working class white man, Matt Steiner (Nicholas Hoult), to pose as the rich and privileged face of their burgeoning real estate and banking empire – while Garrett and Morris pose as a janitor and a chauffeur. Their success ultimately draws the attention of the federal government, which threatens everything the four have built. The drama is directed by George Nolfi ("The Adjustment Bureau") and produced by Joel Viertel. Brad Feinstein produced under his Romulus Entertainment banner, along with producers Nolfi, Nnamdi Asomugha, Jonathan Baker, David Lewis Smith and Anthony Mackie. The executive producers are Joseph F. Ingrassia, Samuel L. Jackson, Will Greenfield, David Gendron and Ali Jazayeri. "The Banker" is written by Niceole Levy, George Nolfi, David Lewis Smith and Stan Younger from a story by David Lewis Smith, Stan Younger and Brad Caleb Kane.
Dear…
A new 10-episode documentary series executive produced by Emmy Award and Peabody Award winner R.J. Cutler and inspired by Apple's groundbreaking "Dear Apple" spots. "Dear…" takes an inventive and cinematic approach to biographies of the most iconic figures in society today by using letters written by those whose lives have been changed through their work.
Dads
"Dads" is a heartfelt and humorous documentary that celebrates the joys and challenges of parenting in today's world. Featuring six extraordinary fathers from across the globe, this film offers a firsthand glimpse into the trials and tribulations of modern-day parenting through revealing interviews, rare home-movie footage, viral videos, and hilarious and thoughtful testimonials from some of Hollywood's funniest celebrities, including Judd Apatow, Jimmy Fallon, Neil Patrick Harris, Ron Howard, Ken Jeong, Jimmy Kimmel, Hasan Minhaj, Conan O'Brien, Patton Oswalt, Will Smith and more. Making her feature directorial debut, Bryce Dallas Howard also offers an intimate look at the dads in her own family, including remarkable interviews with her late grandfather Rance, her father Ron and her brother Reed.
Mythic Quest: Raven's Banquet
"Mythic Quest: Quarantine" is a special new episode written, filmed and edited in quarantine. The half-hour installment finds the team behind the biggest multiplayer video game of all time tasked with working from home. Poppy (Charlotte Nicdao) and Ian (Rob McElhenney) struggle with solitude, while Brad (Danny Pudi) and David (David Hornsby) start a charitable competition. Assistant Jo (Jessie Ennis) tries to explain video-conferencing to CW (F. Murray Abraham) with mixed results. To produce the episode, the cast and crew worked remotely in multiple locations across the country.
Created by Rob McElhenney, Charlie Day, and Megan Ganz, "Mythic Quest: Raven's Banquet" follows a team of video game developers as they navigate the challenges of running a popular video game. In addition to McElhenney, who stars as the fictional company's creative director, Ian Grimm, the ensemble cast also includes Academy Award-winner F. Murray Abraham, Danny Pudi, Imani Hakim, Charlotte Nicdao, David Hornsby, Ashly Burch, and Jessie Ennis. The series is produced by Lionsgate, 3 Arts Entertainment and Ubisoft. All nine, half-hour episodes of the live-action comedy are now streaming.
Visible: Out on Television
Celebrate Pride with this five-part documentary series hailed by The Hollywood Reporter as "perhaps the greatest TV accomplishment of 2020 thus far…" "Visible: Out on Television" is narrated by Janet Mock, Margaret Cho, Asia Kate Dillon, Neil Patrick Harris and Lena Waithe, with each episode exploring themes such as invisibility, homophobia, the evolution of the LGBTQ character, and coming out in the television industry.
Trying
All Jason and Nikki want is a baby. But it's the one thing they just can't have. Starring BAFTA nominee Esther Smith, SAG nominee Rafe Spall, alongside BAFTA Award winner Imelda Staunton, "Trying" is a new comedy series about growing up, settling down and finding someone to love. The complete first season (eight episodes) of "Trying" is now streaming on Apple TV+.
Fraggle Rock: Rock On!
The Fraggles make their return in Apple's "Fraggle Rock: Rock On!," a new, original collection of six mini-episodes, produced by The Jim Henson Company. The beloved stars of the classic 80s series, Gobo, Red, Boober, Mokey, Wembley, and Uncle Traveling Matt, join together again for new stories and classic Fraggle songs that show everyone how we are all connected through friendship. While the Fraggles might be in different parts of the Fraggle Rock caves, they can still find ways to have fun together, with music, silliness, special guests including Jason Mraz, multi-Grammy Award winner Alanis Morissette, Emmy and Grammy Award winner Common, Neil Patrick Harris, Tiffany Haddish, and multi-Grammy Award winner Ziggy Marley; and, of course the help of devices created by the industrious Doozers – lovingly called the Doozertubes!
Here We Are: Notes for Living on Planet Earth
In celebration of Earth Day, "Here We Are: Notes for Living on Planet Earth" is a new television event based on the NY Times Bestselling Book by Oliver Jeffers. The animated short film features a star-studded voice cast including Academy Award and Golden Globe-winning Meryl Streep, Emmy Award-winning and BAFTA-nominated Chris O'Dowd, SAG Award nominee and Critics' Choice Award-winning Jacob Tremblay and Oscar nominee Ruth Negga.
Home Before Dark
A dramatic, new mystery series inspired by the reporting of a young investigative journalist, Hilde Lysiak. Directed and executive produced by Jon M. Chu, "Home Before Dark" follows a young girl named Hilde (played by Brooklynn Prince) who moves from the city of Brooklyn to the small lakeside town her father left behind. While there, her dogged pursuit of the truth leads her to unearth a cold case that everyone in town, including her own father, tried hard to bury.
Oprah Talks COVID-19
"Oprah Talks COVID-19" is a new series offering timely conversations around the global health crisis, available to watch for free on Apple TV+, with or without a subscription. In "Oprah Talks COVID-19," Oprah Winfrey explores how can we mindfully move through a crisis while holding on to ourselves and our humanity. Oprah has remote conversations with experts and people facing challenges to provide insight, meaning, and tangible advice for the human spirit.
Amazing Stories
A reimagining of the original anthology series by Steven Spielberg, each episode of "Amazing Stories" transports the audience to worlds of wonder through the lens of today's most imaginative filmmakers, directors and writers. "Amazing Stories" is executive produced by Spielberg, Darryl Frank, Justin Falvey, Eddy Kitsis, Adam Horowitz, Chris Long, Don Kurt and David H. Goodman, and produced by Universal Television and Amblin Television.
Little America
Inspired by the true stories featured in Epic Magazine, "Little America" goes beyond the headlines to look at the funny, romantic, heartfelt, inspiring and surprising stories of immigrants in America, when they're more relevant now than ever. "Little America" is written and executive produced by Lee Eisenberg, who also serves as showrunner, and executive produced by Kumail Nanjiani and Emily V. Gordon.
Truth Be Told
When new evidence compels podcaster Poppy Parnell to reopen the murder case that made her a national sensation, she comes face-to-face with the man she may have mistakenly helped to put behind bars. Based on the novel by Kathleen Barber, "Truth Be Told" provides a unique glimpse into America's obsession with true crime podcasts and challenges its viewers to consider the consequences when the pursuit of justice is placed on a public stage.
See
"See" takes place in the distant future, after a deadly virus decimated humankind. Those who survived emerged blind. Jason Momoa stars as Baba Voss — the father of twins born centuries later with the mythic ability to see — who must protect his tribe against a powerful yet desperate queen who wants the twins destroyed. Alfre Woodard stars as Paris, Baba Voss's spiritual leader. The series features cast and crew who are blind or have low vision, who helped bring this inclusive and authentic world to life.
Hala
Seventeen-year-old Pakistani American teenager Hala (Geraldine Viswanathan) struggles to balance desire with her familial, cultural and religious obligations. As she comes into her own, she grapples with a secret that threatens to unravel her family. Written and directed by Minhal Baig and executive produced by Jada Pinkett Smith, "Hala" was an official selection of the 2019 Sundance Film Festival and 2019 Toronto International Film Festival.
Snoopy In Space
Blast off with Snoopy in a series of 12 animated shorts featuring Charlie Brown and the beloved Peanuts gang. Snoopy fulfills his dreams and embarks on his next big adventure: becoming a NASA astronaut. Joined by Charlie Brown and the rest of the Peanuts gang, Snoopy takes command of the International Space Station and explores the moon and beyond.
The Elephant Queen
This genre-crossing wildlife documentary narrated by Emmy Award-nominee Chiwetel Eljiofor earned the Cinema for Peace International Green Film Award and is the recipient of two prestigious Critics' Choice Documentary Awards nominations, including Best Narration and Best Science / Nature Documentary. The uniquely crafted, character-driven narrative follows Athena, a majestic elephant matriarch, who leads her family across an unforgiving, yet cinematic natural landscape made up of grasslands and woodlands, dotted with seasonal waterholes.
Helpsters Help You
A new series of six shorts from the makers of "Sesame Street" and inspired by Apple's Parents' Choice and Common Sense Media Award-winning series "Helpsters." Starring Cody, the the enthusiastic leader of the Helpsters, and produced in partnership with Sesame Workshop, new mini-episodes stream for free, and premiere Fridays, exclusively on Apple TV+.
"Helpsters Help You" is created to provide emotional support for preschoolers and parents living in the time of COVID-19. Each short is broadcast from inside the Helpsters' shop, and features Cody giving out helpful tips and songs. The shorts have been created to help parents educate and entertain their kids and to assist teachers who are exploring creative ways to facilitate remote learning.
Oprah's Book Club – new installments monthly
As the largest global book club, "Oprah's Book Club" provides viewers with a front row seat for unguarded conversations with incredible authors. Each episode features a book handpicked by Oprah, along with an interview about the issues that it brings to light. It's a book club for today's world — a window to other worlds. Readers around the world can easily discover Oprah's Book Club through the Apple Books app, where they can learn more about the latest selection and browse previous selections in a beautiful and immersive experience. With the new Reading Goals feature in Apple Books, readers can make reading a daily habit more easily.
© Apple TV+