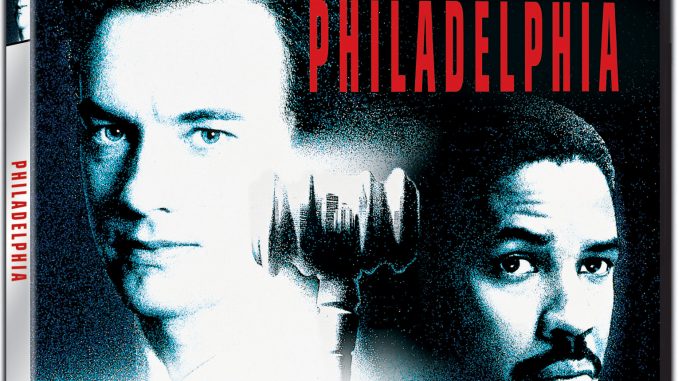 Klicka på bilden, för att se hela bilden
Celebrate the Silver Anniversary of Academy Award®-Winning Classic PHILADELPHIA in 4K Ultra HD
One of the first studio films to bring light to the HIV/AIDS epidemic, Sony Pictures Home Entertainment commemorates the 25th anniversary of this important and enthralling modern classic with the debut of PHILADELPHIA: 25th ANNIVERSARY on 4K Ultra HD™ on December 3. Tom Hanks, in his first Academy Award® winning performance, plays Andrew Beckett, a talented lawyer with HIV fired because of his condition. Two-time Academy Award winner Denzel Washington (1989, Best Supporting Actor, Glory; 2001, Best Actor, Training Day) is the small-time lawyer who teams up with Andrew as the only willing advocate for a wrongful dismissal suit. In addition to Hanks' win as Best Actor, PHILADELPHIA was nominated for a total of five Academy Awards, with Bruce Springsteen winning Best Music, Original Song for "Streets of Philadelphia." PHILADELPHIA also stars two-time Academy Award winner Jason Robards (1976, Best Supporting Actor, All the President's Men; 1977, Best Supporting Actor, Julia), Academy Award winner Mary Steenburgen (1980, Best Supporting Actress, Melvin and Howard), Antonio Banderas (Frida) and Academy Award winner Joanne Woodward (1957, Best Actress, The Three Faces of Eve).
Fully restored in 4K from the original camera negative, PHILADELPHIA: 25th ANNIVERSARY on 4K Ultra HD features High Dynamic Range and exclusive Dolby Atmos audio. The 4K Ultra HD package will also include the film on Blu-ray, stemming from the 4K master. The Blu-ray will not be available separately.
SYNOPSIS:
Hailed as a landmark film that dazzles with deep emotion and exceptional acting, PHILADELPHIA stars Academy Award® winners Tom Hanks (Best Actor, 1993, Philadelphia; 1994, Forrest Gump) and Denzel Washington (Best Actor, 2001, Training Day) as two competing lawyers who join forces to sue a prestigious law firm for AIDS discrimination. As their unlikely friendship develops, their courage overcomes the prejudice and corruption of their powerful adversaries.
Directed by Academy Award winner Jonathan Demme (1991, Best Director, The Silence of the Lambs) and written by Ron Nyswaner ("Homeland"), PHILADELPHIA was produced by Edward Saxon and
Jonathan Demme; with Gary Goetzman, Kenneth Utt and Ron Bozman serving as Executive Producers.
Bonus Features Include:
ALL-NEW: Featurette Teaser from (RED) and Coca-Cola® – featuring new interviews with Tom Hanks, Denzel Washington and Mary Steenburgen
Commentary with Director Jonathan Demme and Screenwriter Ron Nyswaner
Deleted Scenes
Music Video for the Academy Award®-Winning Original Song "Streets of Philadelphia," Performed by
Bruce Springsteen
"People Like Us: Making Philadelphia" Documentary
"One Foot on a Banana Peel, the Other Foot in the Grave" Documentary
Courthouse Protest Footage and Interviews
Joe Miller's Macready & Shilts Legal Services TV Spot
Original Making-of Featurette
Theatrical Trailer
Academy Award® and Oscar® are the registered trademarks and service marks of the Academy of Motion Picture Arts and Sciences.
© Universal Sony Pictures Home Entertainment Nordic